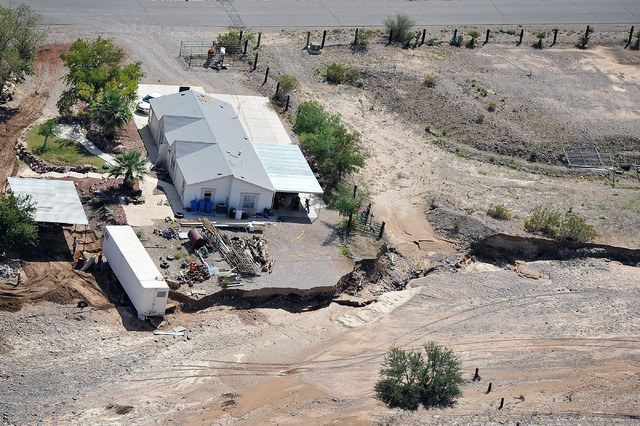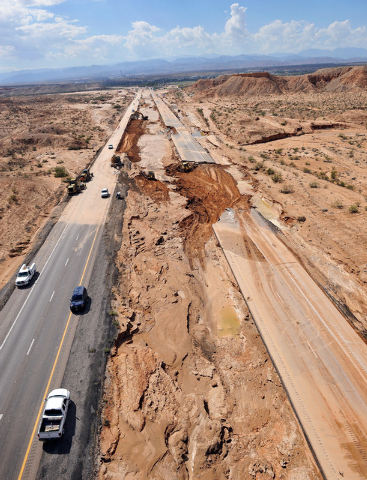 Clark County commissioners approved a disaster declaration Tuesday following last week's flash floods that washed out parts of Interstate 15 and hit communities north of Las Vegas.
The declaration enables the county to seek federal aid for the damage to infrastructure and property.
The flood damaged 91 homes in Moapa, including some on the Moapa Band of Paiutes reservation. Another 48 homes in Overton and Logandale have damages.
Teams from the Federal Emergency Management Agency and Small Business Administration started doing assessments in the county on Monday.
County Public Works officials estimated the storm caused more than $1 million in damage to county roadways, including Logandale, Overton, Moapa and Sandy Valley. That estimate doesn't include I-15.
The federal threshold for reimbursement is $6.8 million in costs. Assessments continued Tuesday and county officials haven't heard yet if the costs will reach that figure.
Also Tuesday, U.S. Sen. Harry Reid, D-Nev., announced that Clark County has received $1.5 million from the Department of Transportation's emergency relief program in connection with the flooding on I-15.
Contact Ben Botkin at bbotkin@reviewjournal.com or 702-405-9781. Find him on Twitter: @BenBotkin1.