Clark County Fire sending dogs to search for Camp Fire victims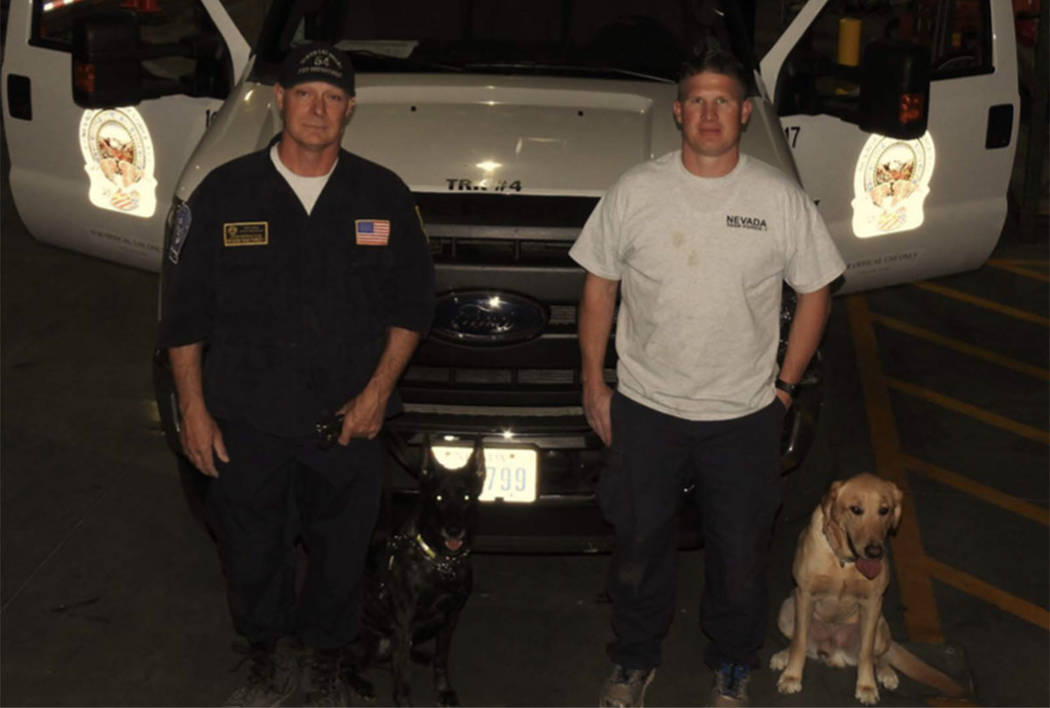 The Clark County Fire Department is sending four dogs and their handlers to Northern California to help search for victims of the deadly Camp Fire.
Four urban search and rescue canine teams will assist California officials in their search for victims of the wildfire in Paradise, California. As of Friday, at least 84 people have died in the blaze, which is about 95 percent contained, according to the California Department of Forestry and Fire Protection.
Hundreds of people were still reported missing Friday, and the death count is likely to rise, according to The Associated Press.
The dogs, Dexter, Kya, Aldo and Roux, each are being deployed to California with one handler, the Fire Department said. Two of the teams were sent Friday afternoon, and the other two will follow Saturday.
The dogs and their handlers are expected to be in California for up to a week, the department said.
The Camp Fire, which began more than two weeks ago, is the deadliest wildfire in California history and the deadliest wildfire in the U.S. in a century. It nearly destroyed Paradise, burning more than 13,000 homes.
The canine units were sent after the Clark County Fire Department received a request for resources from the California Office of Emergency Management. The dogs and their handlers are trained in human remains detection, the department said.
Two of the dogs' handlers are from the county Fire Department, another is from the North Las Vegas Fire Department, and the fourth is a citizen who doesn't work at a fire department in the Las Vegas Valley.
The county Fire Department is a sponsoring agency of Nevada Task Force One, which is a Federal Emergency Management Agency urban search and rescue team.
Contact Katelyn Newberg at knewberg@reviewjournal.com or 702-383-0240. Follow @k_newberg on Twitter. The Associated Press contributed to this report.