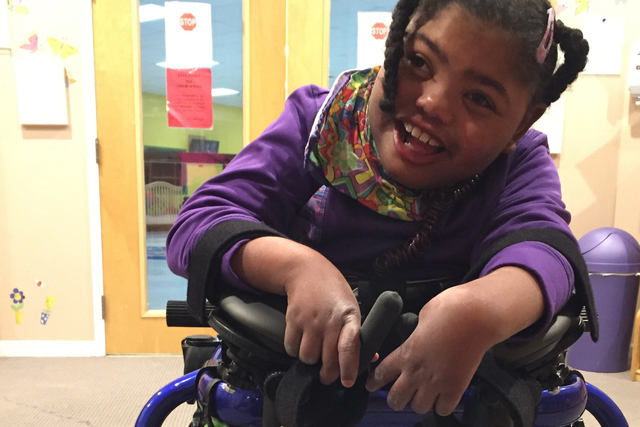 A Clark County jury has awarded $14.5 million to the family of an 8-year-old girl in a medical malpractice lawsuit.
In the case, the plaintiffs had alleged that the girl, MayRose Hurst, suffered a debilitating brain injury because doctors failed to diagnose and treat a genetic blood disorder.
The jury found that Ali Piroozi, a doctor, was 40 percent at fault. The jury assigned the remaining 60 percent of fault to pediatrician Ralph Conti. The jury issued its verdict last week.
Conti died in 2012 while awaiting sentencing and a potentially stiff prison sentence after a federal jury convicted him of two counts of mail fraud and two counts of wire fraud for defrauding chronically ill patients through an experimental stem cell procedure.
The 60 percent tied to Conti cannot be collected because he had settled the malpractice case for $2 million.
That leaves about $5.8 million that the plaintiffs can collect from Piroozi or his insurance company. Piroozi's attorney could not be reached on Tuesday.
Hurst was delivered prematurely at Sunrise Hospital and Medical Center in Las Vegas and treated for 11 weeks in the neonatal intensive care unit, where doctors did not tell her parents that she had severe anemia or that her body was not producing adequate red blood cells. The ensuing brain damage left the girl mostly blind and unable to walk or speak.
"This verdict means that we can start looking at options to see just how far we can go to providing MayRose with a life that is as normal as possible," her mother, Tiffani Hurst, said in a statement. "Options that we never would have been able to afford. I will be able to hire a caregiver to work on her walking every day, to coordinate the tons of medical appointments she requires. We will be able to buy specialized equipment to help her to walk and communicate."
MayRose is on a list for a bone marrow transplant and needs blood transfusions every three weeks, along with therapy. She also is tube-fed with supplemental nutrition through her stomach.
The family since has moved from Las Vegas to the Philadelphia area. Hurst said the better medical care her daughter receives at Children's Hospital of Philadelphia was a major factor in the decision to leave Las Vegas.
Jacquelynn Carmichael, one of Hurst's attorneys, said in a statement Tuesday that it had "been a privilege to champion the cause of this innocent little girl."
"I take a great deal of satisfaction in knowing that these funds will provide the care she will need for the rest of her life, and will improve the quality of her life."
The Las Vegas hospital, which was not part of the jury verdict, previously had settled the case for $500,000.
Contact Ben Botkin at bbotkin@reviewjournal.com or 702-384-8710. Follow @BenBotkin1 on Twitter.