Clark County lets dogs have their day at Desert Breeze pool
Updated September 1, 2018 - 10:14 pm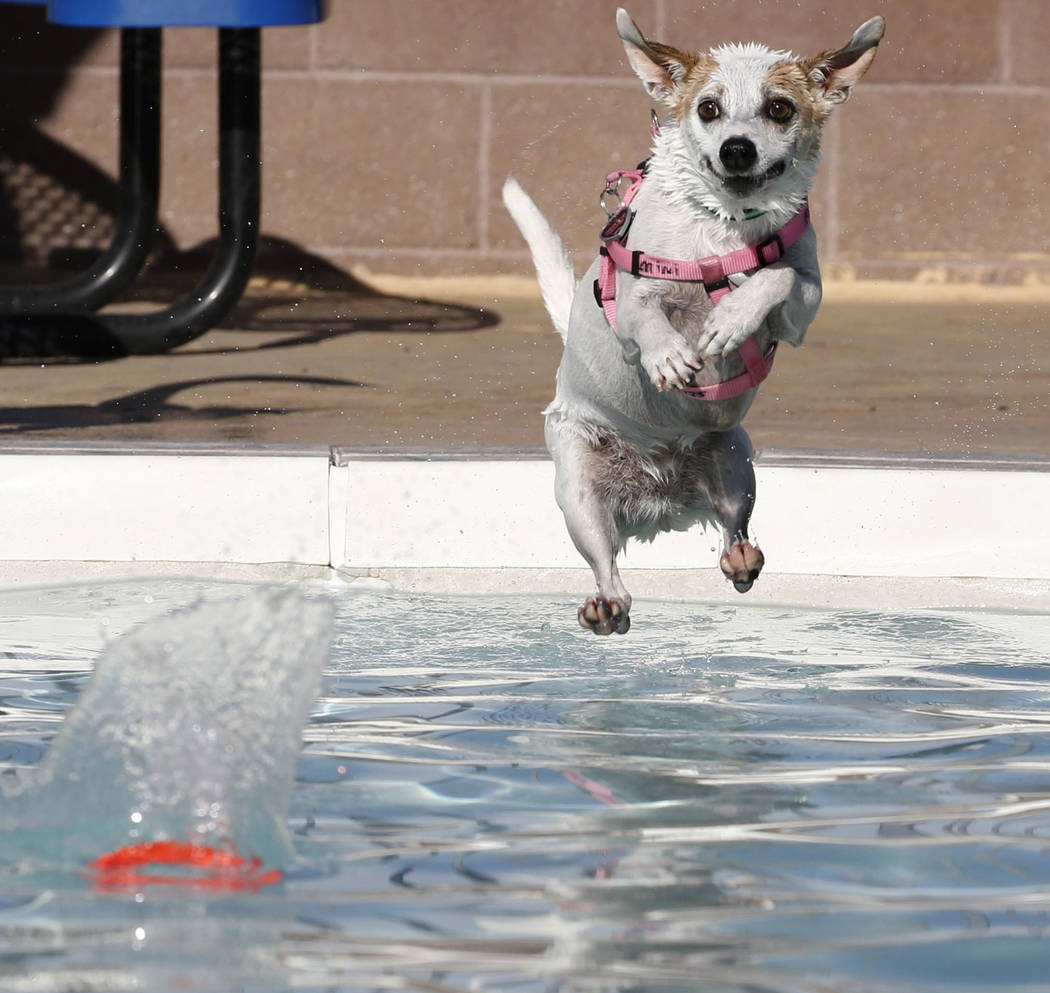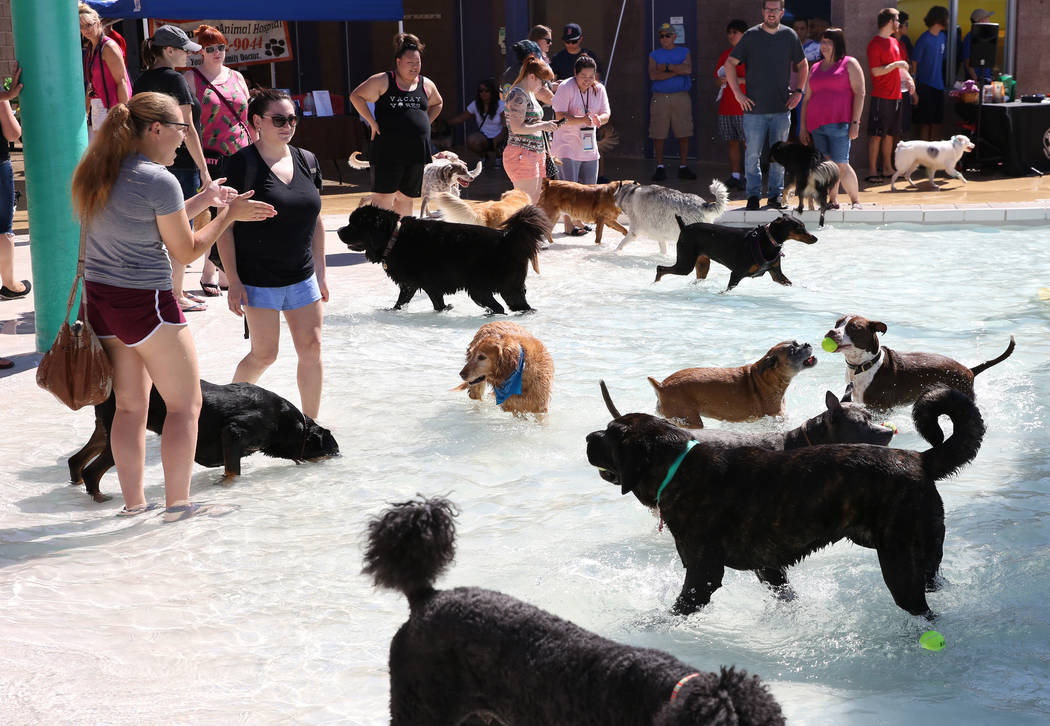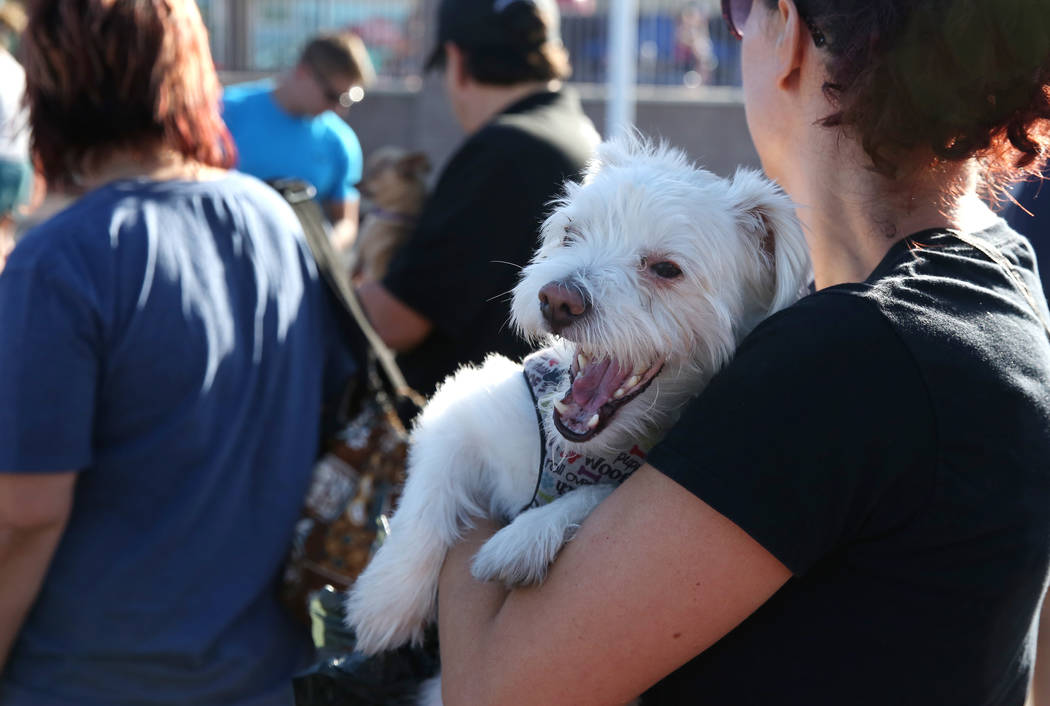 On the last day of swimming at many neighborhood pools, you're likely to find kids and adults soaking up the last moments of summer. But at Desert Breeze Aquatic Center, the final day in the water is reserved for swimmers with four legs, not two.
About 175 canines got a chance to romp in the water Saturday morning during Clark County's 14th annual Dog Daze at the Spring Mountain Road facility.
"It's pretty much open pool for the dogs, they can swim wherever they wish," event organizer Travis Smith said. "But no humans in the pool. Dogs only."
The event was split into two sessions: one for small dogs under 50 pounds and one for large dogs weighing more than 50 pounds. Each session featured raffles and contests for smallest dog, tallest dog and funniest trick, with prizes including dog treats, dog toys, gift baskets and hotel stays.
"Dog hotel stays, of course," Smith added.
Sedona, a Vizsla named for her coat's resemblance to the golden red Arizona desert, won tallest dog during the small dog session, measuring 30 inches tall at the top of her head. She strutted away from the DJ booth to applause from the nearly 50 dog owners who attended the earlier session.
Sedona joined the small dog group to swim with her dog sister, Miss Laci, a white, 10-inch-tall Jack Russell terrier with one light brown ear and an enthusiasm for chasing shadows. Both dogs are 2 years old.
"Our dogs are having a good time," said Vera Bojkic, 57. "Laci's scared to death of swimming, and here she is swimming with other dogs. They've been nonstop swimming since we got here."
"Sedona had a lot of fun, until someone pooped in the pool," Trish Titus, 59, said with a laugh. "It's all fun 'til somebody poops in the pool."
Smith said that's why humans aren't allowed to accompany their pets in the water. However, because the Clark County event is held at a recreational pool designed for kids of all ages, the event welcomes dogs with all levels of ability.
Harry — a stocky, 2-year-old bulldog with cerebellar hypoplasia — guarded the shallow water, barking playfully at any dog who tried to pass him. The low water grazed his belly.
"I live in an apartment so he doesn't get to socialize much," his owner, Harrilyn Samson, said. "He's a great companion. I'm just a little nervous because it's our first time here."
Samson, 40, a first-time dog owner, kept a careful eye on Harry, whose diagnosis means he has poor balance and coordination. She rescued Harry through the Las Vegas Bulldog Club.
Harry lunged at another dog, lost his feet, and splayed out on his belly. He recovered and wobbled back to his post in ankle-high water.
"He just loves to play," Samson said.
During the large dog session, owners Vikki and Erik Eklof ran toward the deep end of the pool when they saw that their 13-year-old yellow lab, Madison, had walked off the edge and into the water.
"She's riddled with cancer and she's completely blind," Vikki Eklof said. The Eklofs guided Madison toward the pool stairs. "She loves to swim so she's having a good time. It's just a little difficult."
The Eklofs enjoy any chance to take Madison swimming; she likes going to lakes and frequenting the dog beach in Huntington Beach, California.
"We love this event. It's just awesome," Vikki Eklof said
While Harry and Madison's disabilities didn't seem to hinder their fun Saturday, Ragnar, a 2-year-old brindle English mastiff, got a little anxious at the pool
Ragnar, whose head could be seen from anywhere at the pool Saturday, bobbing several inches above the other dogs, was too afraid of the measuring tape to compete in the competition for tallest dog. The prize instead went to a white-haired dog measuring 40 inches tall.
"He's a little bit skittish," Serena Sensitivo, 28, said as she sat at a table sitting patting Ragnar's head, which was level with hers. "It's just his personality – it's a mastiff thing."
Sensitivo said Ragnar loves playing with other dogs, but she's learning that he doesn't prefer water.
"He had a lot of fun. He's just not very agile so he goes into the water up to this point," Sensitivo said, placing her hand about one-third of the way up the dog's long legs, "and then he says, 'OK, I'm done.'"
Contact Kimber Laux at klaux@reviewjournal.com. Follow @lauxkimber on Twitter.