Clark County polls: Spanish, Tagalog also spoken here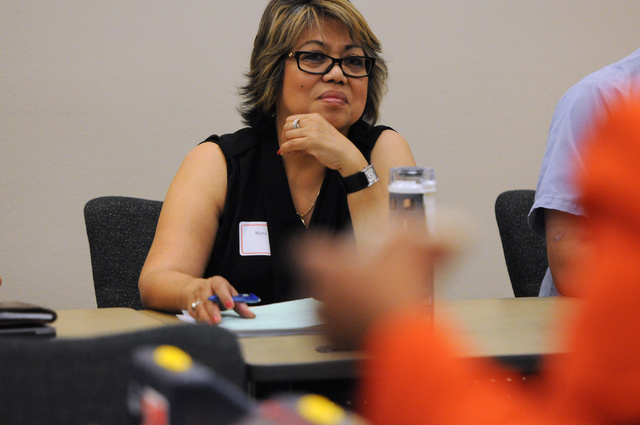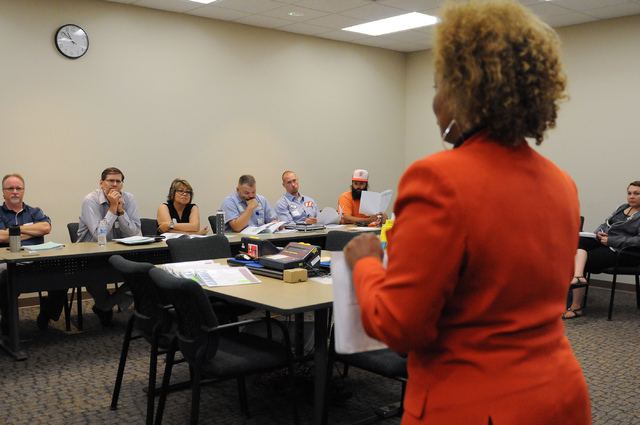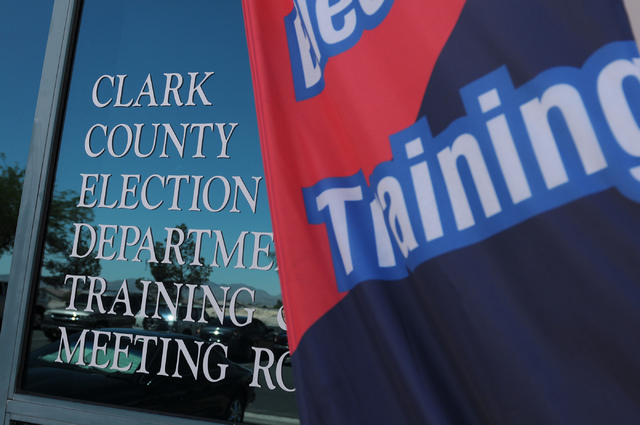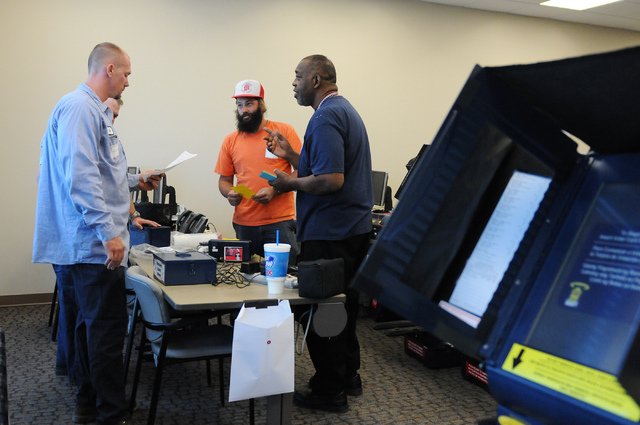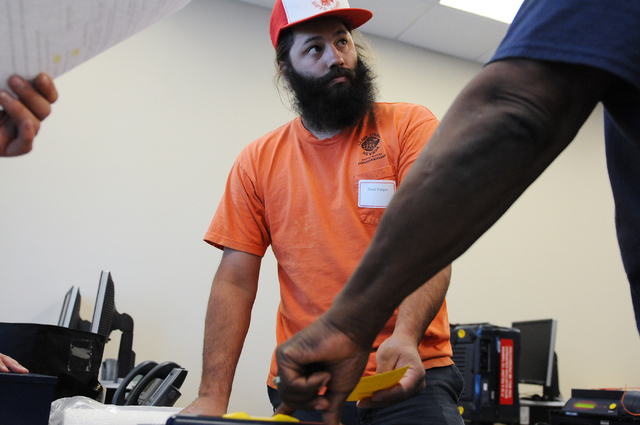 In the past few decades, Rosalina Hagewood has watched Hispanics become a powerful political force in Nevada as their population grew to more than 27 percent of the state's residents.
Now, Hagewood is working to ensure Latinos living here get a chance to vote. A Spanish speaker, she's one of 488 bilingual Hispanics the Clark County Election Department has trained to be poll workers during early voting and on the day of the primary election, June 10.
"I help out people who don't speak English or who speak broken English so they're more comfortable voting," Hagewood said Wednesday. "Every vote counts. And I want to make sure their voices are heard."
With early voting starting Saturday, Hagewood was among poll workers undergoing one day of training Wednesday at the Election Department, including bilingual Spanish speakers and Filipinos who speak Tagalog, the main island language. Hagewood, who works at McCarran International Airport, got the June 10 primary election day off to be a poll worker.
The department also has trained 138 Filipinos as poll workers with Nevada's Asian population at nearly 8 percent. Ballots are printed in English, Spanish and — since a U.S. Census order in 2011 — Tagalog. But voters who don't understand English or aren't fluent often need help at the electronic voting booths, according to Registrar of Voters Joe Gloria.
Until this week, it looked like there wouldn't be enough Spanish speakers to staff two dozen early voting sites that will be open each day through June 6 and for the expanded operation on primary election day, he said.
"I think a lot more of them are working with the economy getting better," Gloria said of Hispanics.
The pay for poll workers is $120 on primary election day and $8.25 per hour during the early voting period.
Most of the poll workers are retirees, people who are self-employed or who don't have jobs, Gloria said. He said he wished the federal government would require businesses to give people the day off to work voting booths much like for jury duty.
To be a poll worker, a person must be a registered voter in Clark County, not a candidate or a relative of a candidate, be willing to work flexible hours during early voting and be able to work about 14 hours straight on primary election day. Poll workers also must attend a training class and pass a hands-on evaluation, according to the Election Department.
Gloria said that although hundreds of Hispanics and Filipinos have been trained, it's always a struggle to get enough help.
During early voting, for example, 50 Spanish speakers are needed out of a total 250 poll workers and the Election Department has 63 ready to work, including alternates. On primary day, the need climbs to 103 Spanish speakers among 2,031 poll workers, according to the department.
Polling sites need 12 Filipino speakers during early voting and 23 are available, the department said. On primary day, the need will grow to staff 23 sites every day with Filipinos and 138 are trained and possibly available.
Gloria encouraged both bilingual Hispanics and Filipinos to apply to be trained as poll workers, including for early voting Oct. 18-31 ahead of the general election and for Election Day itself on Nov. 4.
(Registered Clark County voters can apply to be a poll worker by calling the Election Department at 702-455-2815 or by going to its Internet site. At www.clarkcountynv.gov/vote, enter your name and birth date in the "Registered Voter Services" section then select "Apply to be a Poll Worker" in the drop-down menu to fill out the application.)
In Clark County, more than 770,000 active voters are registered. That includes an estimated 142,000 Hispanics based on voters' last names, or more than 18 percent of the electorate. That tracks with Latino turnout in 2012.
Gloria said the number of Filipino voters is harder to determine, partly because many of them have Hispanic last names as well due to three centuries of Spanish colonization. An Election Department computer search, for example, turned up 116,000 purported registered Filipino voters, but Gloria said the number is much lower.
Still, there's no doubt that the number of Filipino voters has grown rapidly during the past decade with the U.S. Census saying the Asian population in Nevada jumped by 116 percent from 2000 to 2010.
Maria Grace Hill, a bilingual poll worker born in the Philippines, said she's excited Filipinos are becoming more actively involved in politics. She said she believes immigrants should assimilate, including voting after they become U.S. citizens.
"I'm happy I can help Filipinos get their voice out in elections," said Hill, who works as an accountant at University Medical Center and plans to work on primary election day. "I've always voted. That's the only way you can have a voice in what you want this country to be. If you're an American, you're not on the island anymore."
In Nevada, about two-thirds of voters cast ballots during the early voting period, which for candidates is like holding an election every day with some sewing up victory before the actual day of the election.
So far, preparations for early voting are running smoothly except for a sample ballot printing glitch, Gloria said. The printer didn't put voters' party affiliation on the first run of 280,000 sample ballots — either Democrat, Republican or nonpartisan. The printer had to reprint them at its own cost. Affected voters were sent postcards alerting them of the error.
A total of 778,000 sample ballots were printed and should arrive in mailboxes by Friday at the latest, Gloria said. Voters also can go on the county Election Department website to view their sample ballot online, he said.
Voter turnout for the primary election is expected to be low, from 15 percent to 20 percent, because there's no hot U.S. Senate contest and GOP Gov. Brian Sandoval has no major opposition to his re-election.
The most competitive primary race is for lieutenant governor between Republicans Mark Hutchison and Sue Lowden.
Gloria said turnout doesn't concern him; he only worries about making sure all voters who want to can cast ballots.
"I'm concerned about accuracy and that everyone has an opportunity to vote," Gloria said.
In all, the county has 83 voting sites, but not all of them are open each day. The locations and operating hours of the sites can be found on the department's main website — http://www.clarkcountynv.gov/VOTE — and here: http://www.clarkcountynv.gov/depts/election/Documents/2014/2014P_EVSched__Dates.pdf.
Contact Laura Myers at lmyers@reviewjournal.com or 702-387-2919. Find her on Twitter: @lmyerslvrj.
VOTER GUIDE
The Las Vegas Review-Journal and its online site, reviewjournal.com, are producing two primary election guides for Southern Nevada voters.
Voter Guide, a special section, will run in Sunday's print edition. It will include information on all local, state and congressional candidates who face competition on the June 10 ballot.
The online edition — updated by the candidates through the primary campaign period — will include candidate profiles, and answers to questions on topical issues.
The online voter guide is already up and running. It can be found at reviewjournal.com/ voting-guide