Clark County proposal targets empty news racks
October 16, 2014 - 11:20 am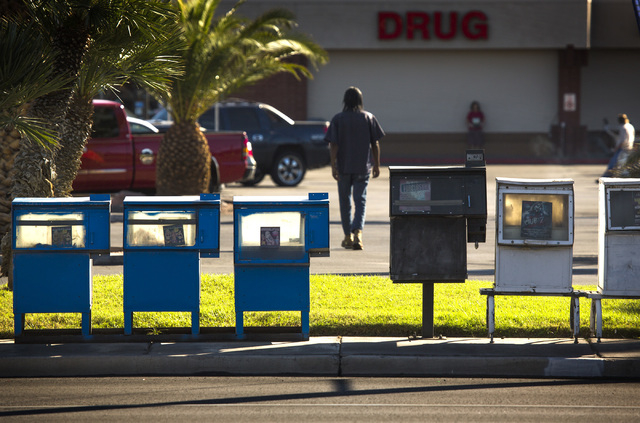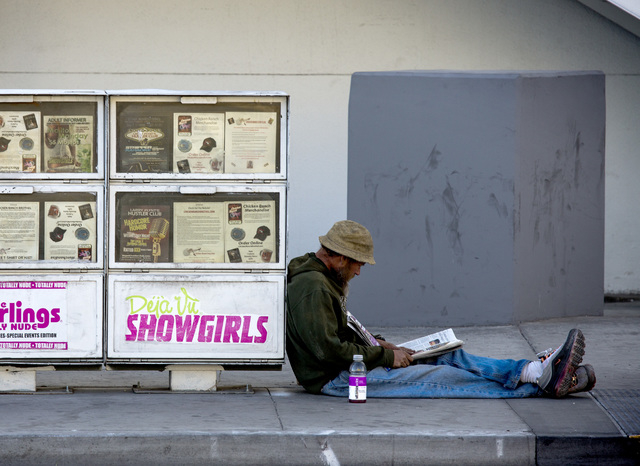 Empty, abandoned news racks located off the Strip might be in for scrutiny.
Clark County officials are considering a measure that would allow the county to impound news racks that sit empty for days on end.
County Commissioner Chris Giunchigliani has worked to get the proposal in place, saying it's needed so the county has a tool to get rid of abandoned news racks without publications that are littering neighborhoods.
Two companies that own news racks, however, oppose the change, saying it would increase the amount of labor needed for their operations.
Under the proposed ordinance, which commissioners will consider Tuesday, the county's public works department could put a notice on a news rack that it is considered abandoned after observing it empty for five consecutive working days. From there, the county could impound the news rack if it is still empty after five days and its owner hasn't informed the county that publications were placed in the news rack.
Giunchigliani said the proposal came after hearing concerns from constituents asking about news racks outside the resort corridor that are empty. Some news racks are empty, sitting in residential areas, she said.
"We should be able to remove them after a certain amount of time," Giunchigliani said.
Some news racks have been empty for more than a year, Giunchigliani said, adding that it's a good step toward keeping streets clear of obstructions. She also stressed the ordinance does not affect the Strip's news racks and that the five-day period is reasonable.
The county's existing news rack ordinance and this proposal apply equally to all news racks, regardless of the type of publication they hold. News racks on and off the Strip in the county have a variety of publications. They include scantily dressed women in eye-popping advertisements for strip clubs and escort services, but also tamer, low-key publications such as newspapers tailored for ethnic groups.
Hillsboro Enterprises has about 3,000 news racks, servicing about 600 of the news racks in the high-v0lume limited resort and apartment district. The company says the change would force it to hire more employees to avoid the appearance of empty news racks, as it currently services its news racks on a weekly basis. The company also says it would have to put more publications into news racks to comply.
"The proposed amendments would result in an unreasonable revenue loss, and potentially force Hillsboro to distribute the publications through alternative means," Carrie Hurtink, an attorney for Hillsboro, wrote in a business impact statement to the county.
Eddie Munoz, owner of Strip Advertising, has about 600 news racks off and on the Strip.
He said vandalism of his news rack and theft have been persistent problems. Munoz said he worries that those problems will increase with an ordinance that allows removal of empty news racks.
Munoz said the county's efforts would be better focused on looking for offenses instead of empty news racks.
"There's other stuff they could be looking at instead of looking to see if one's empty," Munoz said.
Giunchigliani said the ordinance to address abandoned news racks would be used the same way as the ordinance for getting rid of abandoned vehicles.
The county already has a process for abandoned news racks on the Strip that require permits. The county can cancel the permit if the news racks are empty for five days and the owner has received a notice to put publications in it within seven days.
As for the Strip news racks with permits, county officials have approved a plan to put a system of news racks in place that all have the same design. That design includes a sloped top that a passerby cannot leave a drink on.
Contact Ben Botkin at bbotkin@reviewjournal.com or 702-405-9781. Find him on Twitter: @BenBotkin1.