Clark County sheriff calls department's vaccination rate 'unacceptable'
Updated April 8, 2021 - 4:39 pm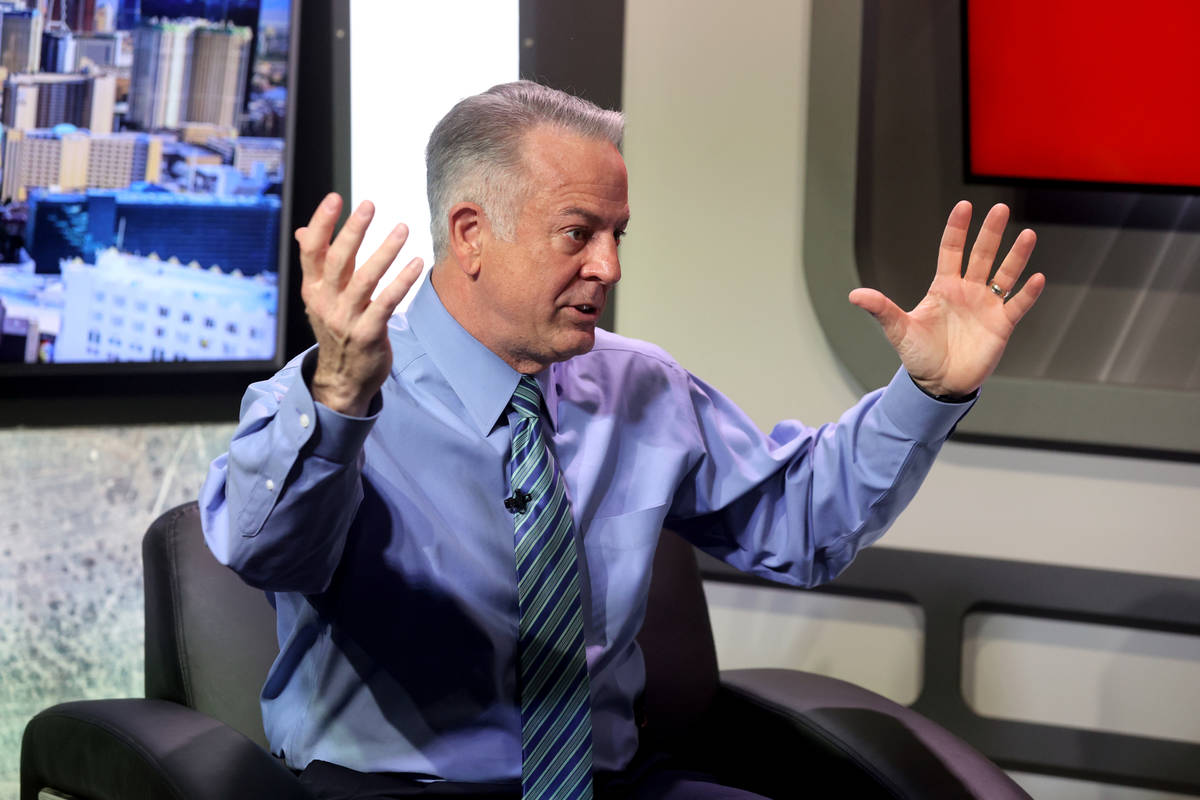 About 34 percent of Metropolitan Police Department employees are fully vaccinated against the coronavirus, a rate Clark County Sheriff Joe Lombardo called "unacceptable."
"I believe in the business that we are in, it's important for us to protect ourselves and the community that we interact with on a daily basis," Lombardo said Thursday in an interview with the Las Vegas Review-Journal.
Of the department's 5,742 employees, 1,955 have been fully vaccinated against COVID-19, according to data provided Thursday by a Metro spokesman. An additional 232 department volunteers, who are not counted in the employee total, also have been vaccinated.
Related: Lombardo confirms he's weighing a run for governor
While 49.4 percent of the department's civilian employees have been vaccinated, only 28.6 percent of officers —886 of Metro's 3,097 — have received both doses, according to Metro data.
When Nevada began distributing the vaccine in December, law enforcement was among the first tiers of people eligible for the shot. But months later, Lombardo said he wants more officers and Metro employees to be vaccinated.
"The vaccine, to be frank with you, it's proven to be positive and it's proven to work, and it would be a benefit to all of us if that number would increase," he said.
Lombardo said he believes he was one of the first people in Clark County to receive the vaccine early this year.
But when speaking with his employees, officers say they are hesitant because they have either already tested positive for COVID-19, or "they just don't feel the need," Lombardo said.
"They think the worst of it has passed, and they don't want to influence their body with the vaccine," he said.
UNLV epidemiologist Brian Labus said that while disease metrics are trending downward, it might not stay that way.
"The numbers are low right now, but if the entire community feels that way, they wont stay low for long," he said. "This virus is still in our community, and if we don't all get vaccinated to a level where the community is protected, we will continue to see a spread."
Labus said people who already have caught COVID-19 should still get vaccinated because the shot will prevent them from catching it again.
Metro's vaccination rates are "discouraging," Labus said, because the state has the resources for every department employee to be vaccinated.
Nearly three weeks ago, Metro said about 32 percent of its employees had been fully vaccinated. The rate has increased by 2 percentage points since the previous total was released on March 20.
While Metro employees are not required to be vaccinated, Lombardo said they do have to report to the department when they receive both doses. To encourage more people to get the shots, the department on April 1 stopped granting extra paid sick leave to employees who test positive for COVID-19, he said.
Steve Grammas, president of the Las Vegas Police Protective Association, said that if an officer now gets sick with COVID-19 and it's possible that the officer did not get infected at work, then the officer has to use personal sick time.
Grammas said the union disagrees with the measure and also is negotiating for the department to grant workers' compensation if an officer experiences side effects after getting a vaccine.
While Grammas said he was vaccinated because he already had COVID-19 and doesn't want to experience it again, he also believes "it's a matter of personal preference."
"If officers believe that they want or need the vaccine, then they should go get it," he said.
While the rate of all Nevadans 16 and older who are fully vaccinated is lower than the rate among all Metro employees — 22.7 percent of Nevadans in that group have had both doses, according to data updated Thursday by the Department of Health and Human Services — Lombardo said law enforcement needs to have as many vaccinated people as possible for public safety.
"The difference is we interact with people on a regular basis, more than the general public," he said.
Contact Katelyn Newberg at knewberg@reviewjournal.com or 702-383-0240. Follow @k_newberg on Twitter.
This story has been updated to reflect new vaccination totals provided by the Metropolitan Police Department.