Clark County stops pay increases for SEIU members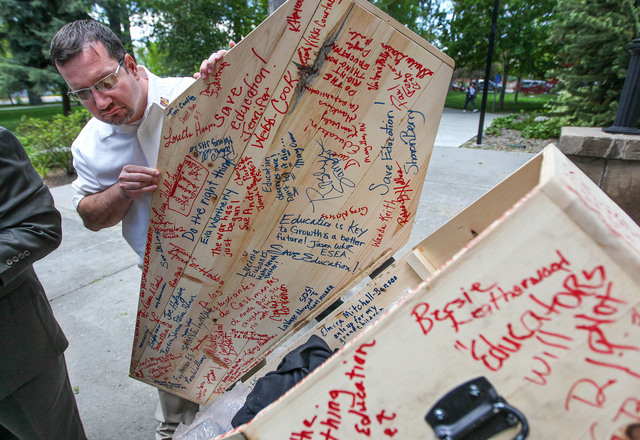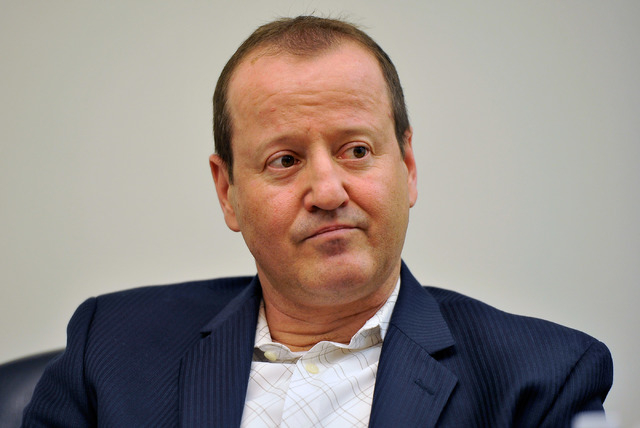 Clark County management has informed its largest union that employees won't receive salary or benefit increases anytime soon, citing a new state law and contending that the contract between the county and Service Employees International Union Local 1107 has expired.
The freeze is expected to end in August or early September, when the county expects to have a new contract in place with the union. The county and union go to arbitration on July 1. Both sides had already planned to go to arbitration before a new state law was passed, after two years of fruitless negotiations for a new contract.
SEIU Local 1107 President Martin Bassick received the letter late Tuesday from county Human Resources Director Sandy Jeantete.
The county's move is effective June 1, the same day Senate Bill 241 was signed into law by Gov. Brian Sandoval. The new collective bargaining law, brokered by state lawmakers with input from unions, came during the 2015 session as legislators rejected other wider-reaching labor-related bills.
The union was critical of the move Wednesday, the same day it sent a complaint to the state's Employee-Management Relations Board for a finding.
"This seems like it is clearly some sort of political game," said Brian Shepherd, state director of SEIU Nevada.
He noted he doesn't believe SB241 is meant to hurt employees.
"To us, it is a little unclear why county HR and county administration is kind of going rogue," Shepherd said.
He added that the SEIU is "hoping that the county can show leadership and set the tone on being a model leader."
In an interview, County Manager Don Burnette said it's not a political issue. Instead, it's an entirely legal issue about how a statute should be applied, he said, noting that the action is based on legal advice the county has received from its attorney.
The SEIU Local 1107 represents about 4,900 county employees, who work in a wide range of jobs such as clerical staff, caseworkers and maintenance workers.
The freeze also affects another, much smaller labor organization, the International Union of Elevator Constructors Local 18, which had 21 members working for the county in 2012.
Other county unions aren't affected because they have current collective bargaining agreements. SEIU-affiliated county employees who work at University Medical Center aren't impacted because they are in a different bargaining unit with a separate contract.
The freeze applies to different pay types, including merit pay, longevity and potential cost-of-living increases. Longevity pay starts after an employee's eighth-year work anniversary, and continues to increase each year.
The freeze is the latest development in an increasingly strained relationship between the county and SEIU. Last week, Bassick was ordered to report to work Monday at his county public works job. The county cited SB241, saying it ends the practice of granting paid full-time leave to the union's president for focusing on the labor organization. Allowing the SEIU local president to be on paid leave is part of the contract between the SEIU and the county.
But both sides disagree on whether the contract has expired. The contract's original term was to run from 2011 through 2013, but it has a provision that it renews on a year-to-year basis unless the contract is amended or terminated. The union contends that the contract is still in effect and hasn't expired.
However, a legal opinion authored by county attorney Mary-Anne Miller states otherwise, noting that the county and union negotiated a 2 percent cost-of-living increase with an interim agreement. The county and union first started negotiating a new contract in 2013, and have been unable to reach terms since then.
"We don't agree and we think there is some disconnect in the interpretation of the law. We don't believe that opinion is valid," Shepherd said. "It's really just twisting the law at the expense of the employees."
The new law says local governments are to be reimbursed by labor organizations if employees are on paid leave for union-related duties, or the union must make a concession in negotiations that has equal value. The new law also doesn't allow pay increases for employees in the bargaining unit if a contract is expired and a new agreement is not in effect.
As a result, a new contract from an arbitrator would end the existing freeze.
In an email to department heads and employees, Burnette wrote Wednesday afternoon that the new law only affects pay and benefit increases, and won't result in an employee's wages or benefits being reduced.
Contact Ben Botkin at bbotkin@reviewjournal.com or 702-387-2904. Find him on Twitter: @BenBotkin1
RELATED
County orders union boss to work, citing new law
Unions: Nevada collective bargaining reform reasonable
Labor, business groups back collective bargaining reform bill
SEIU, Clark County still far apart on contract agreement
Clark County, its biggest union debate need for longevity pay