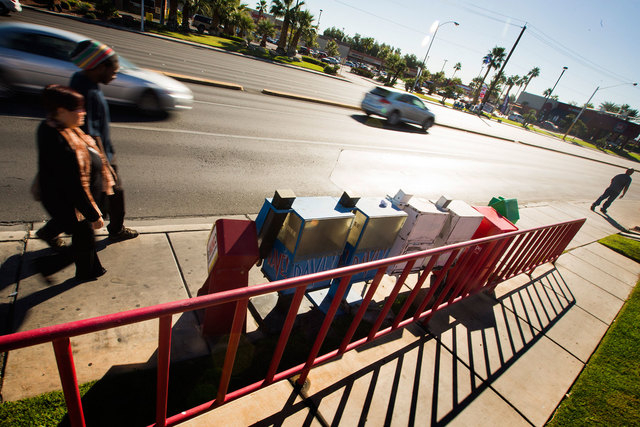 Empty, abandoned news racks located off the Strip can now be confiscated.
Clark County commissioners on Tuesday unanimously approved an ordinance that allows the county to impound news racks that sit empty for days on end.
County Commissioner Chris Giunchigliani has worked to get the proposal in place, saying it's needed so the county has a tool to get rid of abandoned news racks, which clutter up neighborhoods.
Under the ordinance, the county's public works department could put a notice on any news rack that is considered abandoned after observing it empty for five consecutive working days. From there, the county could impound the news rack if it is still empty after five days and its owner hasn't informed the county that publications were placed in the news rack.
Two companies that own news racks had opposed the change, saying it would increase the amount of labor needed for their operations.
The county already has a process for abandoned news racks on the Strip that require permits. The county can cancel the permit if the news racks are empty for five days and the owner has received a notice to put publications in it within seven days.
Contact Ben Botkin at bbotkin@reviewjournal.com or 702-405-9781. Find him on Twitter: @BenBotkin1.