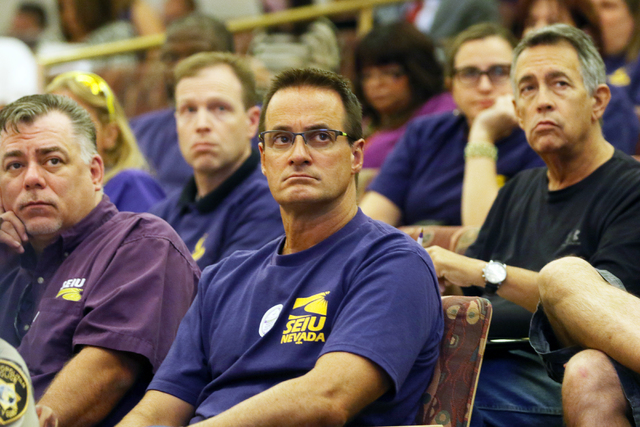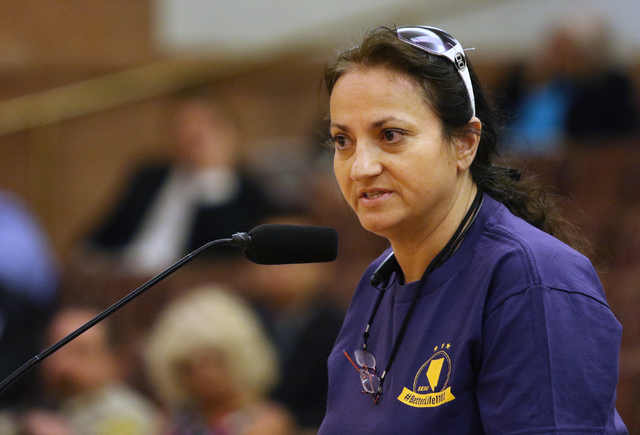 Clark County's largest union made another contract offer to Clark County on Monday, offering financial concessions it says would save the county millions.
Clark County and the Service Employees International Union Local 1107 are going to arbitration Wednesday to reach a final contract covering about 4,700 employees, if no deal is reached. Negotiations started in 2013 and an impasse was declared in 2014.
The labor dispute widened in June, after Clark County froze all pay and benefit increases for union employees. County attorneys say they're required to do so under Senate Bill 241, a collective bargaining bill that the Legislature passed this year and Gov. Brian Sandoval signed into law. The union disputes that interpretation.
The SEIU's latest offer would scale back proposed wage increases and require future employees to wait longer to be eligible for longevity pay. It rejects a county offer of a one-time payment of $500 to each employee; reduces a cost-of-living pay increase effective July 1 from 2.5 percent to 2.25 percent; and would make employees eligible for longevity pay after 11 years of service, up from the current eight years.
"Not only is this offer reasonable, it will save the County millions of dollars," SEIU Local 1107 President Martin Bassick wrote in a letter Monday to his bargaining team. "This is above and beyond the concessions we are required to make, but we are coming to the table in a good faith effort to resolve this dispute, which has been going on far too long."
County spokesman Erik Pappa declined comment Monday.
SEIU Local 1107's prior offer, rejected by the county, called for an annual 2.5 percent cost-of-living increase for 2014, 2015 and 2016, and making employees eligible for longevity pay after 10 years.
The county, meanwhile, had offered a 2.5 percent cost-of-living increase retroactive to July 1, 2014; a 2 percent wage increase for July 1, 2015; and the ability to negotiate wages in 2016. The county also offered each employee a $500 one-time bonus in exchange for ending longevity pay for future employees while retaining it for those already on the job.
Because of the new law, the county also ended the practice of paid union leave, which allows employees to keep receiving their county pay while doing SEIU-related work. The county rejected the SEIU's prior proposal, saying it doesn't meet the new law's requirements for a union to either reimburse the county for union leave, or make a concession in negotiations.
The county says the new state law applies because the collective bargaining agreement expired in 2013, while the union disagrees and has filed a pending complaint with the state's Employee-Management Relations Board.
Contact Ben Botkin at bbotkin@reviewjournal.com or 702-387-2904. Find him on Twitter: @BenBotkin1