Cliven Bundy refuses to enter plea in 2014 armed standoff near Bunkerville — VIDEO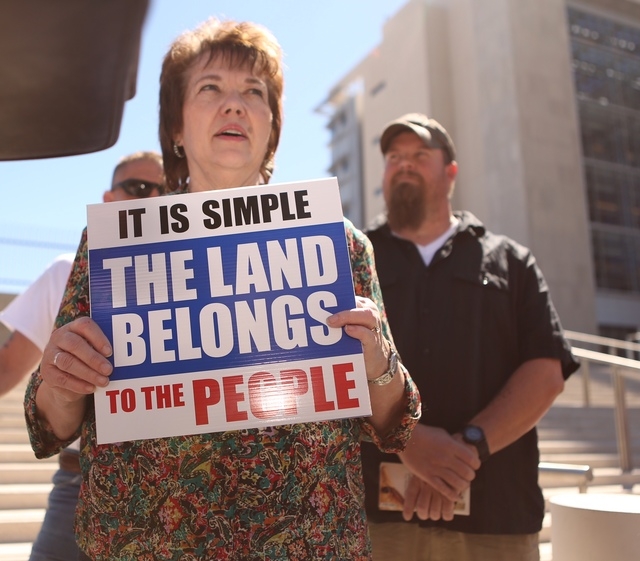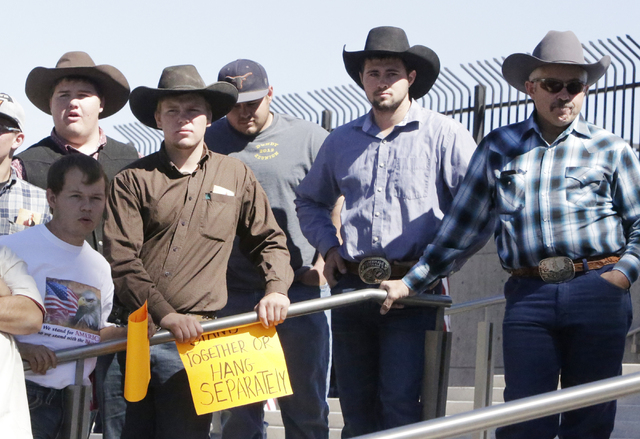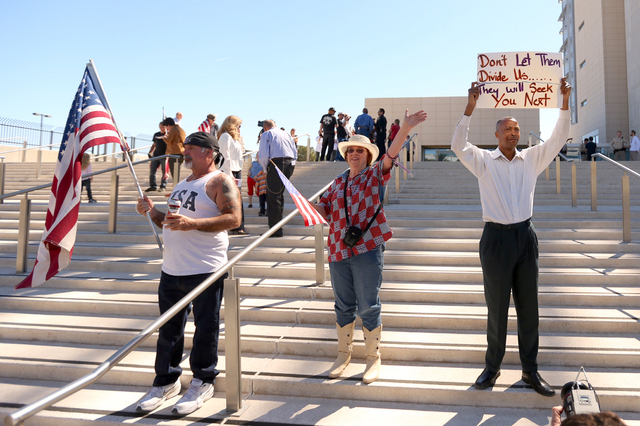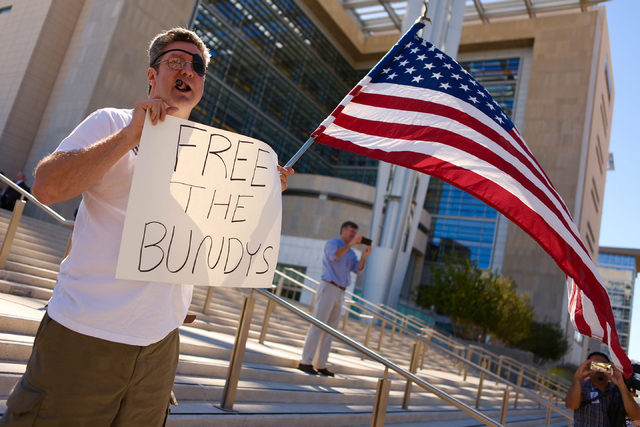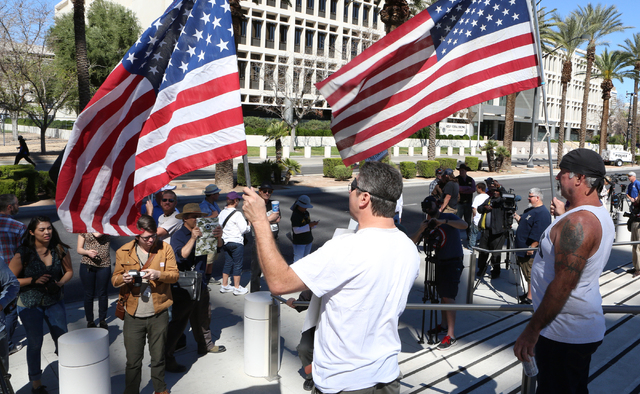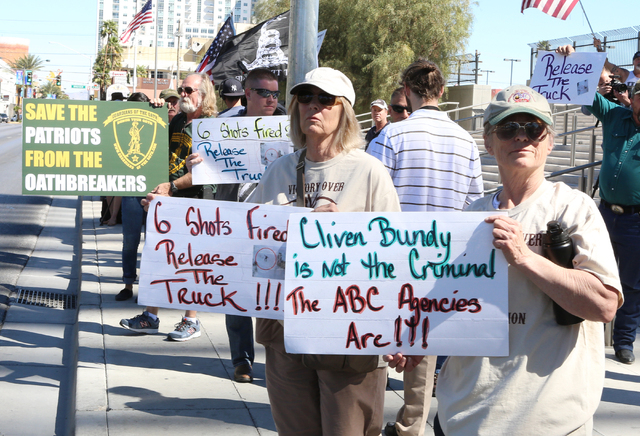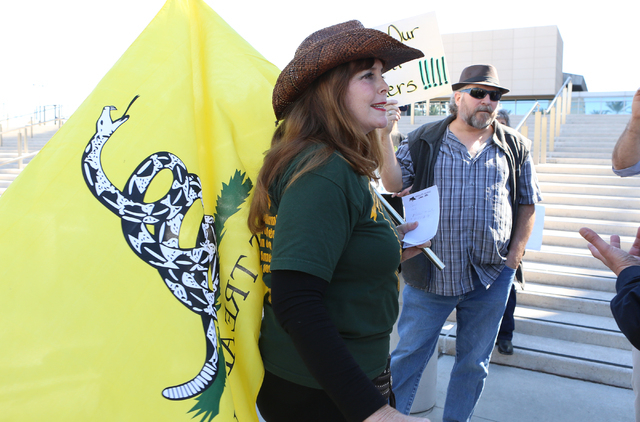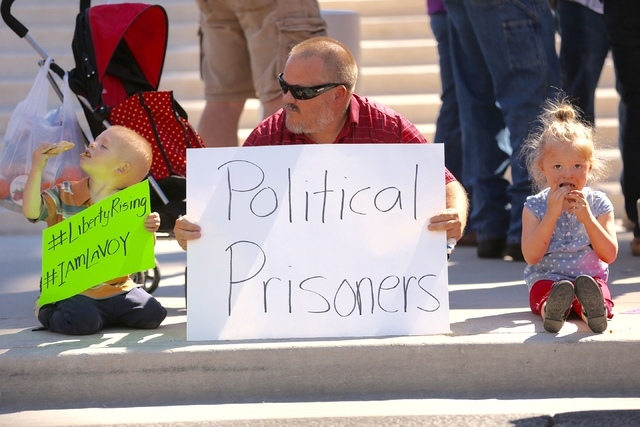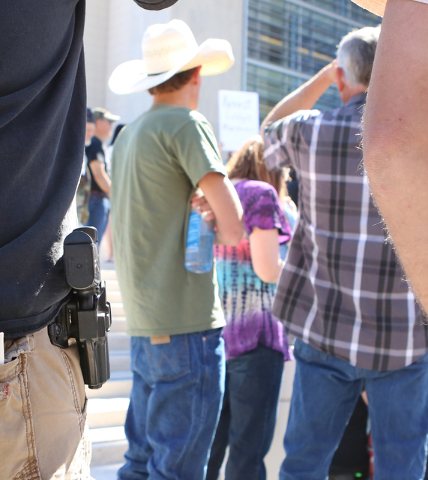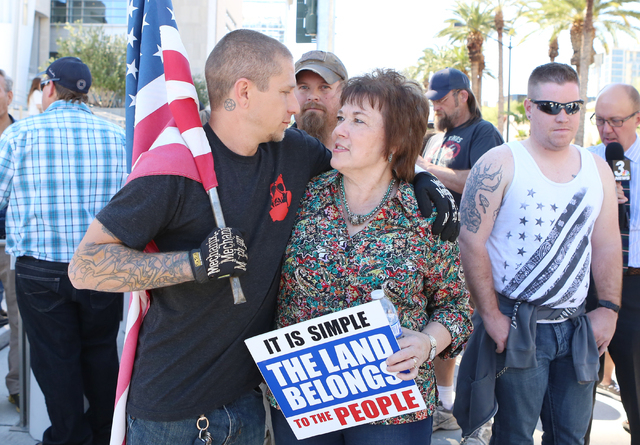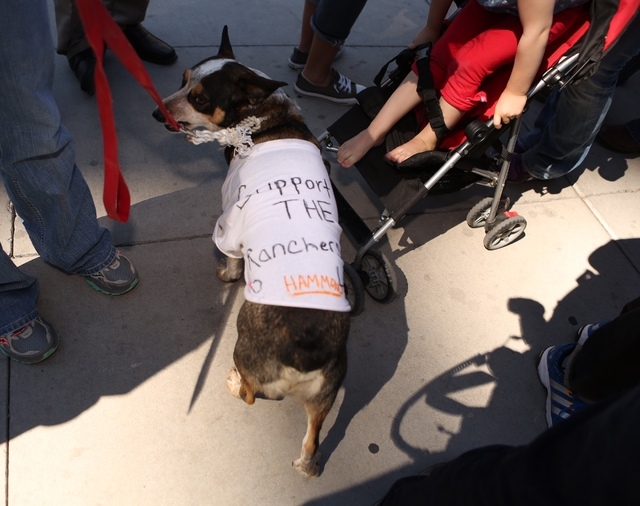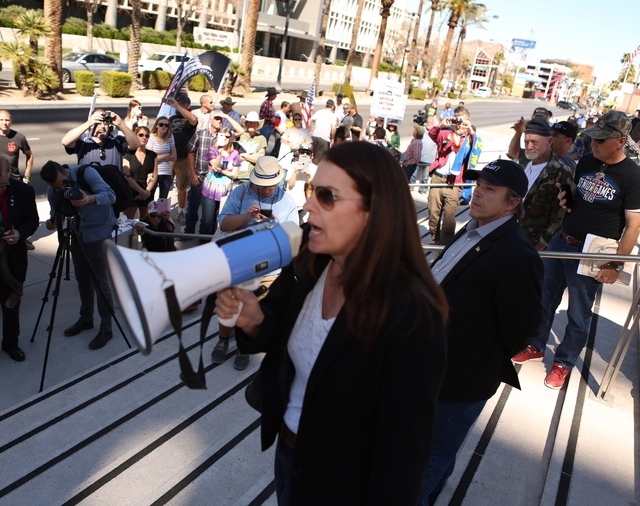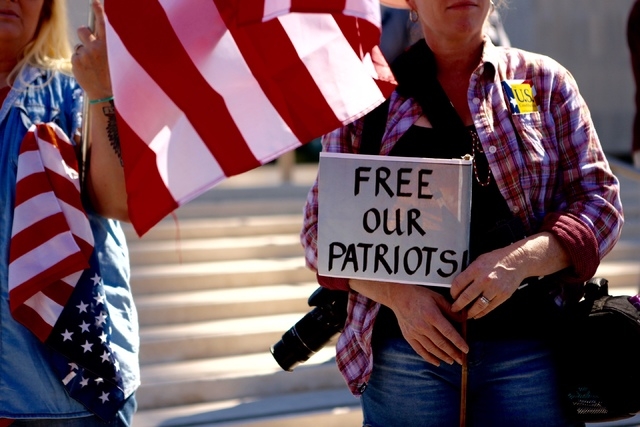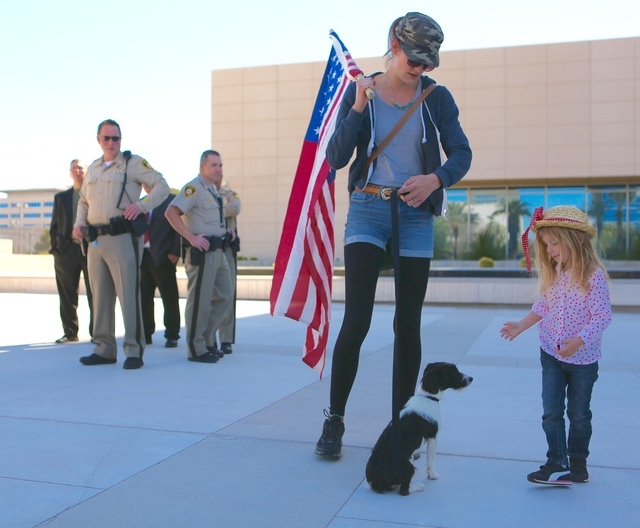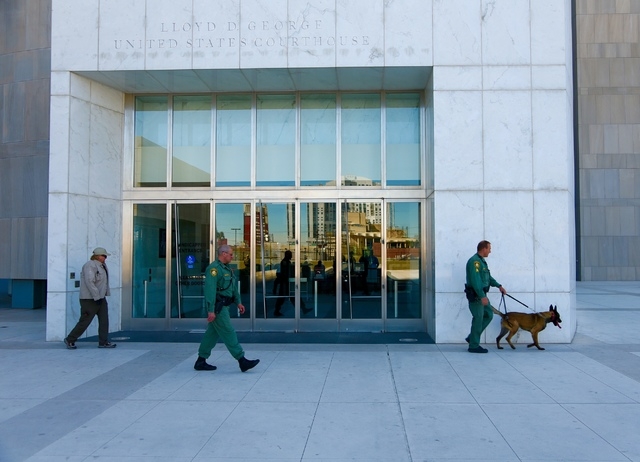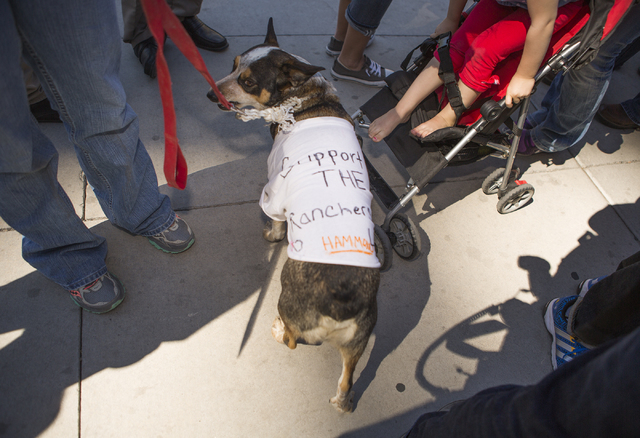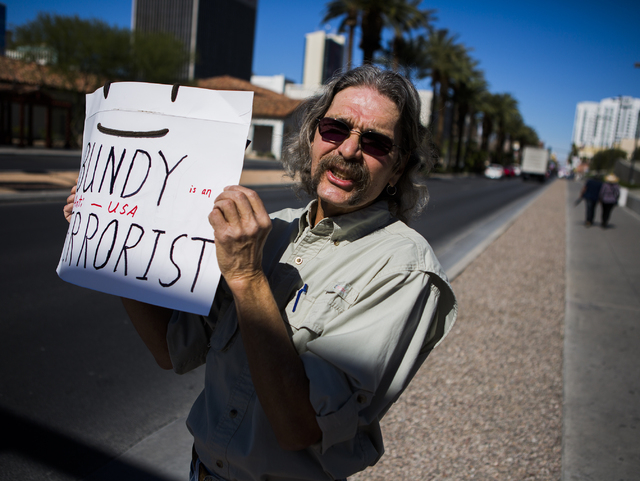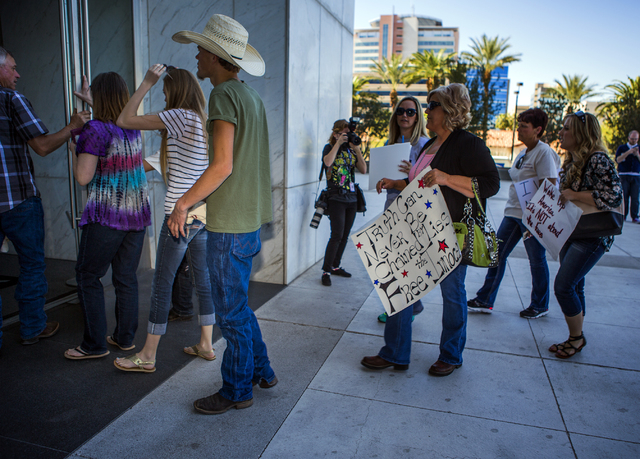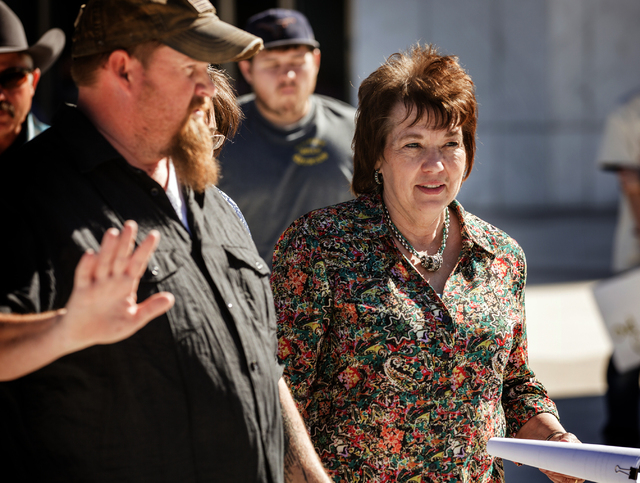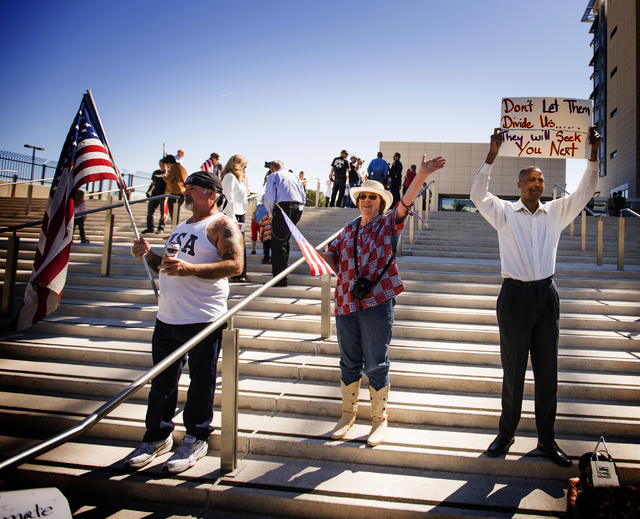 With a crowd of supporters in the courtroom, Nevada rancher Cliven Bundy refused to enter a plea Thursday to criminal charges stemming from the 2014 armed standoff with law enforcement near his Bunkerville ranch.
"I make no plea before this court," Bundy said, forcing U.S. Magistrate Judge Bill Hoffman to enter "not guilty" pleas on his behalf to all 16 felony charges.
Hoffman set a May 2 trial for Bundy before Chief U.S. District Judge Gloria Navarro, but continued his detention hearing until March 17 so his lawyer, Joel Hansen, could have more time to prepare. Bundy, 69, dressed in a red jailhouse jumpsuit, will remain in federal custody until then.
First Assistant U.S. Attorney Steven Myhre said the government intended to argue to keep Bundy behind bars as he awaits trial.
The arraignment took place as dozens of Bundy supporters protested his arrest on the steps of the federal courthouse.
Afterward, Hansen said Bundy refused to enter a plea because he questions the "jurisdiction of the federal government."
Hansen also said Bundy doesn't believe he's done anything wrong.
"Mr. Bundy is a very wonderful man," Hansen said. "He's never hurt a flea. He's never been guilty of anything but a traffic ticket in his life."
Hansen, who has been active in the Independent American Party, an ultra-conservative political organization, told Hoffman that he wants to remain as Bundy's lawyer, but he needs to be paid and wasn't sure whether that would happen. Hoffman said Bundy could obtain a court-appointed lawyer if he qualifies for one.
Bundy's wife among protesters
Before the court hearing, as many as 100 demonstrators gathered outside the federal courthouse in support of Bundy, as a handful of police and U.S. marshals stood by to keep the peace.
Among those on hand was Bundy's wife, Carol.
"I think it's time the American people realize … They're treating us (Nevada) as though we're a territory," she said. "I challenge the government's jurisdiction to even have a case against my husband."
She said she was concerned about her husband's treatment in federal custody. He's being held without bail in an isolation cell at the Henderson Detention Center, she said.
"This is his first offense, no priors. He should be able to go home," Carol Bundy said. "They give that to everybody else. He's an honest, upstanding man. He wouldn't run and hide."
Demonstrators didn't bring the long guns to the rally that many expected they would, but they carried flags and handmade signs.
One woman carried a yellow Gadsden flag displaying a coiled snake and the slogan "Don't tread on Me." Another man held a large sign that read "Save the Patriots from the Oathbreakers."
Other small signs were placed in front of concrete barriers at the bottom of the courthouse steps facing busy Las Vegas Boulevard downtown.
One sign read "release the political prisoners." Another said "release Cliven Bundy," and still another read "pray for America."
We are live outside the federal courthouse in downtown Las Vegas where Cliven Bundy is to be arraigned on felony charges in the 2014 armed standoff with law enforcement near his Bunkerville ranch.

Posted by Las Vegas Review-Journal on Thursday, 10 March 2016
The defiant Bundy patriarch was brought to Las Vegas last month by U.S. marshals from Portland, Oregon, where he was taken into custody on his way to support an armed takeover led by two of his sons at a government wildlife refuge in that state
The 16 felony counts against him include extortion, obstruction of justice, conspiracy to commit an offense against the United States, conspiracy to impede or injure a federal officer, assault on a federal officer, threatening a federal law enforcement officer and using and carrying a firearm in a crime of violence.
Bundy and 18 others — including four of his sons, Ammon, Ryan, David and Melvyn — were charged in a new federal indictment in Las Vegas last week in connection with the April 12, 2014, Bunkerville showdown.
The confrontation aimed to force federal officials to abandon about 400 cattle they had rounded up under court orders, according to the indictment.
Protesters from Western states
Many of the demonstrators outside the courthouse Thursday came from Southern Nevada, but others traveled from California and Utah to express their discontent with what they said was government overreach.
Brittney Beck, 26, the daughter of slain Oregon protester LaVoy Finicum, said she came from Utah to support the Bundy family "100 percent."
Finicum was shot and killed by state police toward the end of the 41-day armed standoff at the Oregon wildlife refuge.
Authorities said he resisted arrest and reached for a loaded handgun in his pocket.
"In January they murdered my father," Beck said. "I think they're still covering up a lot of things they did."
She said she's grateful that people have rallied to her cause.
"My dad was a cowboy," Beck said. "He followed God in whatever he did. He loved this country."
Brian Enright, 37, came out to support the Bundys for the first time with his wife and 4-year-old daughter. He said too many people don't understand the Constitution.
"The United States needs to be limited in their power, according to the U.S. Constitution," he said, brandishing a large American flag.
He said he has heard too many stories about ranchers losing their land.
"They were pushed to the brink," he said. "The states need to have their rights back."
Chig Foley, 65, of Las Vegas, didn't share that opinion. He was the lone voice of opposition to Bundy's supporters.
"I think there's a lot of people who feel strongly against this, but they didn't get a call from some right-wing militia-types to come rally at the courthouse," he said. "I don't like the fact that they want to take our land and give it to a few white dudes. I just think they're very scary."
Contact Jeff German at jgerman@reviewjournal.com or 702-380-8135. Find him on Twitter: @JGermanRJ. Contact Wesley Juhl at wjuhl@reviewjournal.com or 702-383-0391. Find him on Twitter: @WesJuhl
Previous coverage
See a timeline of events leading up Cliven Bundy's conflict with the Bureau of Land Management in 2014. Also, see the most recent reports involving Bundy and his family.