Club Ride trying to pave roads green
October 15, 2012 - 12:59 am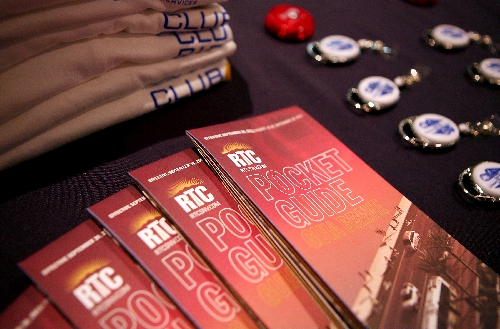 For some, it's about going green. For most, it's about saving green.
Whatever their motivation – environmental or financial, global or personal – 5,500 new commuters have joined the Regional Transportation Commission of Southern Nevada's Club Ride Commuter Services program since January, bringing the number of individuals carpooling, using public transit, biking or even walking to and from work in the employer-driven initiative to about 27,000.
It's a substantial nine-month spike in membership for the free program that began in 1999. The biggest addition this year has been 860 of the 9,000 employees of the Las Vegas Sands-owned Venetian and Palazzo, who joined in April as part of the Sands Eco 360 program.
"The cost benefit, that's the driving force for most people," Angela Castro, the RTC's director of government affairs and media relations, said of the program. "The fact of the matter is, people are looking for ways to save money."
It makes sense in a tough economy. Castro explained the average daily commute in Southern Nevada costs a single driver $12.80 in gasoline and wear and tear on a vehicle. Two people sharing a ride cuts that cost in half. Four people cuts it by three-quarters.
It's not upper-division calculus.
And not all the calculations translate into dollars and cents. Some show the environmental impact to the community.
Since Club Ride members are urged to report their alternative commutes each month – and about 3,580 currently do – the RTC has empirical data on how the program is working to create a more sustainable Southern Nevada.
Among the statistics for those who reported their commutes during fiscal year 2012:
■ The breakdown of alternative commuting is about 59 percent carpooling (which includes vanpooling), 30 percent public transit and 4 percent biking/walking. (Another roughly 5 percent ride a motorcycle, but motorcycles are not included in the environmental data because, lacking catalytic converters, they bring pollution into the environment rather than reduce it).
■ Participants reported more than 989,000 clean commute trips, reducing 5.6 million miles from Southern Nevada roads.
■ These commuters have helped reduce 56.18 tons of carbon monoxide, equivalent to saving 282,000 gallons of gasoline.
■ Volatile organic compounds in the air, such as benzene, have been reduced by 9.15 tons.
■ Other reductions include 12.1 tons of nitrogen oxide and almost 2,200 tons of greenhouse gases.
The Club Ride program has 270 valley businesses signed up, ranging from the Venetian/Palazzo, which became its first platinum-level partner, to smaller ones, such as Ocean Spray, where 19 of its 120 employees enrolled in its first month of involvement.
Some employers, such as The Cannery in North Las Vegas, which joined the program in May 2003, continue to expand their involvement. The Cannery recently added a park-and-ride facility on its property.
Katarina Tesarova, executive director of global sustainability for The Venetian and the Palazzo, said the program "fits very nicely with our strategy of increasing community sustainability." She added the two resorts have quarterly events to try to increase membership.
Club Ride's outreach staff stokes community interest by providing carpool match lists and signage for carpool-only parking and hosting employer onsite transportation fairs. The Club Ride program also guarantees a ride home to enrolled members who lose their rides to unforeseen carpooling misfortunes, such as a family emergency or illness, the RTC's Castro said.
Enrolled members are urged to provide data online, via text messaging or by swiping their membership cards at their place of employment, thereby providing the RTC with data of their commute. In return, members become eligible for prize drawings and various city activity/business discounts.
"Our team members have told us they really like the program because of the individual cost savings they're seeing and also because of some of the extra benefits, such as prizes and discounts on things like bus passes," Tesarova said.
Of course, the primary drawback to carpooling is the loss of personal freedom to move about on any given day.
Still, the many positives make up for the one negative, said Scott Miklos, Club Ride program manager.
"It does have an impact," he said of the loss of freedom. "But some people find the program helpful because they have only one car in the family. Some people do it because they like our drawings. Others are environmentally conscious. The reasons are across the board."
Contact reporter Joe Hawk at jhawk@reviewjournal.com or 702-387-2912. Follow him on Twitter: @RJroadwarrior.
RTC seeks public input
The Regional Transportation Commission of Southern Nevada is seeking the public's input on transit and transportation priorities that will be included in the community's comprehensive, long-range Regional Transportation Plan.
Southern Nevada residents are invited to express their opinions about future transportation projects at public meetings or online in a comment section that is available on the RTC's website at rtcsnv.com through Nov. 26.
The RTC is required by federal regulations to update the Regional Transportation Plan every four years. The Regional Transportation Plan is a 20-year outlook that includes a $9 billion strategy designed to improve mobility, advance efforts to promote alternate modes of transportation, and improve air quality between now and 2035.
The projects identified in the plan also comprise the contents of two other important documents: a Transportation Improvement Plan for 2013-2016 and a 2013 Transit Program of Project. These documents enable projects to become eligible to receive federal funding.
LAS VEGAS REVIEW-JOURNAL