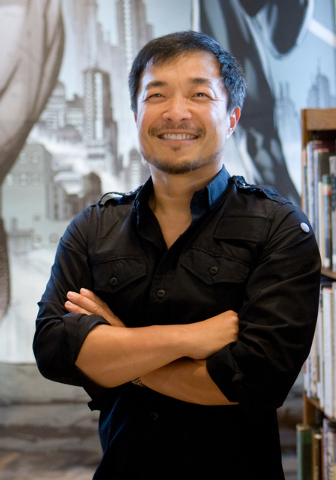 Attention fanboys and fangirls: the Amazing Las Vegas Comic Convention is returning to the South Point for a second year this weekend, Friday through Sunday.
The event will feature interactive exhibits, a special children's day and celebrated comic book artists — including DC Entertainment co-publisher Jim Lee.
Event organizer Jimmy Jay, of the Jay Company Comics and comic conventions across the country, said the history of comic conventions has been rocky in Southern Nevada. Las Vegas is a natural convention destination, but attempts in the 1990s and the early 2000s to hold a comic book event similar to the famous San Diego ComicCon fizzled out.
"Because they didn't cater to locals," Jay said.
Las Vegas' comic book community has a reputation for having some of the best shops and the most knowledgeable fans.
"We wanted to work with the local audience and build out from there," Jay said.
Planning for an event of this magnitude, which includes a show floor packed with more than 300 exhibitors, more than 200 artists, autograph sessions and costume contests, takes over a year, Jay said, but it is worth it to create a unique event for Sin City.
Last year, the Amazing Las Vegas Comic Convention had about 20,000 attendees.
"We're hoping to grow on that this year," Jay said. "This is the only full-scale comic convention in town."
Convention attendees will have the chance to see many heroes from the comic book world.
Headliner Jim Lee, appearing Saturday afternoon, is one of the most respected artists in American comics. His work on Marvel Comics' X-Men continues to hold the all-time sales record for single-issue sales at 8 million copies sold in one month, and Lee has had popular runs with the Batman, Superman and Justice League franchises. Comic book artist Steve Epting — best known for relaunching Captain America and with credits on Superman, X-Men: Age of Apocalypse, and the Avengers —is showing up.
Also slated to appear are George Perez — creator of the Infinity Gauntlet tale that drives both the Avengers and the Guardians of the Galaxy franchises — and Rob Liefeld, who helped create the Marvel character Deadpool and the X-Men characters Cable, Domino and Shatterstar.
A costume contest for adults will be Saturday night and is sure to include cosplayers (fans who go above and beyond to dress as their favorite characters) doing everything from Star Wars to superheroes and villains.
Jay said organizers set aside Sunday especially for children. Kids under 10 will get in for free and have access to free sketches from animators —including one from Disney's "Phineas and Ferb" TV show.
Kids' day will feature a children's costume contest and parade, and all participants will get a special prize, he said.
This year, the convention will also feature people from some of television's most colorful reality contest shows.
Performers from the SyFy channel's "FACE/OFF" and "Heroes of Cosplay" will have live, interactive exhibits, including a special effects makeup demonstration, and Jordan Hembrough from the Travel Channel's "Toy Hunter" will stop by for a meet and greet. Fans will get the chance to see how much their vintage toys are worth.
"All the really great things you grew up with could be worth a lot of money," Jay said. "I think that's another great element we're bringing in."
Weekend passes are $60, Saturday passes are $35, and Friday- or Sunday-only passes are $25. VIP tickets range from $150-$200. Children younger than 10 are free on Sunday.
Tickets are available at the South Point box office or online. For more information visit www.AmazingLasVegasComicCon.com.
Contact Wesley Juhl at wjuhl@reviewjournal.com and 702-383-0381. Find him on Twitter: @WesJuhl.