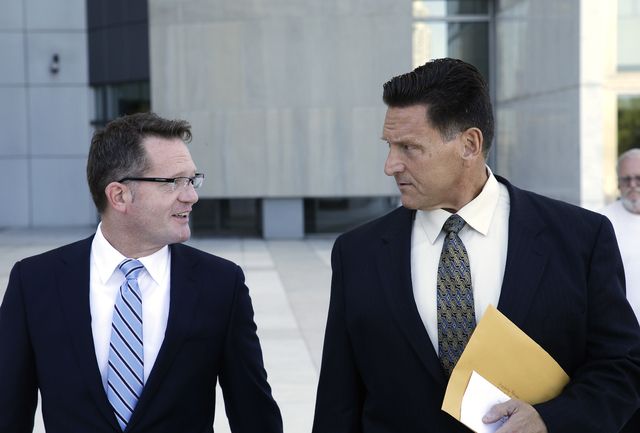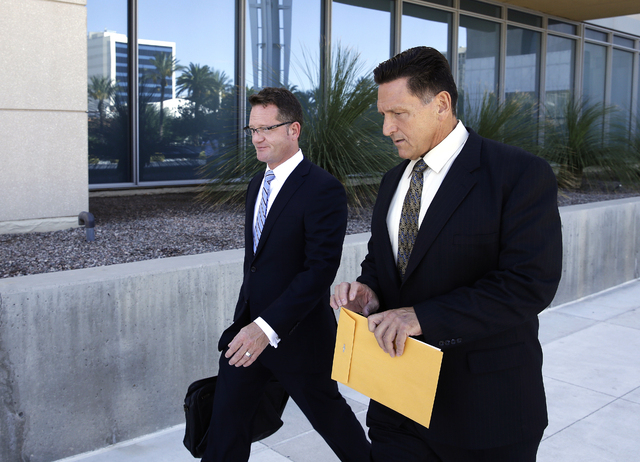 Former Family Court Judge Steven Jones is off the public payroll, but the Nevada Judicial Discipline Commission may not be ready to let him go quietly.
Paul Deyhle, the commission's executive director, said Thursday the seven-member panel will consider a lifetime ban to prevent Jones from running for judicial office again.
"Conceivably, after he gets out of prison, he could run to be a judge again," Deyhle said.
Jones faces more than two years behind bars after his guilty plea Wednesday in a $2.6 million investment scheme that occurred between 2002 and 2012.
He submitted a terse, handwritten resignation to Gov. Brian Sandoval after he pleaded guilty, and the state stopped paying his annual $200,000 salary.
Jones, 56, first elected to the bench in 1992, also informed the State Bar of Nevada Wednesday that he was giving up his law license.
His defense lawyer, Robert Draskovich, said Jones would have to reapply for his license before he could run for judge again, and that's not likely to happen.
"He has no intention of getting his law license back," Draskovich said.
Deyhle said there is no urgency for the commission to act on a lifetime ban because Jones is headed for prison and no longer being paid by taxpayers. But Deyhle added he expected the commission would want to take up the matter soon.
Jones has had a long and combative relationship with the judicial commission. He fought disciplinary proceedings against him all the way to the Nevada Supreme Court.
In November 2012, the commission suspended Jones with pay after he and five others, including his former brother-in-law Thomas Cecrle, were indicted by a federal grand jury in Las Vegas in the investment scheme.
In February, the panel suspended Jones again, this time without pay, for three months after it cited him for an improper romantic relationship with a prosecutor who appeared before him in Family Court. The prosecutor, Lisa Willardson, died of a drug overdose in December. She was fired from the Clark County district attorney's office after the relationship became public.
Deyhle told the Las Vegas Review-Journal in July that the commission spent at least $183,300 — more than three-fourths of its fiscal budget in 2014 — pursuing that case.
The panel was prepared to move forward with a second, more serious disciplinary case against Jones, but that will be dropped now that Jones has resigned.
The case had been in the making since 2006 and included allegations Jones was involved in several investment schemes, associated with felons, improperly handled drug evidence and once had an "intimate relationship" with a law student who worked for him.
In his federal plea agreement, Jones admitted that he used his judicial office to further what prosecutors said was a decade-long investment scheme involving water rights and land deals.
At least 22 victims were swindled out of more than $2.6 million, the agreement said.
Jones also admitted that he and Cecrle funneled more than $260,000 in illegal proceeds from the scheme into a joint bank account they set up.
Cecrle and the other defendants also have pleaded guilty in the scheme and most, including Jones, are to be sentenced in January.
Contact Jeff German at jgerman@reviewjournal.com or 702-380-8135. Find him on Twitter: @JGermanRJ.