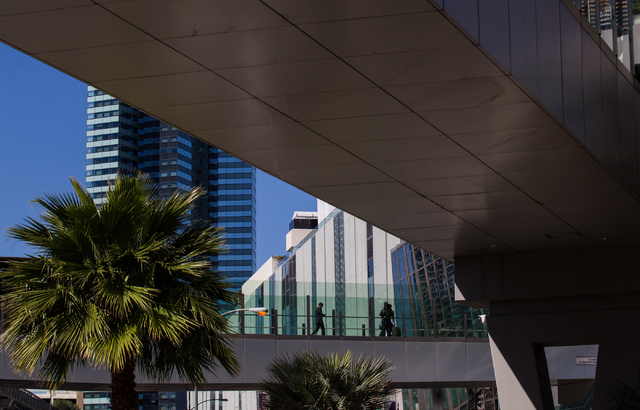 Don't expect to see advertising on pedestrian bridges along the Strip anytime soon.
Clark County officials have concerns about Senate Bill 199, which would allow — but not require — advertising on public right-of-way areas that include pedestrian bridges, escalators and elevators.
They worry that the bill, while a potential revenue generator for needs such as police officers, would pave the way for advertising on pedestrian bridges along the Strip, impacting the aesthetics and worsening traffic hazards by making traffic lights less visible.
The pedestrian bridges have been an advertising-free zone on the famous stretch of real estate known for casinos' big and bright neon signs, billboard trucks, porn-peddling handbillers and newsracks stuffed with free publications featuring scantily clad ladies.
The bill, sponsored by Sen. Michael Roberson, R-Henderson, caught the attention of county leaders last week. Commissioners and county management aired concerns at their Tuesday meeting with Sean Higgins, a lobbyist with STH Strategies who is pushing the bill. Higgins was representing the ad industry.
County Manager Don Burnette said he has concerns about the advertising affecting traffic safety.
County Public Works Director Denis Cederburg showed commissioners pictures of pedestrian bridges, demonstrated that putting advertising on them could potentially distract motorists, particularly if billboards are on bridges behind traffic lights on Las Vegas Boulevard and side streets.
The traffic signal could become "lost in the advertising," Cederburg said.
Also, signs could make it more difficult for police to do their job. Some pedestrian bridges have clear panes that allow officers to more easily spot movement along bridges.
Higgins stressed that the bill would simply enable the county to enter into contracts for advertisements placed on pedestrian bridges. It wouldn't force the county to do so.
"It does not authorize anyone to place any such advertising," Higgins said, adding that safety concerns could potentially be addressed with an amendment to the bill.
That didn't sway county officials.
County Commissioner Chris Giunchigliani said that even though SB199 is simply enabling legislation, the bill is "opening up a can of worms."
"I don't think it needs to be in our public right of way," she said, adding that there are plenty of options for advertising in the private sector.
Commissioner Mary Beth Scow made the analogy of giving a cookie to a mouse.
"I think there could be far-reaching consequences," she said, adding that protecting safety of pedestrian bridges is important.
Virginia Valentine, president of the Nevada Resort Association, the primary advocacy voice for Nevada's gaming and resort industry, said in an interview that her group hasn't taken an official stance on the bill but noted it shares similar concerns to what commissioners expressed about the potential impacts on safety and aesthetics.
Roberson said Friday he was trying to help the county and Metropolitan Police Department find a potential way to pay for more police officers.
"I brought Senate Bill 199 with the understanding that this would be something that Clark County and Las Vegas Metro would be supportive of as a revenue generator to potentially fund more cops," Roberson said.
County commissioners have been unable to find enough votes to pass a 0.15 percentage point sales tax increase to pay for more police officers. The Legislature in 2013 passed a bill that allows the county to enact the sales tax increase.
Roberson said he's willing to withdraw the bill and wait for input.
"If in fact either Clark County or Metro has safety concerns with this bill, I'm happy not to move the bill forward," he said. "I'm trying to get a clear signal from both Clark County and Las Vegas Metro as to how they feel about this bill."
In recent years, the county has made plans to clean up the Strip, with an eye toward improving pedestrian flow and eliminating or relocating obstacles such as fire hydrants and trash cans. It has made plans to replace varied types of newsracks on the Strip with uniformly designed racks with sloped tops that discourage passersby from littering.
Review-Journal writer Sandra Chereb contributed to this report. Contact Ben Botkin at bbotkin@reviewjournal.com or 702-405-9781. Find him on Twitter: @BenBotkin1.