Community backs baby who needs heart transplant
September 4, 2015 - 8:50 pm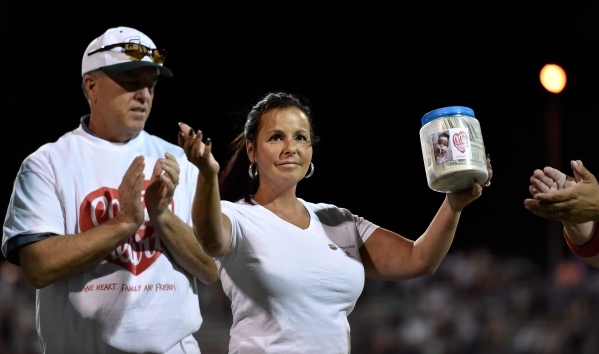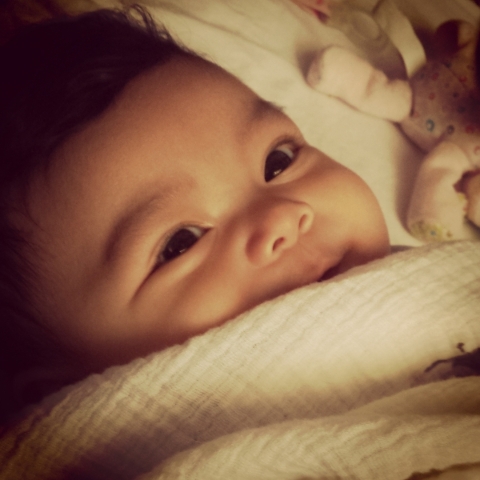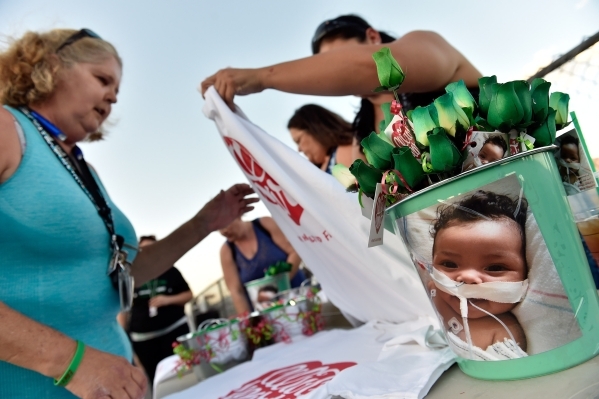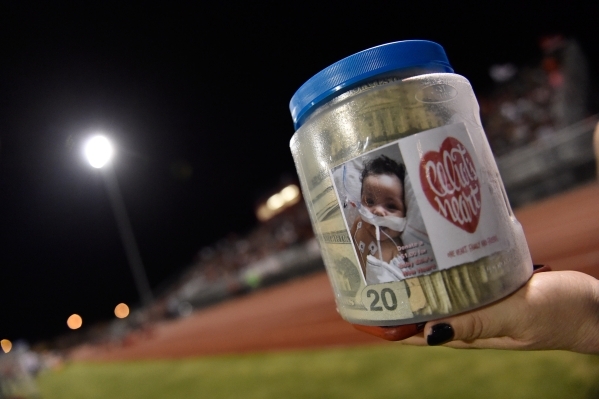 Last week one of Melissa Lim's former students stopped by her class after school and handed her $12.
"This is for your baby," he told the Harney Middle School teacher.
Lim's 5-month-old daughter, Ellie, is 36th on the regional pediatric waiting list for a heart transplant at Mattel Children's Hospital UCLA. Ellie was diagnosed with dilated cardiomyopathy of the left ventricle during a routine checkup on Aug. 6. The disease affects the way her heart pumps blood and is life-threatening.
On Friday, the Las Vegas High School football program held a fundraiser for Ellie during a game against Green Valley High School. Donation buckets were passed around before halftime. Harney Middle School teachers and students from the National Junior Honor Society wandered up and down the bleachers selling green roses and wristbands. The color green is meant to represent organ transplant patients.
"I can only imagine what it's like for Miss Lim to have a baby need a heart transplant," Gabrielle Marbaugh, 12, said. "I want to help save someone's life."
Green Valley High School's football program brought a check for $500, which brought the total raised at the game to $1,665. The money was presented to OfficerDown.US, a crowdfunding platform for the law enforcement community, during halftime. Lim's husband, Lee Lim, is a Metro officer.
Cody Pritchett teaches with Melissa Lim at Harney, near Charleston and Hollywood boulevards, and also is head coach of Las Vegas High School's junior varsity football team. He organized fundraisers at both schools to help the Lim family with costs associated with the transplant, estimated at more than $250,000.
Pritchett said the staff at Harney is especially close-knit.
"We buy into the fact that we're a family," he said. "We have a good community there."
Harney and Las Vegas High School will be selling roses and snow-cones and conducting fundraisers at dances and football games, Pritchett said. He and Lim's other colleagues raised than $3,300 in one minute during an assembly on Thursday. Two students donated $100 bills.
Pritchett said he is friends with Lim, but as a father himself, her situation really hit home.
"You can ask any of my kids. I'm probably the toughest guy out here, and I cried like a little girl when I heard what was happening," he said.
And it's not just the schools pitching in. Ellie's father is getting support from fellow cops from multiple agencies.
"It's a family, and I am so proud to be part of this family of blue," Melissa Lim said.
The OfficerDown.US campaign to help baby Ellie has raised more than $16,000, but the family has a long way to go even after Ellie gets a new heart.
After the transplant, Ellie will be on a six-year plan. She'll have to stay in the hospital for at least three weeks for biopsies and lab work to make sure the transplant sticks. She'll have to be taken to Los Angeles monthly for tests.
Ellie will also need extensive therapy because she is missing important developmental milestones while hospitalized. She can't even lift her head while on the ventilator, Lim said, let alone push up, turn over or crawl. She will have to relearn how to eat.
Because her immune system will be suppressed by her time in the hospital and the transplant, the Lims will have to redo much of their home. The Lims will have to change clothes in the garage and shower before touching Ellie, who will have to sleep in the same room as her parents for a long time to come so she can be monitored.
"I don't think either of us would want her out of our sight. I probably will never sleep again," Lim said with a smile, adding that they are lucky Ellie is alive.
Pritchett said the Las Vegas High School football program will take more donations at next week's annual "Bone Game" against Rancho High School.
"They do more for our community than most couples," Pritchett said of the Lims. "No matter what we raise, it's not going to stop for them."
Anyone who wants to help the Lims can contribute online at officerdown.us/campaigns/support-the-lim-family-fundraiser/.
Contact Wesley Juhl at wjuhl@reviewjournal.com and 702-383-0391. Find him on Twitter: @WesJuhl.