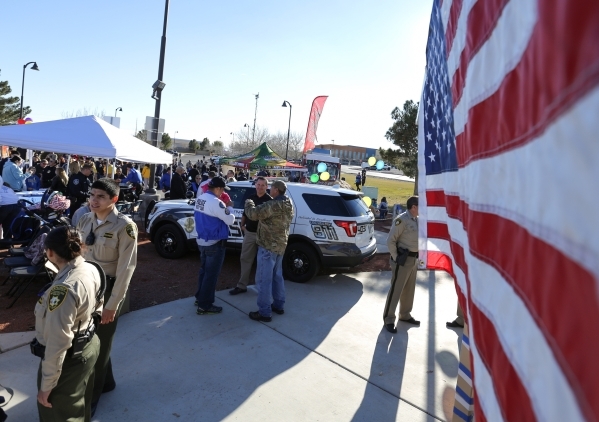 Families, police and public officials packed into Police Memorial Park on Saturday afternoon in the northwest valley for the city's second annual Law Enforcement Appreciation Day.
Sheriff Joe Lombardo kicked off the event with a speech and later explained the event was organized by citizens and off-duty officers. It was started last year as a response to a nationally tense climate for law enforcement officials and their communities. After that initial, formal gathering, Lombardo said this year's event was "more like a party."
"Last year, it was like, 'We're here to help, not here to hurt,'" he said. "Now, it's an opportunity to celebrate."
And a party atmosphere prevailed. As Top 20 songs blasted from speakers on a small stage near the picnic area of the park, children lined up to get their faces painted and pet two police horses, both of which were mounted by Metro officers.
Las Vegas Mayor Carolyn Goodman and Clark County Commissioner Larry Brown were on hand for the event. Food trucks were parked near the back of the park, where families could choose from FUKU Burger, Dragon Grille and Grouchy John's Coffee.
As some parents pushed their children on swings, others stuck sticky notes with words of support onto a single patrol car. Surrounded by signs that read "We back the blue" and "Support our police," law enforcement officials from different agencies mingled with each other and high-fived attendees.
Twenty-month-old Emalyn Lemley took a shaky couple steps forward to hug Justice, a giant bald-eagle mascot for the U.S. Marshals Office.
Her mom, Makala Lemley, said she was at the event to support her father and other officials.
"My dad's been on Metro going on 19 years," said Lemley, 22. "We come out whenever we can just to support the community."
Contact Rachel Crosby at rcrosby@reviewjournal.com or 702-387-5290. Find her on Twitter: @rachelacrosby.