Community court program aims to cut petty crime around Las Vegas Strip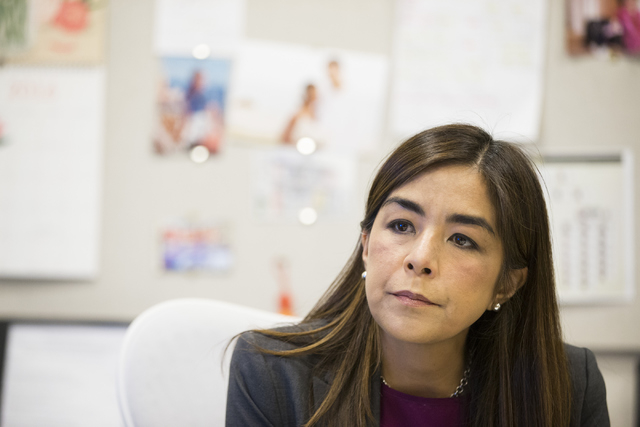 An upcoming Clark County court program aims to reduce nonviolent crime on and around the Las Vegas Strip by steering repeat offenders away from overcrowded jails and toward social services and community service work.
It's an approach that supporters say better addresses "underlying problems" that lead to repeat offenses. Those problems could include drug abuse, mental illness, and homelessness, according to Las Vegas Justice of the Peace Bita Yeager, who heads the program.
Offenders who opt-in to the community court program would be ordered to complete community service in communities where they committed offenses. These offenders also would be referred to relevant social services based on an assessment and monitored by the court.
Yeager offered an example of someone who shoplifts from a 7-Eleven and is brought in on petty larceny. That person would then be assessed by staff to determine factors such as whether they are homeless, and would receive a "tailored" sentence.
She described the county program as a "problem-solving court" that could address low-level misdemeanors that repeatedly cycle through the courts.
With $200,000 in startup funds from an inaugural federal grant dedicated to community courts, the county program is tentatively scheduled to begin early next year.
The Las Vegas Justice Court will partner with the Las Vegas Metropolitan Police Department, the Clark County District Attorney's Office, and the Clark County Public Defender's Office, along with social service providers, among other entities.
Yeager helped start another community court program in North Las Vegas. That program focuses on job placement for youth ages 18 to 25.
Judge Kalani Hoo, who leads the North Las Vegas community court, said underlying issues can prevent success in his program that addresses drug use, employment and education. "If you have a drug addiction problem, until we deal with that, you're not really going to be successful with anything else," Hoo said.
The North Las Vegas program has run on a volunteer basis since 2014. Last year, it received a $39,000 state grant and hired a part-time program coordinator, Hoo said.
Hoo said that 10 young people have graduated from the program, and none of them has returned to the criminal justice system. Hoo added not everyone who elects to join the program — which can take more than a year — completes it, but he considers it a success overall.
Yeager said the county program will be evidence-based and track statistics to convince the county, the state and the Supreme Court to fund the program beyond the two years the grant will cover.
As part of the grant, the Center for Court Innovation, which recommends grant applicants to the U.S. Department of Justice, will provide technical assistance.
Julius Lang, director of training and technical assistance with the New York-based center, said common characteristics of community courts include linking offenders to services that make them less likely to reoffend and emphasizing community service to restore the community that's been harmed by crime.
The first community court program focused on low-level crime in Times Square in New York in 1993. Other programs in New York followed, and the center was created to implement new programs, conduct research and offer technical guidance to interested municipalities.
Currently about 50 community courts operate in the U.S., Lang said.
Looking ahead at the county program, Lang said he is interested to see how the program would solve transportation issues for offenders who "can't just hop on the subway and go over to the treatment center." Securing continued funding for the program also will be key, Lang added.
Contact Alexander S. Corey at acorey@reviewjournal.com or 702-383-0270. Find him on Twitter: @acoreynews