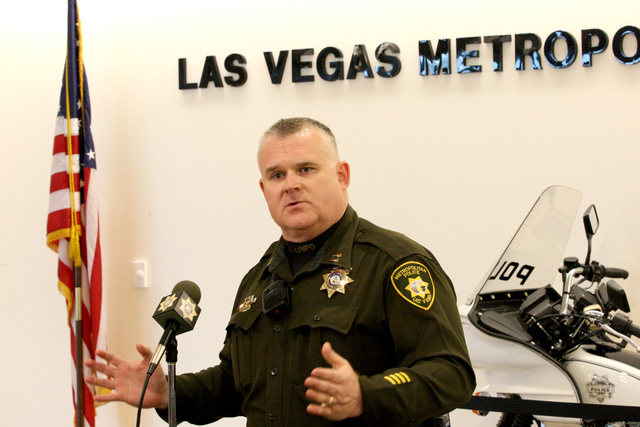 John Bonaventura is still fighting to remain the Las Vegas Township constable even though his job and his office ceased to exist over the weekend.
His last day as constable was officially Sunday, but Bonaventura on Monday filed an emergency motion asking the Nevada Supreme Court to stop the County Commission from enforcing the abolition ordinance it passed in March, 2013.
Bonaventura's motion also seeks a court ruling prohibiting the deputies who worked for him from losing their jobs.
With his constable term finished, it will take more than a court order to put Bonaventura back in office, so he also wants the court to force the county to hold a special election to fill the now-abolished office.
That latest motion questions whether the county actually abolished the office, and cites a county press release issued on Friday that noted "the constable's office will remain a separate entity."
County spokesman Erik Pappa declined to comment, as it's pending litigation.
Bonaventura, a former state legislator and son of a former constable, was elected to the position in 2010. He was paid an annual salary of $103,000 to run the office. While constables and deputies are sworn law enforcement officers with a badge and gun, their work is normally low-key — serving court papers and overseeing evictions.
But Bonaventura's first and only term was one of constant turmoil. His controversies included an online reality television pilot show with foul-mouthed deputies, financial conflicts with the county and turf disputes with neighboring constables and embarrassing caught-on-tape office conversations.
His financial accounting practices were creative. When the county didn't want to pay the costs of a lawsuit he filed against neighboring constables, he made an end-run by deputizing attorneys so they could be paid by his office.
The County Commission finally said enough in March 2013, and voted to abolish the position at the end of Bonaventura's four-year term.
Bonaventura's last-ditch legal efforts aren't impacting the transition from his former administration to the Metropolitan Police Department, which now oversees the functions of the office. The first day of constable's office operations under the oversight of the police department was uneventful and smooth, Metro Capt. Richard Forbus said Monday.
Clark County and Metro reached a memorandum of understanding in November for the transition. That agreement called for all of Bonaventura's deputies to lose their jobs, with Metro having the discretion to hire any it wants to keep.
Metro hired only five of Bonaventura's 19 deputies, with the rest losing their jobs.
Forbus said the operation will eventually have about 15 deputies selected through a new hiring process, and it will reflect Metro's culture and ethics. He declined to comment on Bonaventura's tenure, noting he wasn't there at the time.
He did say the goal is to make the transition as seamless and smooth for customers as possible.
Forbus said Metro's constables won't issue cite owners of Nevandans driving vehicles with out-of-state license plates, which was discontinued last year in light of a pending lawsuit in federal court over the practice.
Contact Ben Botkin at bbotkin@reviewjournal.com or 702-405-9781. Find him on Twitter: @BenBotkin1.