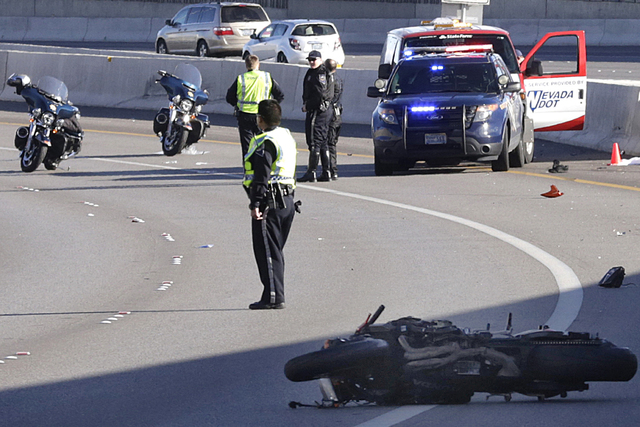 The Clark County coroner has identified a man who died Tuesday when he crashed a stolen motorcycle on northbound U.S. Highway 95.
The coroner ruled Cory Fry's death an accident. Fry, 33, of Pahrump, died at the scene of multiple injuries caused by the motorcycle crash. About 1:35 p.m., witnesses saw Fry driving at a high speed before the crash, Nevada Highway Patrol trooper Chelsea Stuenkel said.
A Nevada Highway Patrol investigation revealed that the orange 2008 Honda sport bike was traveling "in a reckless manner" on U.S. 95 in the left lane. Fry struck the center median wall as he approached the Rainbow curve. He was thrown from the motorcycle.
In their investigation, the Highway Patrol discovered the Honda was reported stolen on Jan. 19 to the Metropolitan Police Department. The motorcycle's license plate was also reported as stolen off a separate motorcycle.
It's unknown whether impairment factored in the crash.
This marks the seventh fatal crash investigated by the Highway Patrol in 2017.
Contact Rio Lacanlale at rlacanlale@reviewjournal.com or at 702-383-0381. Follow @riolacanlale on Twitter.