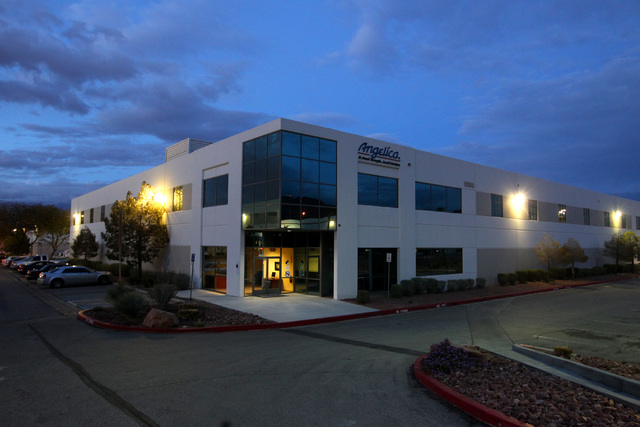 The Bureau of Health Care Quality and Compliance is investigating how twin 16-week-old fetuses ended up at a Henderson laundry in a shipment of linen from Spring Valley Hospital Medical Center, a state public health official said Wednesday.
Upon completion of the complaint investigation, which was initiated by bureau officials, the results will be made public, said Martha Framsted, spokeswoman for the state Division of Behavioral Health.
The Clark County coroner's office on Tuesday ruled out foul play or any other reason to investigate how the fetuses were sent from Spring Valley to Angelica Corp., Coroner P. Michael Murphy said Wednesday.
"We were able to determine this was not a coroner's case," Murphy said.
Without commenting further on Tuesday's discovery, Murphy said his personnel don't routinely investigate deaths by natural causes or cases where the victims are under the care of a physician. For the coroner to investigate, the death would involve a crime, trauma or no known cause, Murphy said.
A Henderson police spokeswoman said Tuesday that her department was keeping open its investigation pending a coroner's ruling of a cause of death — something Murphy said isn't needed.
Henderson police spokeswoman Kathleen Richards said Wednesday that detectives had to follow up on a few details and probably will close out the investigation soon.
Neither Murphy nor Richards could say who was responsible for putting the fetuses in the laundry.
"The hospital should do that," Murphy said.
Attempts to reach a Spring Valley Hospital spokeswoman for comment Wednesday were unsuccessful.
Employees at Angelica found the fetuses Tuesday morning, and Henderson police were called to investigate. Detectives called coroner's office personnel, and the fetuses eventually were returned to Spring Valley.
A Henderson official said Angelica workers found the remains in a laundry truck at the 1080 Mary Crest Road facility at about 10 a.m.
Hospital officials said Tuesday that the woman had a miscarriage at another location, and the patient was brought to Spring Valley by paramedics with twin, early gestational, deceased fetuses. Before the arrival at the hospital, the fetuses had been wrapped in linen, the officials said.
In addition to the investigation by the state agency, the incident also might be reviewed by the Joint Commission, an independent, nonprofit organization that accredits and certifies more than 20,500 health care organizations and programs in the United States.
When a miscarriage occurs, the priority health care concern centers on the woman who might require surgery or medications to control bleeding or remove any remaining contents from the womb.
The so-called products of conception typically are taken to pathology, the department where experts study changes in body tissues and organs that cause or are caused by disease.
A miscarriage, the loss of a pregnancy before 20 weeks from conception, occurs in about 15 percent of known pregnancies, according to the American Congress of Obstetricians and Gynecologists.
The entire family, and especially the woman, suffers an emotional loss that often takes longer to heal than the physical effects. Health care professionals are trained to help families cope with the pain, guilt, stress and anxiety after miscarriage.
The loss of a pregnancy, no matter how early, can cause feelings of sadness and grief. Those affected might feel sad and depressed one day, and angry the next. Many search for reasons the pregnancy ended and wrongly blame themselves. Some women have headaches, lose their appetite, feel tired, or have trouble concentrating or sleeping.
Spring Valley Hospital Medical Center opened in southwest Las Vegas in 2003. The 237-bed hospital at 5400 S. Rainbow Blvd. is a subsidiary of Universal Health Services, Inc., based in King of Prussia, Penn.
Contact Steven Moore at smoore@reviewjournal.com or 702-380-4563.