Cosmopolitan pool reopens after Saturday fire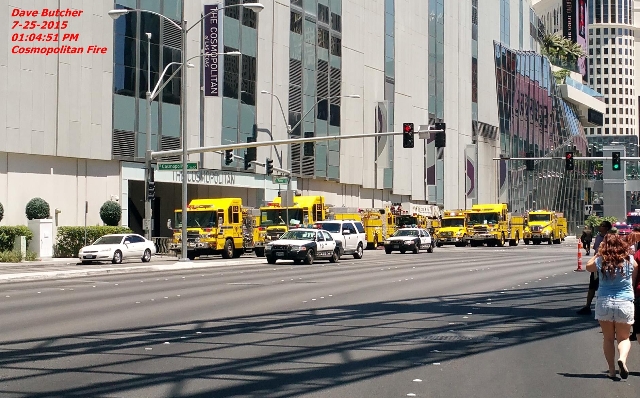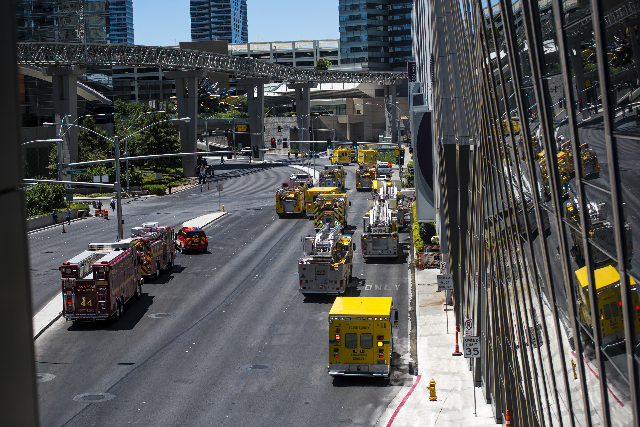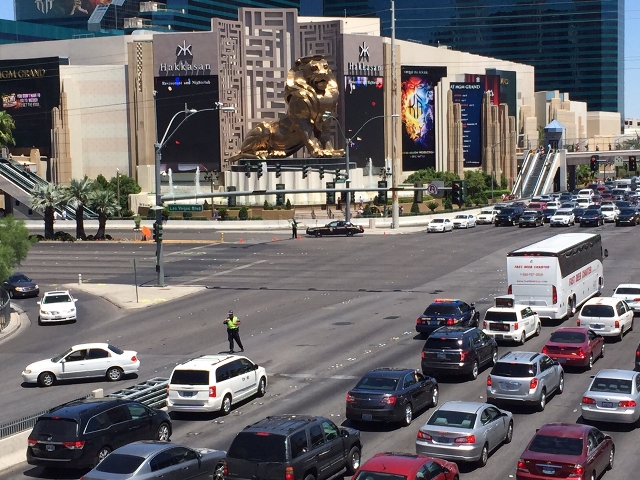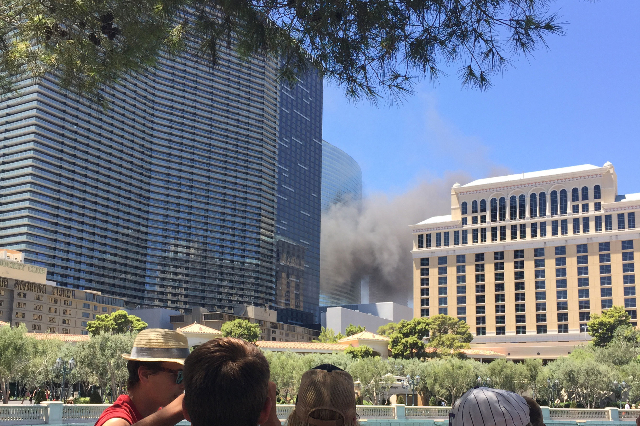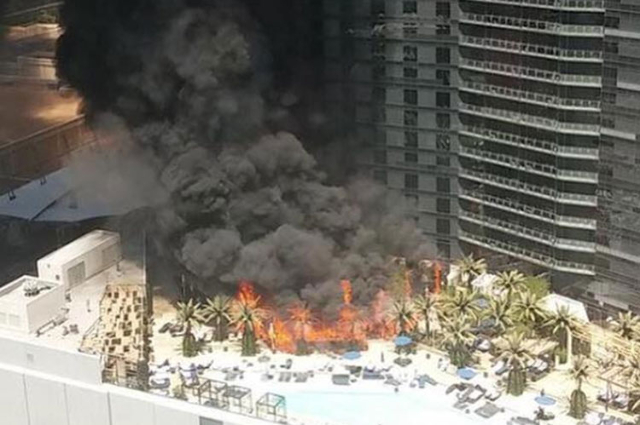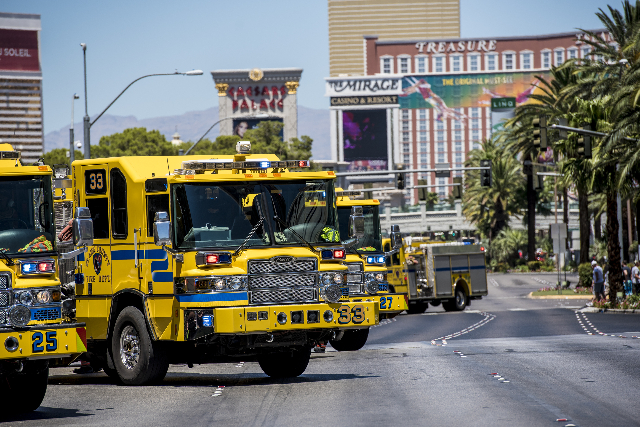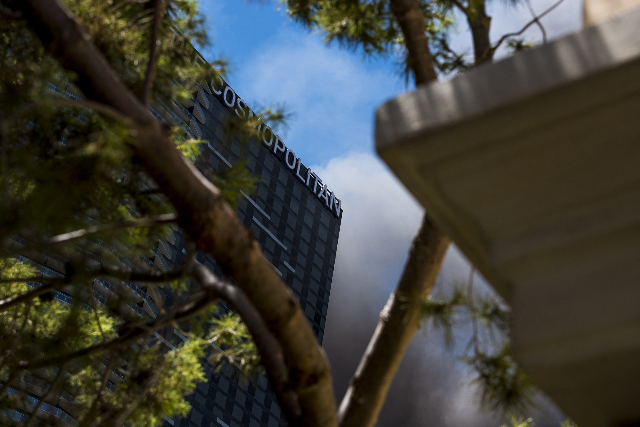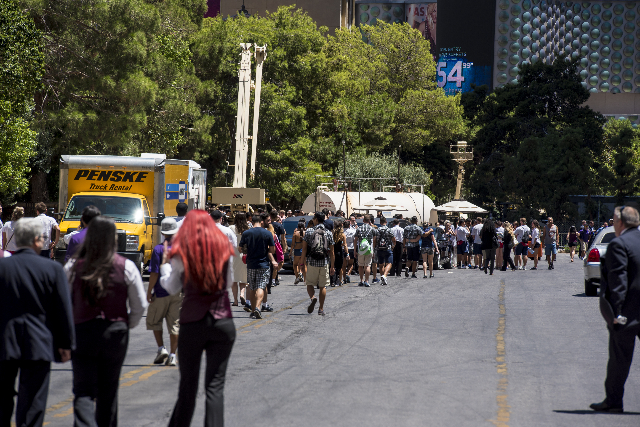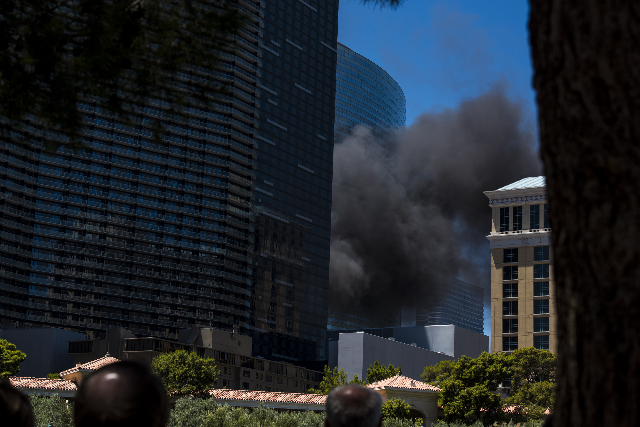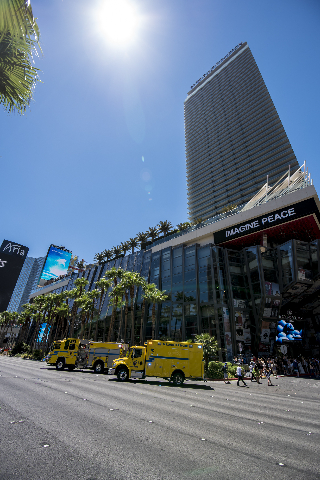 The rooftop pool at the Cosmopolitan of Las Vegas has reopened less than 24 hours after a fire burned surrounding landscaping and furniture, injured two and caused a partial evacuation of the hotel-casino.
At 10 a.m. Sunday, the 14th floor Bamboo Pool was back to full service, with the exception of its West Bar, spokespeople for the Strip resort wrote in a prepared statement. Guest rooms on the same floor remained closed.
The blaze started at 12:15 p.m. and was extinguished in about 30 minutes. More than 110 Clark County firefighters responded.
Other areas affected by the Saturday afternoon fire including a spa, fitness center and 15th floor of the resort, 3708 Las Vegas Blvd. South, have reopened.
Flames did not penetrate the 61-story West End tower, where the pool is located, however smoke traveled through open windows, fire department officials said Saturday.
Investigators are scanning surveillance videos as part of their look into the cause of the fire, Assistant Fire Chief Sandra Baker said Sunday morning.
Several people who say they saw the fire have reached out to the Review-Journal regarding cigarette use in and around the Cosmopolitan's pool.
The "ignitable source" of the blaze has not been determined, but Baker says evidence favors an accidental fire, possibly caused by an electrical issue.
Evacuees' opinions of how staff handled the emergency vary.
Las Vegas woman Diane Brooks, who was overseeing groups of international and domestic tourists at the casino when the fire broke out, wrote in an email Sunday, "everyone was calm, cool and collected and knew what they were supposed to do in this situation."
"They had cold water at each elevator bay to hand out to the guests," she added. "I even went over to a group of firemen and thanked them for a great job."
Brooks was not the only who felt that way.
Chris Masilon, of Huntington Beach, Calif., who escaped the fire with his wife, described the scene Saturday as "surprisingly calm," with guests and visitors chatting and even laughing while observing the fire outside of the hotel.
Another witness, however, Naylah Tuaoa-Medeiros, of Las Vegas, said "They were so disorganized," of hotel staff. "There was no sense of urgency, there was no flow."
Resort spokespeople declined to comment on the staff's performance.
The fire department said one person was taken to the hospital for smoke inhalation and another was treated, then released at the scene. Baker was not aware of any other fire-related injuries.
It will be "quite some time" until investigators determine what caused the fire, department spokesman Greg Cassell said at a Saturday media briefing. No foul play is expected.
A request from the Review-Journal Sunday for on-site photos of the property was denied.
Contact Kimberly De La Cruz at kdelacruz@reviewjournal.com or 702-383-0381. Find her on Twitter: @KimberlyinLV