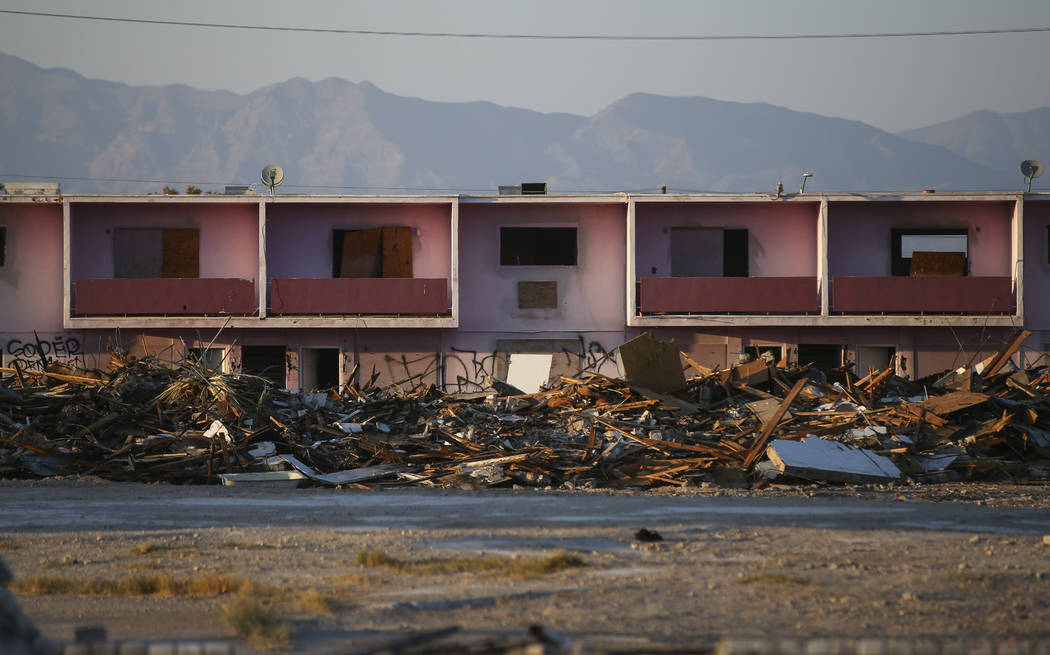 Clark County commissioners on Tuesday delayed their purchase of the Moulin Rouge site for at least two weeks so they could continue discussing the property's future with nearby residents.
The commission is poised to purchase the 15-acre site on Bonanza Road for $6.2 million after District Court Judge Elizabeth Gonzalez approved the county's bid last month. The city of Las Vegas now owns the site.
But the county's plans to build new Department of Family Services administrative offices on the site have rankled people who believe there are better ways to honor the Moulin Rouge's history as Las Vegas' first racially integrated hotel-casino.
"I'd ask you to delay your decision today to understand what the Moulin Rouge means and how we could develop the Moulin Rouge together with the community," Ward 5 Chamber of Commerce President Katherine Duncan told commissioners at a meeting Tuesday.
Comments by Duncan and other groups — who agree the site should be in private hands, not the county's — prompted Commissioner Lawrence Weekly to ask to delay the purchase at least until the commission's next regular meeting Nov. 21.
"I am very comfortable with saying we need to have a full-fledged conversation with this community," Weekly told the commission. "I understand business to a certain extent, but I also understand respect."
At least four groups spoke during public comment at Tuesday's meeting about rebuilding the Moulin Rouge. None seemed keen on the county's plan to build office space.
Commissioner Chris Giunchigliani's suggestion that "part of the legacy could be that we're helping families" prompted several audience members to begin saying "No."
"That's the kind of paternalistic thinking that comes from our government. They think they need to solve our problems for us instead of allowing us to even attempt to solve them ourselves," Duncan said after the meeting, referring to the black community. "There's plenty of private developers that want to bring the type of resort we want to see in our community."
Giunchigliani said she voted to delay the building's purchase because she supported preserving the site's history if possible.
"I don't want to dictate what (the site's future) is if they, as a community, can come to a consensus about what they want to do with it," she said.
Weekly said he plans to meet with community leaders and conduct a town hall meeting for nearby residents to share thoughts before the Nov. 21 meeting.
Weekly added that he has not ruled out relinquishing the county's winning bid on the site if a local group has the money to buy it. Including the county, four groups bid on the Moulin Rouge site earlier this year.
"This is not the first site we've walked away from in terms of trying to find a location for (the Department of Family Services)," he said.
Contact Michael Scott Davidson at sdavidson@reviewjournal.com or 702-477-3861. Follow @davidsonlvrj on Twitter.
In other action
Clark County commissioners also took the following actions Tuesday:
— Appointed Cheryl Davis to the board of the Southern Nevada Regional Housing Authority
— Limited resolutions to "matters within the immediate jurisdiction and powers" of the county commission
— Postponed discussions about the proposed extension of the Las Vegas Monorail