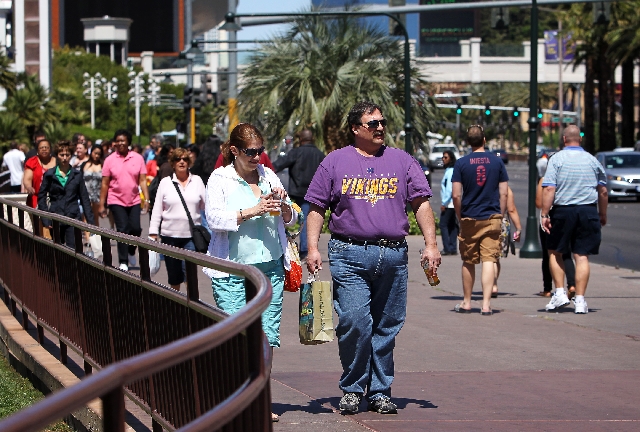 Strolling along the Strip with a glass bottle of beer in hand might become a thing of the past.
Clark County officials are considering a proposal that would ban all glass bottles and tumblers along the Strip's sidewalks and pedestrian bridges.
The idea comes from the Metropolitan Police Department as a way to increase safety and prevent injuries along the Strip. It also is part of the county's broader efforts to clean up the Strip, the four-mile economic driver of the region, which runs along Las Vegas Boulevard from Russell Road to Sahara Avenue.
As part of an effort to make the Strip's walkways more inviting, commissioners in 2012 passed ordinances aimed at discouraging unlicensed peddlers, banning pets and curbing risky street performances by banning "dangerous objects," which include flame-throwing devices, toy guns, skateboards and Rollerblades.
On Tuesday, commissioners directed staff to draft an ordinance that would make it a misdemeanor to have a glass bottle or container on the Strip. That decision followed comments from police Capt. Todd Fasulo, who said the change is necessary for public safety as visitors to the Strip — and pedestrian traffic — have increased in the past couple of years.
"A lot of the significant injuries that we've seen from fights that are primarily alcohol-related up on the boulevard have come from glass — broken bottles or an actual tumbler — that's been broken," he said. "We've also seen … people throwing them, not only at us but at other citizens."
The proposal isn't facing any opposition yet, based on commissioners' comments at the meeting and the sentiments from a handful of visitors along the Strip.
The county already bans glass containers along the Strip's sidewalks on New Year's Eve. The proposal would ban all glass bottles and containers for 24 hours a day, seven days a week.
Violators of what would be a misdemeanor offense could face up to a $1,000 fine or up to six months of jail.
But Fasulo stressed that the goal isn't for police to arrest people they spot walking on the Strip with a glass container.
"It's not meant that we are going to start taking them to jail when we find them with a bottle," he said. Instead, police would ask them to go indoors with their drink or throw it away.
The change isn't a done deal, but commissioners appeared open to the idea.
"At this point it makes sense," Commissioner Chris Guinchigliani said. "We're on the Strip, and alcohol will be served, but let's make sure it's safe."
Commissioner Mary Beth Scow said: "I think this is a really good example of something we can do to make the Strip safer."
Consumers of adult beverages outdoors along the Strip need not fret: The county's remaining, historically flexible alcohol laws aren't in danger of disappearing.
Open containers with alcohol wouldn't be affected by the proposed change if they aren't glass containers.
Glass containers of alcohol still would be allowed inside hotel-casinos.
There are still details to work out, such as what side street areas off the Strip the ordinance would affect.
Fasulo also said police will work with hotels and convenience stores on the Strip that sell sealed drinks in glass containers. The plan is for merchants to put such glass containers in sealed plastic or cardboard holders if the buyer plans on walking outdoors on the Strip with the product, he said.
Andrew Espinosa stood on the sidewalk near Casino Royale along the Strip on Thursday afternoon, clasping a glass bottle of Michelob Light and offering tourists his bouquets fashioned from palm tree leaves.
The 25-year-old Las Vegas resident drops by the Strip from time to time to offer the bouquets for tips. He said the glass ban makes sense, based on the fights with glass bottles he has witnessed on the Strip.
"He will use the bottle before the fist because he's so intoxicated," he said, describing a fighter's behavior.
Jeri Eggleston and Cathy Worrall, of St. Petersburg, Fla., walked along the Strip on Thursday afternoon with beer bottles in hand. They've made annual trips to Las Vegas since the mid-1970s.
"I'd rather have glass than plastic," Eggleston said. "But it wouldn't keep us from coming back."
At this point, the Nevada Resort Association doesn't oppose the proposal.
"We're very open to the idea," said Virginia Valentine, president of the association.
Other efforts are also still in the works after a $581,000 pedestrian study the county completed last year that analyzed the Strip's walkways. Those possibilities include moving and eliminating fire hydrants and trash cans and a potential ban of all news racks there.