County officials void $1M allocation to Metro budget without corresponding city contribution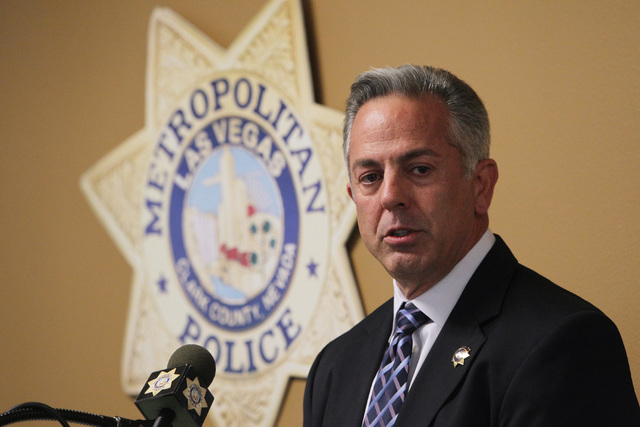 Clark County officials declared on Tuesday a $1 million allocation to the Las Vegas Metropolitan Police Department budget null and void without a corresponding city contribution.
The County Commission voted last month to funnel the additional funds to Metro, which county officials said were contingent on the city of Las Vegas contributing a corresponding $620,000. The combined $1.6 million could have funded more than a dozen new positions.
"So, I guess take the message back that without the city's contribution, we can't contribute our $1 million," Commissioner Steve Sisolak told Rich Hoggan, Metro's chief financial officer.
Clark County and the city of Las Vegas both fund Metro, and recent wrangling has turned those dollars into a political football.
The City Council last month approved more than $400,000 for Metro to fund department overtime costs to support an additional neighborhood engagement team to focus on crime hot spots within the city this summer.
City officials have said they won't know whether there's revenue to fund the program's continuation until last fiscal year's budget is audited, likely late this year.
City officials at that meeting said they hoped the county would devote additional funds to combat a spike in local violent crime.
Less than a week later, the County Commission voted unanimously to give an additional $1 million to Metro's annual budget, if the city contributed $620,000, which could have funded one sergeant, two detectives and 10 officers.
County officials have decried the city for using its recent contribution to Metro for a short-term purpose.
"I'm a little bit bothered by that, that's not a good use of my funds," Commissioner Chris Giunchigliani said, noting she's a city resident.
Las Vegas City Councilman Bob Coffin said the city diverted funds from elsewhere to "try to put out fires" this summer, and that the city didn't have the funds to match the county contribution.
"It didn't make sense when they did that," Coffin said. "It was an infuriating political game and I hope it's over."
County officials made it pretty clear that those dollars were contingent on the city agreeing to fund a portion of the 13 salaries, Hoggan said.
Crime generally swells during the summer months, but crime was spiking this year before summer hit, Hoggan said.
Metro officials felt that adding those 13 positions could have had a "substantial impact" on crime, Hoggan said.
"We'd certainly love to see the positions filled. When we present our tentative budget, we will certainly make a pitch for additional positions," Hoggan said.
He added that he isn't sure any other funding for those positions will present itself between now and when the department proposes a budget in early 2017.
"I don't know that I see that, but it is politics and things do shift rather quickly," Hoggan said.
Contact Jamie Munks at jmunks@reviewjournal.com or 702-383-0340. Find @JamieMunksRJ on Twitter.