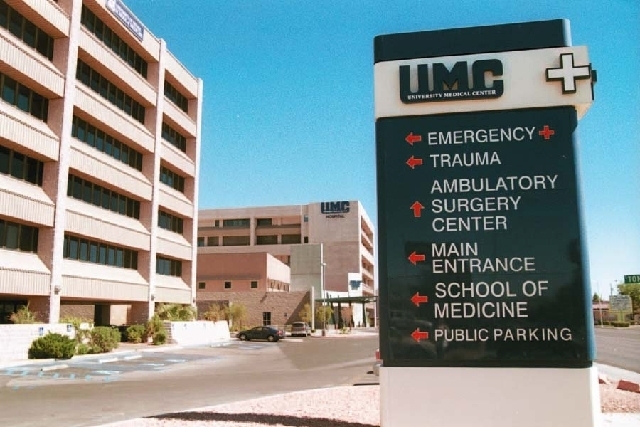 Clark County commissioners decided Tuesday against raising property taxes to help with the finances of University Medical Center.
As a result, the county property tax rate will stay unchanged for the upcoming fiscal year, which begins July 1.
Commissioners agreed that a discussion with community input in the upcoming year is necessary as the county evaluates UMC's financial condition and looks for ways to boost revenue and save money.
Concerns remain about the long-term financial health of UMC. The public hospital's net operating loss of $43.7 million for fiscal year 2014 is expected to increase to $121.6 million four years later, in part because of changes from the federal Patient Protection and Affordable Care Act.
Commissioner Chris Giunchigliani said talking about the hospital and how to fund it is a good first step.
"You never change anything until you have the discussion part," she said.
Commissioner Susan Brager said it's important to educate the public about the role UMC and its value. She said town hall meetings about the issue could be one way to boost awareness.
"We need to make sure people understand what UMC is about and why that greater good is for all citizens," Brager said.
Giunchigliani agreed. She said town hall meetings could delve into related issues, including the Affordable Care Act and Medicare and Medicaid reimbursements.
With the deadline passed to raise property taxes for the upcoming year, the county now has a full year to get the word out about the hospital's situation and get community feedback before making a decision in 2014.
In an interview, Giunchigliani said the property tax increase is just one revenue choice and other options should be explored and discussed.
Commissioner Larry Brown said looking at expenses — not just revenues — should be part of the long-term discussion as well.
Commissioners didn't vote on the tax increase. Instead, commission Chairman Steve Sisolak moved for a vote of support in favor of keeping the property tax rate unchanged for the upcoming fiscal year. He said the vote was needed to send a message to the public about where the county stands.
Commissioners approved the move with four votes, with Commissioner Tom Collins and Giunchigliani abstaining. They called that vote unnecessary, as the discussion had already pointed to what direction the county would move in the upcoming year.
Commissioner Lawrence Weekly didn't vote either, leaving the commission with a four-vote majority on the procedural move stating the county's direction. He did not state his reason for not voting, and he could not be reached for comment Tuesday evening.
Had the commission raised taxes, the county's property tax rate would have increased by 20 percent. That would have been an annual increase of about $63 on a house valued at $200,0000.
Contact reporter Ben Botkin at bbotkin@reviewjournal.com or 702-455-4519.