Craving holiday deals, Las Vegas Valley shoppers flood stores
November 23, 2017 - 4:52 pm
Updated November 23, 2017 - 11:10 pm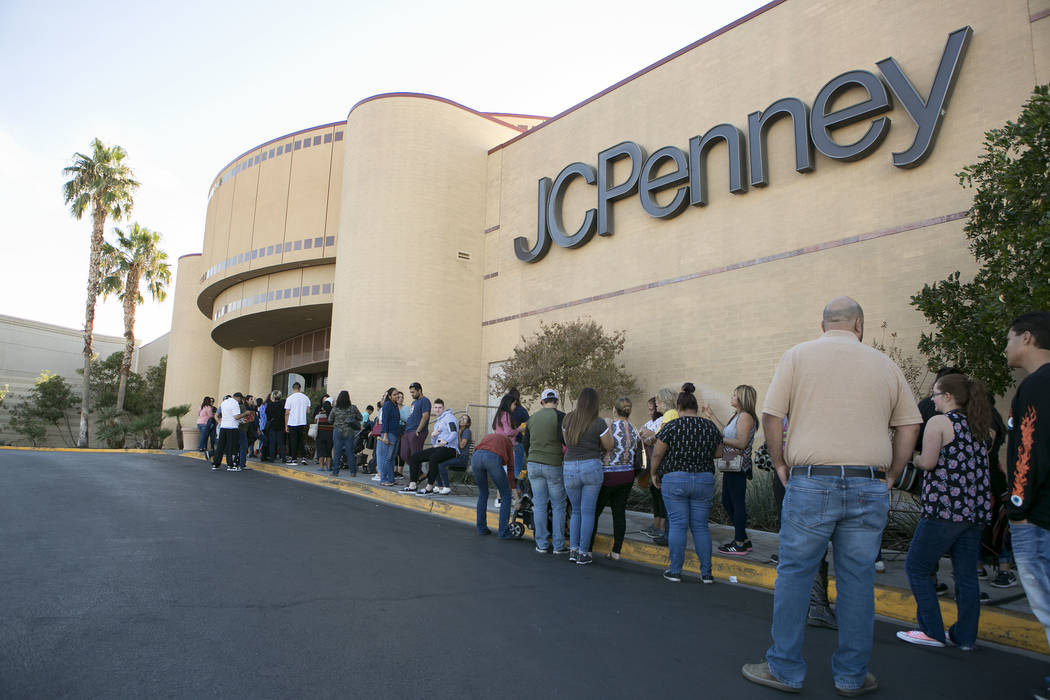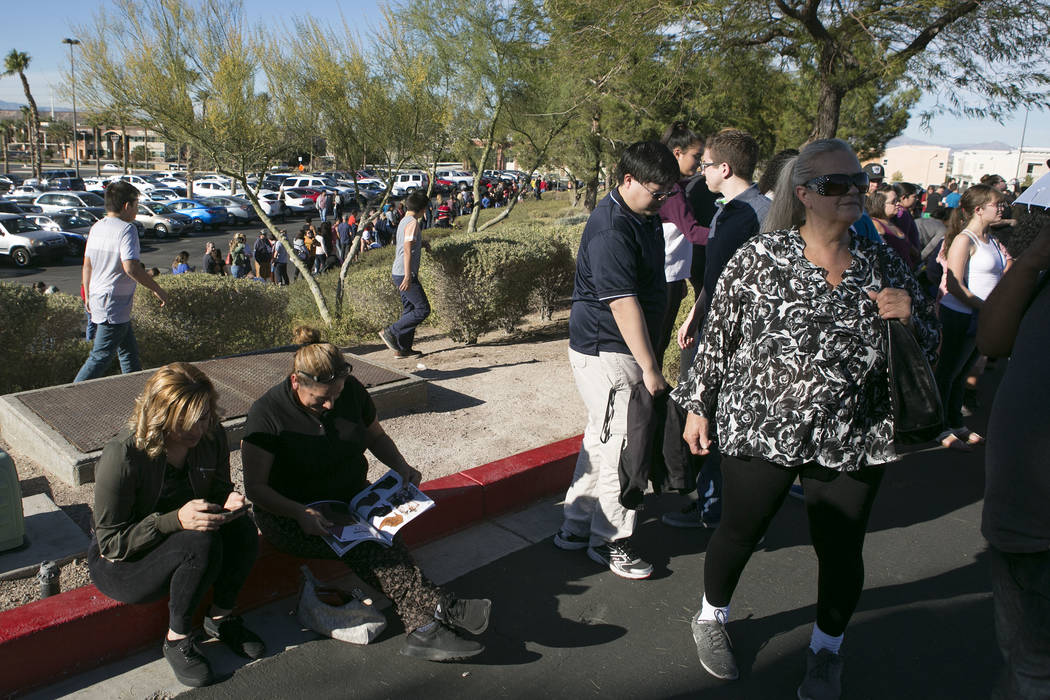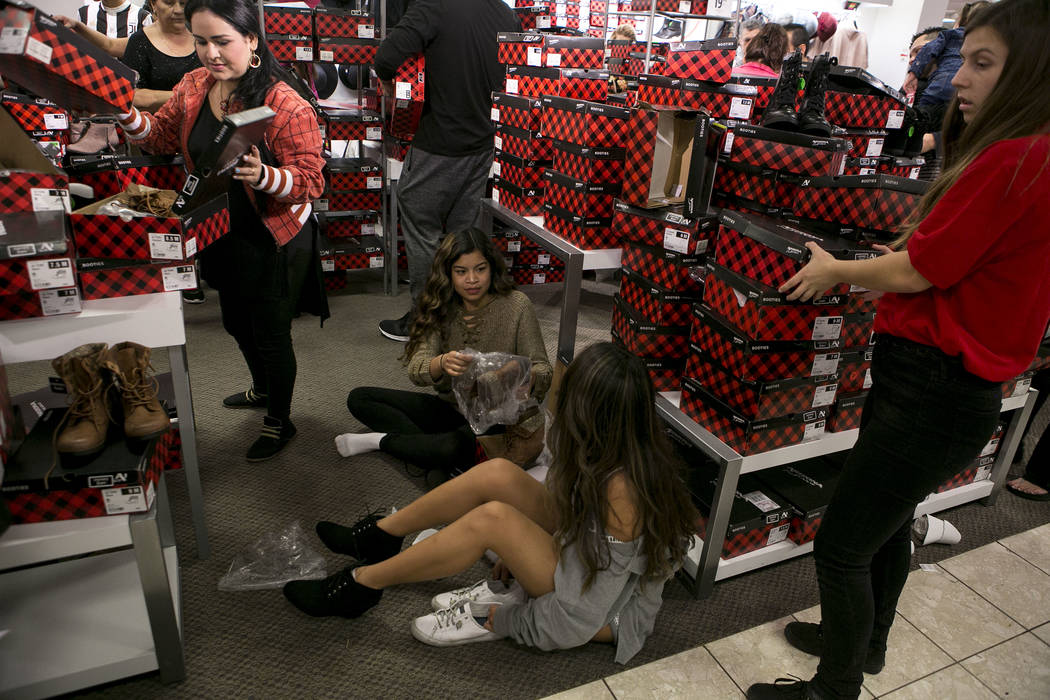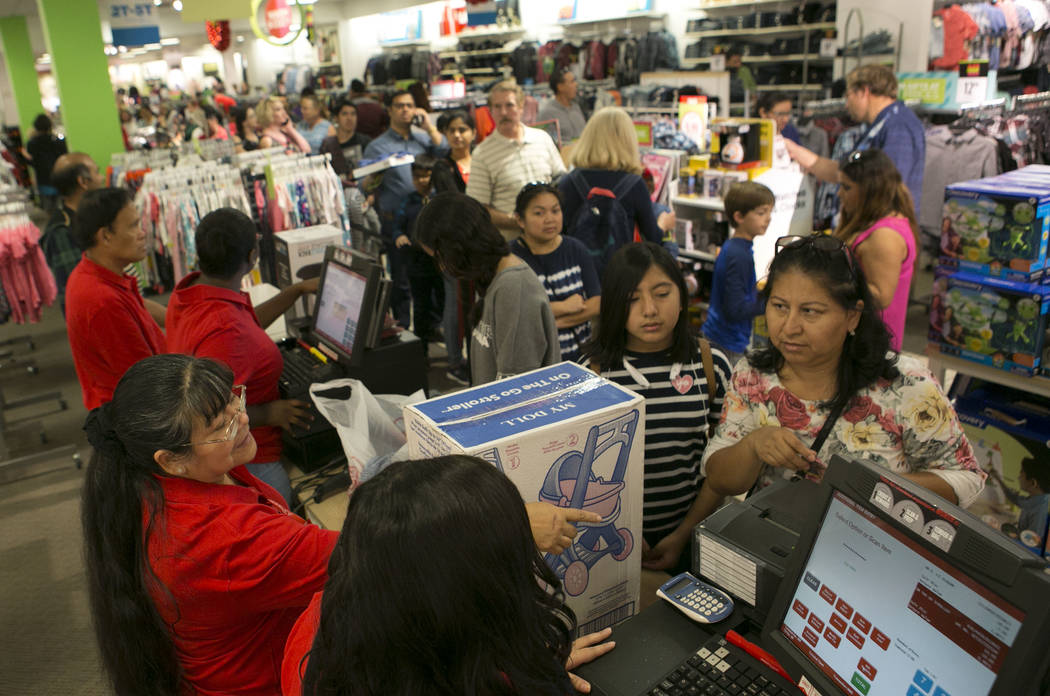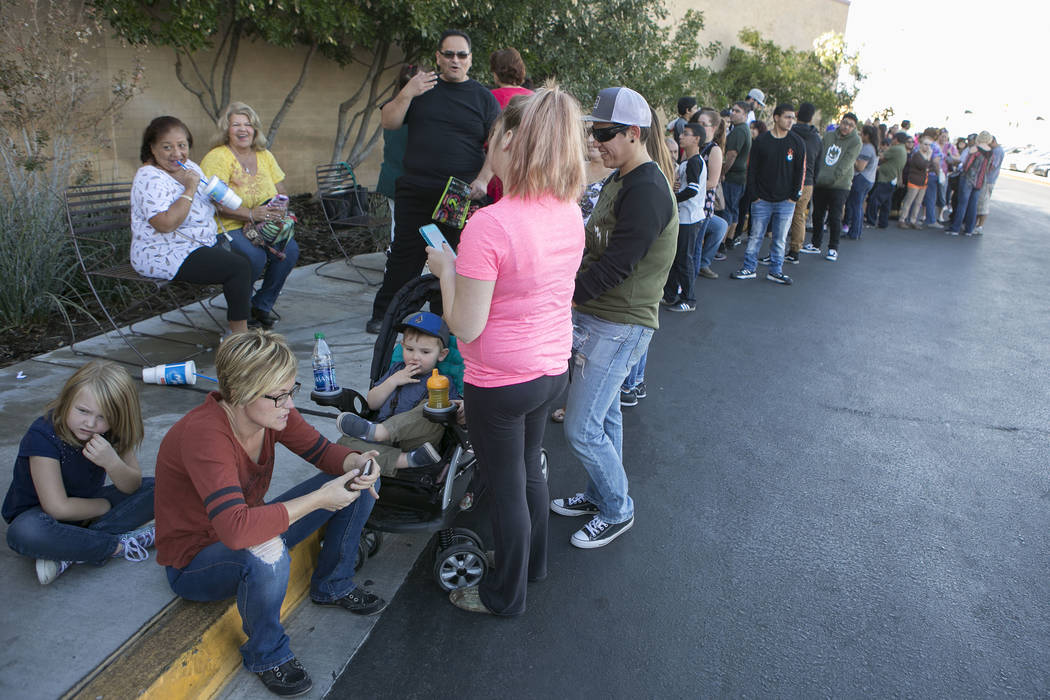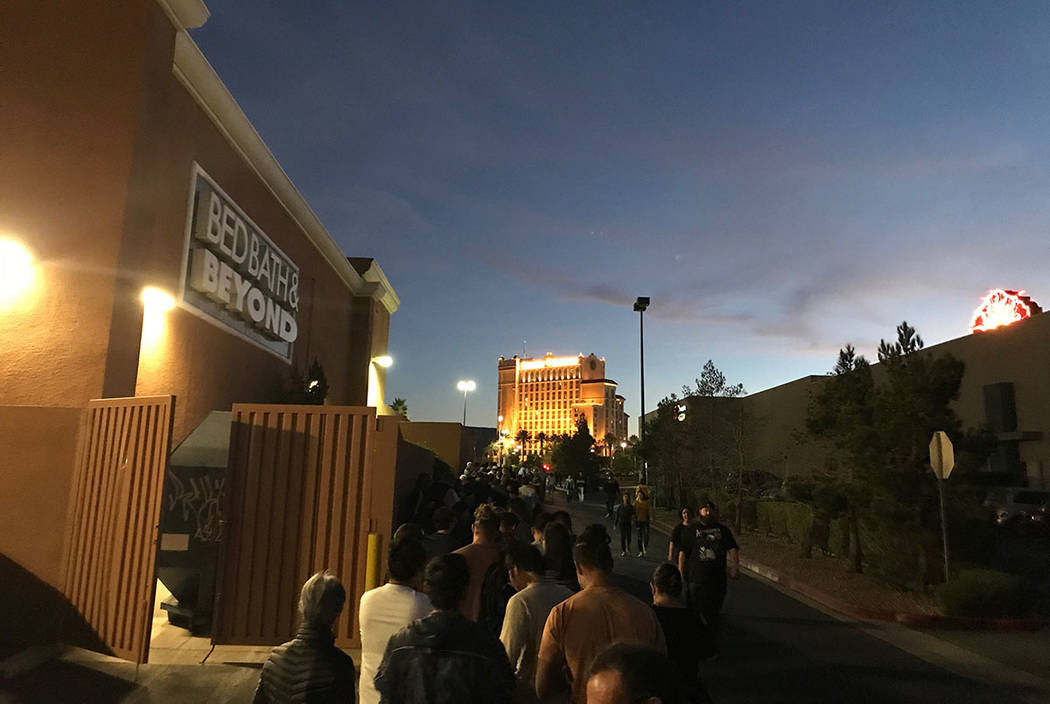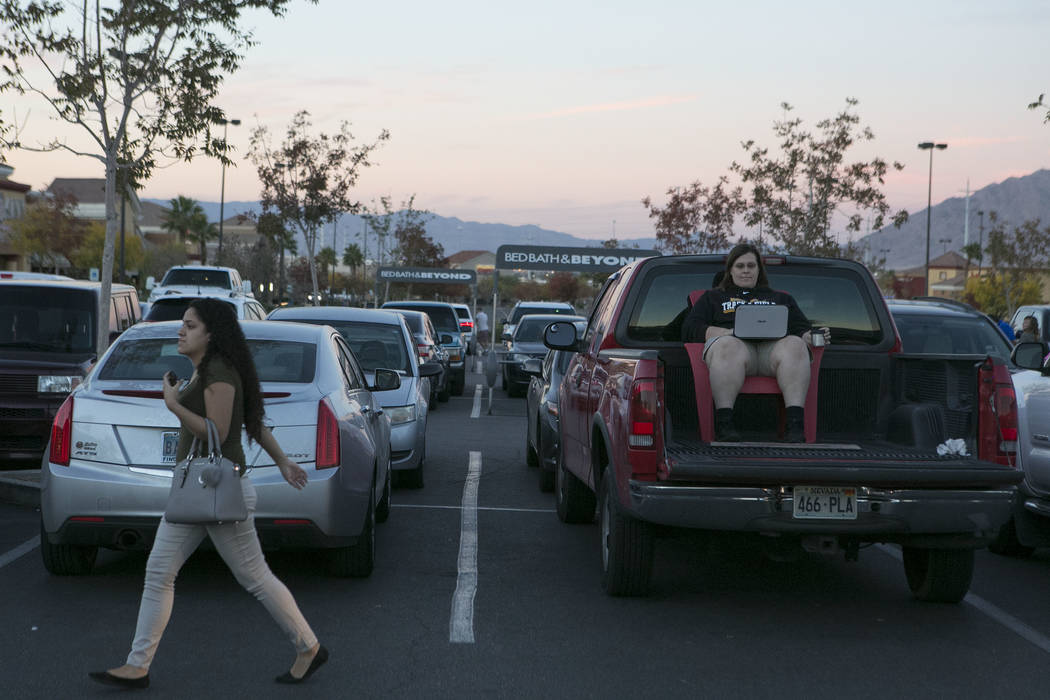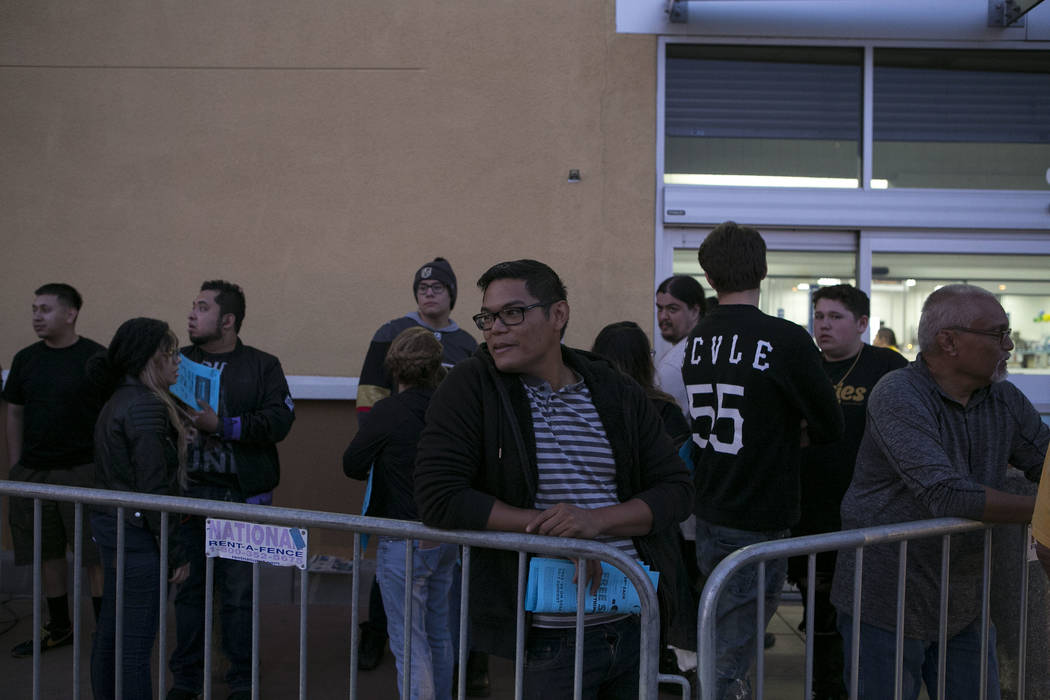 Dominique Hubbard's Thanksgiving started with a small deed of deception.
She and her husband, Robert, roused their four children before sunrise. The youngsters, who were still digesting the previous night's holiday dinner of turkey, stuffing and sides, were dropped off at a friend's house.
Then, Dominique and Robert grabbed two camping chairs from home. By 9:30 a.m., they were the first people seated in front of the J.C. Penney at the Galleria at Sunset mall in Henderson.
A line started forming behind the Las Vegas couple not long after.
"They have no clue," Dominique said of her children Thursday afternoon. "They think mommy is just out running errands."
The parents were among thousands of local shoppers seeking Thanksgiving Day deals on electronics, video games and other holiday gifts.
The Hubbards' position in line was enviable. By the time the department store opened at 2 p.m., nearly 1,000 people were waiting behind them; hundreds more arrived soon after.
Marching single file, it took 45 minutes for the entire line to make it inside.
"It's crazy," J.C. Penney salon manager Susan Lee said as she handed out coupons to the burgeoning crowd. "Every year we open an hour earlier, and every year it gets busier."
The nationwide shopping frenzy once known as Black Friday — so named, it has been said, because retailers saw it as the point in the year they could enter into the black, or make a profit — recently has started earlier, creeping into sales on Thanksgiving Day.
The change has caused the bargains to lose luster for some local shoppers.
Henderson resident Jill Davis, 42, said her family has to go shopping if they want to spend Thanksgiving together and save money on gifts.
She misses the years when Black Friday was confined to Friday.
"You were able to have a nice big Thanksgiving then get up and think about Christmas," she said. "This just doesn't seem as fun."
But others, like Pete Deang, have adapted to the change.
The Henderson resident, 68, slept Wednesday in the parking lot of the Best Buy at 611 Marks St., Henderson, so he could be second in line when the store opened 5 p.m. Thursday. The past three years, he has been first in line.
Deang's patience was rewarded. He emerged from the Best Buy less than 10 minutes after it opened, carrying a bag full of tablet computers for his grandchildren and a receipt for a 55-inch television set.
"I know how it works," he said, "so that's how I play."
As Deang and hundreds of others streamed out of line and into the Best Buy, Laura Chir, 37, also of Henderson, remained in the parking lot. She had opted for a more laid-back approach to shopping.
She lounged in an Adirondack chair perched in the bed of her Ford pickup truck. At her side was a laptop containing audiobooks and a thermos filled with tea.
Chir said the items she sought, a new modem and router to improve her home's Wi-Fi connection, wasn't in high enough demand to wait in line. For a while, she would sit back and enjoy the view.
"I like to watch people try to fit giant televisions into little cars," she said.
Contact Michael Scott Davidson at sdavidson@reviewjournal.com or 702-477-3861. Follow @davidsonlvrj on Twitter.