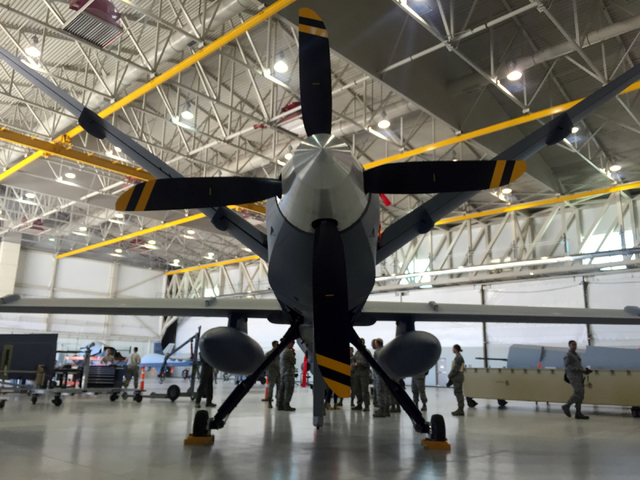 INDIAN SPRINGS — "Every single day this base is at war."
That's how Col. James "Cliffy" Cluff summed up the effort of Creech Air Force Base's 3,325 "warriors."
They fight the global war on terrorism 24 hours a day, seven days a week with the nation's fleet of remotely piloted aircraft, or RPAs. MQ-1B Predators and MQ-9 Reapers patrol the skies over Afghanistan and the Middle East, helping soldiers on the ground keep safe by watching with high-tech cameras for adversaries, ready to knock them out and their vehicles and their hide-outs with laser-guided missiles and smart bombs.
He cringes when he hears the word "drone."
"One of the misnomers that's out there is that it's all about the airplane," Cluff, commander of the 432nd Wing at Creech, told reporters Tuesday who were invited to get a rare glimpse of what goes on inside the highly secured Air Force installation, 45 miles northwest of Las Vegas.
"You see the term in the newspaper. It's all about the drones. It's the airplane," he said.
"This is what it's about. It's about the stuff you don't see when you look at an airplane. In this case the airplane is one more piece of equipment. … It starts with the people. And the people are the heart of it, the manpower it takes to operate this enterprise is at the heart of this system," Cluff said.
The pilots and sensor operators at Creech and other bases like it are highly trained warriors.
"These are not kids playing video games in their mother's basement. These are professional airmen. These are professional aviators and support personnel, and their job is to help fight America's wars, Cluff said. "The mission our government has given them has said, 'You will fly your wartime mission from the United States of America, and you will control airplanes that fly 7,000 miles away.' "
So from a Creech airman's perspective, how do people in Las Vegas view the fact that the base less than hour's drive away is at war every day?
Air Force Reserve Col. Brent Caldwell, commander of the 726th Operation Group at Creech, said when he drives to work from his Las Vegas home, he has "to make a mental shift to a combat operation because that's what our men and women face every day."
"What happens really in my mind is you transform yourself to just like I was when I was flying A-10s and I was in my A-10 cockpit," Caldwell said. "I am there talking to a forward air controller or other troops on the ground."
After a combat mission, he decompresses on the drive home.
"It is important to know the value of Creech Air Force Base and what we bring to the war-fighter. The most important thing we do here is allow the brave men and women of our ground forces that are deployed overseas to come home safely. That's what we do here every day."
The Creech base, with fair weather much of the year, offers training opportunities not only for pilots and sensor operators locally but other places such as New York and New Mexico and other locations where they can fly Reapers and Predators that are launched at Creech and "handed off" via satellite links.
On Tuesday, Capt. Kristi, whose last name was not given because of security policy, flew a close air support sortie and fired simulated missile strikes at a bridge where two would-be insurgents were trying to plant an improvised explosive device.
When asked how she feels about protesters who occasionally camp outside the base to stage anti-drone rallies, she said, "Our focus is doing the training. We don't really pay attention to what they're doing because we have something to do that is so critical."
Her sensor operator, J.J., has similar feelings.
"I'm just focused on that one thing: Saving lives and doing a good job," he said.
Contact Keith Rogers at krogers@reviewjournal.com or 702-383-0308. Find him on Twitter: @KeithRogers2.