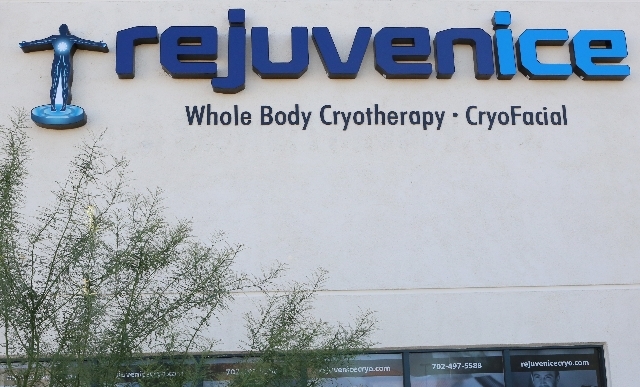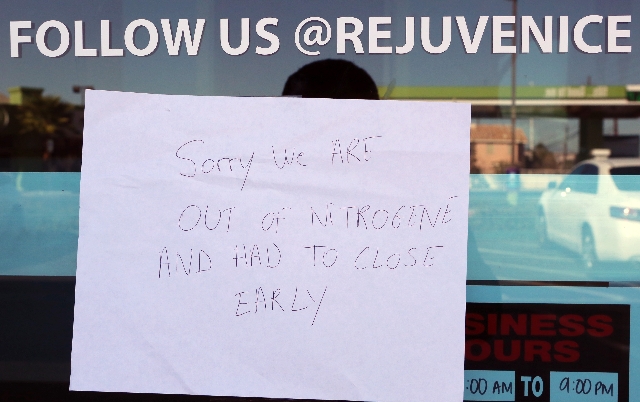 The 24-year-old Las Vegas woman who was found dead in a cryotherapy center in October died from a lack of oxygen, the Clark County coroner's office said Tuesday.
Chelsea Patricia Ake-Salvacion's death, caused by "asphyxia in an oxygen-poor environment," was ruled an accident, officials said.
She was found dead Oct. 20 inside a cryotherapy unit at Rejuvenice, 8846 Eastern Ave., near the 215 Beltway in the south valley. The machine was off, and Ake-Salvacion was topless in the fetal position with her cellphone.
The cryotherapy units use liquid nitrogen to cool the chamber, which displaces most of the oxygen inside the unit. Normal air is about 21 percent oxygen, but levels inside the units can drop to less than 5 percent, county spokesman Dan Kulin said.
Breathing air at such a low level of oxygen can quickly result in unconsciousness and death. A person can die from total lack of oxygen in 4 to 6 minutes, depending on the individual. Breathing air with 5 percent oxygen and the cold from the cryotherapy unit would extend that time span by only a few minutes.
Experts could not determine whether Ake-Salvacion was standing when she lost consciousness, and it is not clear how long she was in the unit before she died. No evidence indicates she tried to leave the unit after she entered, Kulin said.
Cryotherapy has drawn scrutiny since Ake-Salvacion died alone at the business after she closed the night before, including a state health agency investigation.
Ake-Salvacion had sent text messages expressing her concerns about liquid nitrogen leaking from and being overdelivered by the machines at Rejuvenice, according to attorney Richard Harris of Las Vegas. Harris heads one of the law firms the family has retained to investigate exactly what went wrong the night she died.
The family was notified Tuesday morning about the coroner's findings, but the conclusions raise more questions than they answer, he said. Whether too much liquid nitrogen was delivered or she bent over and breathed the air inside the unit, Ake-Salvacion still died because of a machine that's supposed to have health benefits, Harris said.
"Either way, in my opinion, that machine is per se defective for allowing that to happen, one way or another," Harris said. "You're not supposed to walk into a machine that's supposed to help you, and if you make one small move, you're dead."
Alternative designs, better ventilation and safety protocols could have prevented Ake-Salvacion's death, Harris said. Cryotherapy users also could receive supplemental air with a device attached to their noses. That would lower the risks of oxygen deprivation if the user ducked his or her head below the top of the unit.
"I'm not an engineer, and I can come up with seven or eight ways to prevent these machines from killing people," he said.
Harris said a fund has been set up to help the family with the costs of Ake-Salvacion's death: Account 8011204842 with Bank of Nevada.
Cryotherapy entrepreneurs say the proper operation of the equipment poses few risks to users who say the treatments help their bodies detoxify, improve circulation, and reduce pain and inflammation. The three Rejuvenice locations were closed last month for insurance-related reasons and have yet to reopen.
After homicide detectives reviewed evidence gathered in the initial investigation, Las Vegas police announced last week that Ake-Salvacion's death was not a criminal incident. State health and business officials are investigating because of lingering questions about public and workplace safety.
A spokeswoman from the state Division of Public and Behavioral Health said Tuesday that information from her agency's fact-finding mission might be available as early as next week.
Contact Kimberly De La Cruz at kdelacruz@reviewjournal.com or 702-383-0381. Find her on Twitter: @KimberlyinLV. Contact Steven Moore at smoore@reviewjournal.com or 702-380-4563. Find him on Twitter: @steve_smoore_rj