Custom Corvette lets disabled take the wheel near Las Vegas
October 28, 2018 - 6:28 pm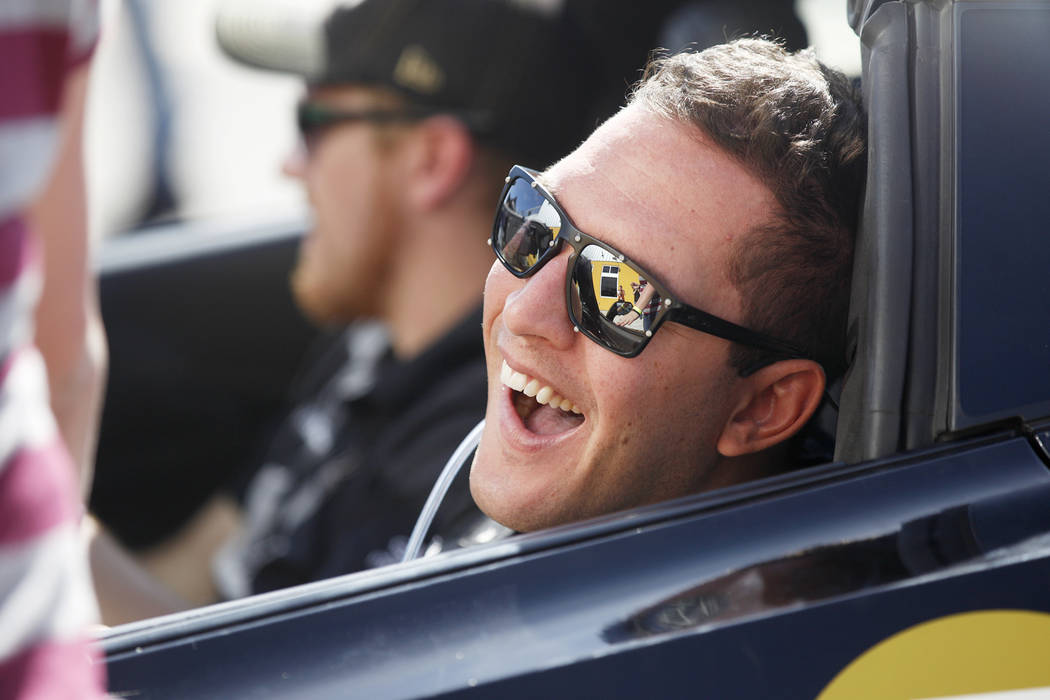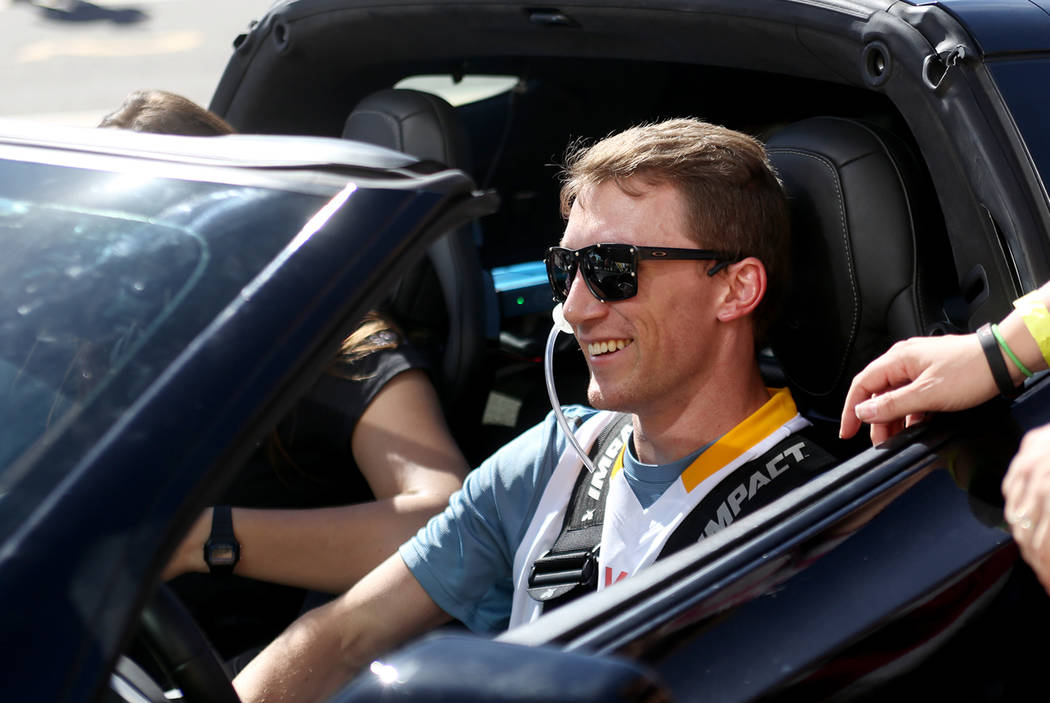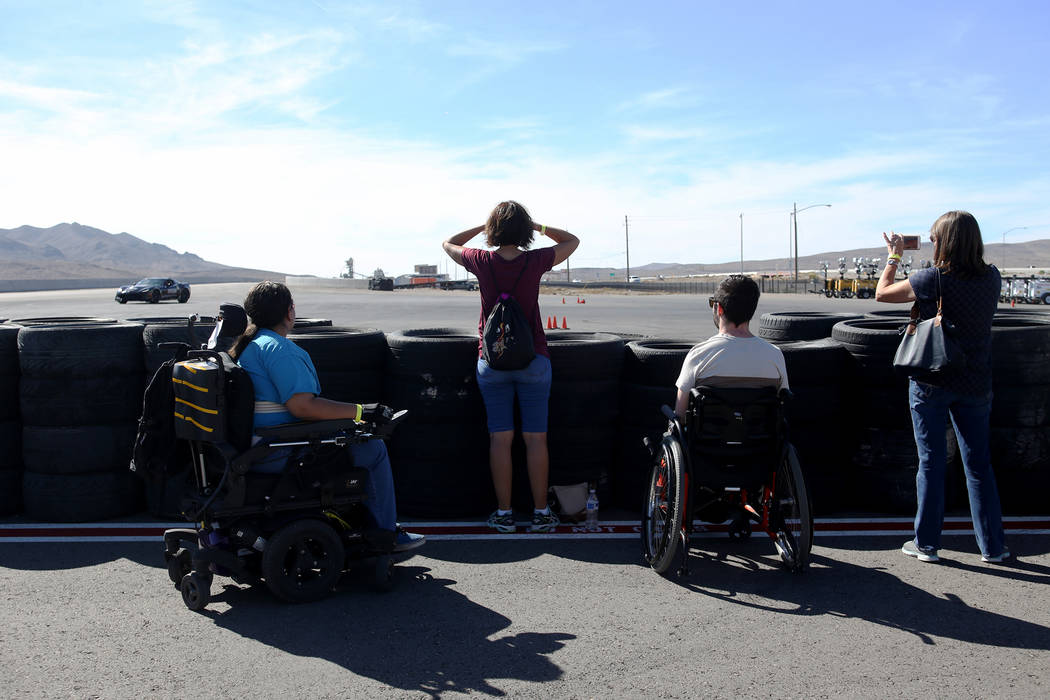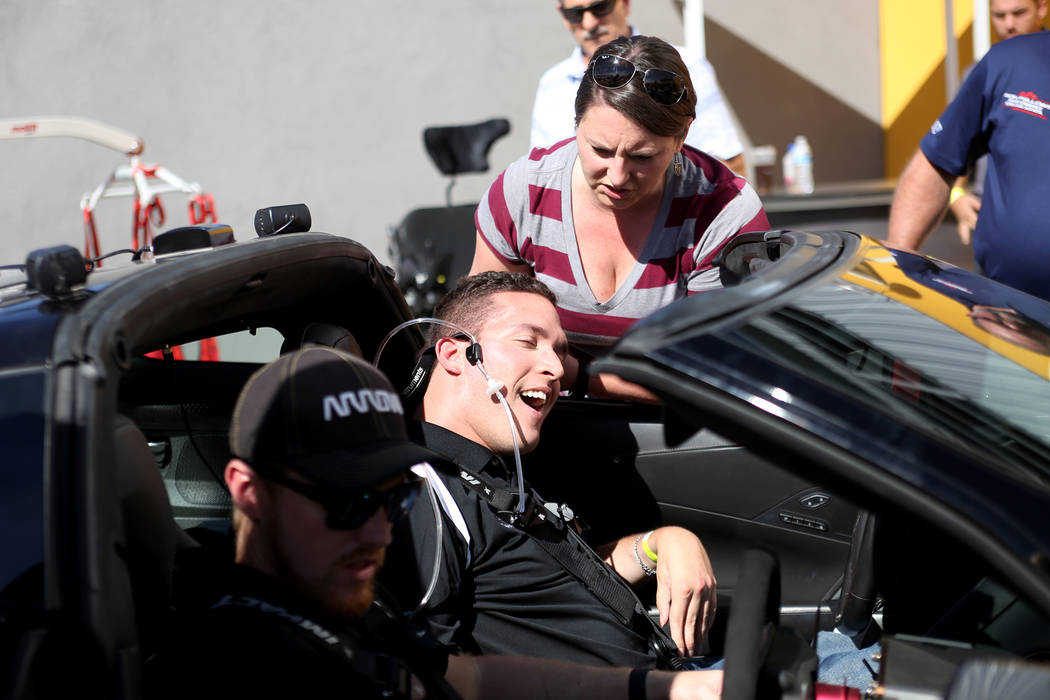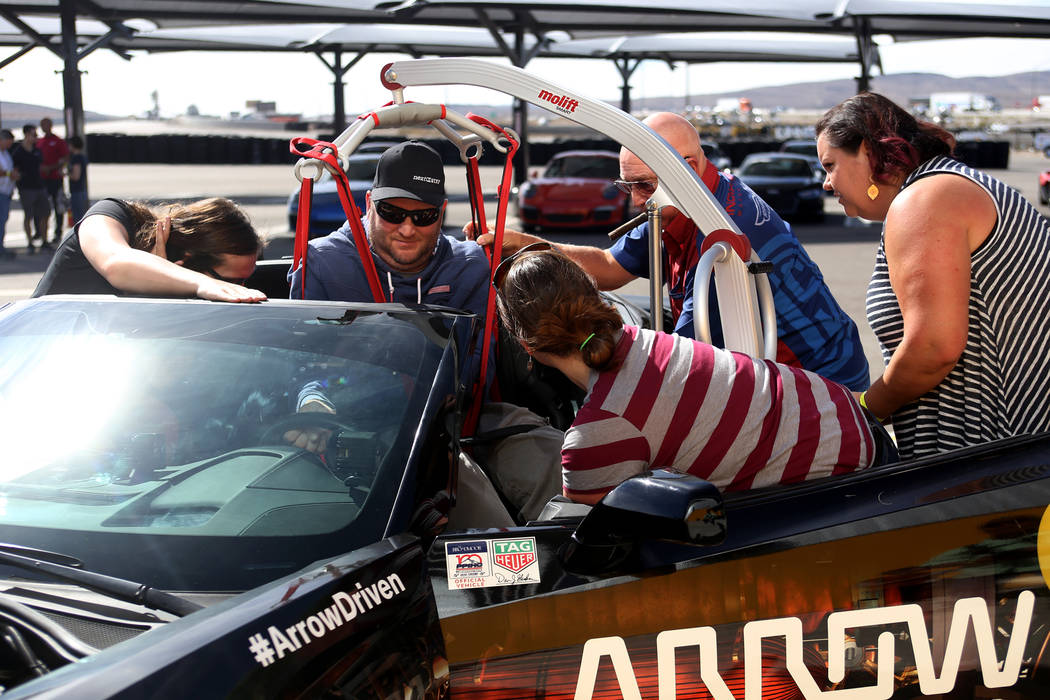 Corey Capece has never been able to move around without his wheelchair. He had never walked or, before Sunday afternoon, driven a car.
But Capece, a 30-year-old with spastic quadriplegic cerebral palsy, did doughnuts and burnouts in a sports car south of Las Vegas. The smell of burning rubber hung in the air, and white smoke spilled from beneath the tires of the car, drifting over his parents as they recorded the stunts on their phones.
Capece was among 10 people with physical disabilities who got behind the wheel of Arrow Electronics' Semi-Autonomous Motorcar, nicknamed "SAM," on Sunday at SpeedVegas. The upgraded Corvette uses the driver's head movements to steer and senses the air pressure from the mouth to stop and accelerate. SAM is programmed to ignore sneezes and spasms, a feature that is useful for people like Capece, whose symptoms include spasms.
After the smoke from his burnouts cleared and the Corvette was parked, Capece met his hero, Sam Schmidt, a former Indy Racing League driver who was paralyzed after a crash in 2000.
"He's my inspiration for getting up every day and trying new things and doing my best," Capece said.
Capece and his parents traveled to Las Vegas from Southern California to celebrate the upcoming opening of Driven, Schmidt's new nonprofit rehabilitation center in downtown Las Vegas. The grand opening is set for Dec. 1.
Frank Capece, 60, said that despite being unable to move his arms or legs, his son is very active. Capece has surfed in the Pacific Ocean twice this year, and he attends a rehabilitation camp every summer, which allows him to ride jet skis and play sports.
It was no surprise to his parents that he wanted to drive the SAM car.
"He just eats this up. He likes the adventure," Frank Capece said. "He does more than most able-bodied people I know."
Cyndi Brennan, 56, had not driven a car in nearly two decades. She was waiting at a stoplight when a drunk driver traveling 60 mph slammed into the back of her Camaro, killing her sister and leaving Brennan, 37 at the time, paralyzed from the chest down.
Brennan said she took lessons to drive afterward, but she never got behind the wheel again because it made more sense for her husband to do the driving.
"And it's still kind of scary," she added.
After driving Schmidt's Corvette on Sunday, Brennan said she was unafraid.
"That wasn't scary," she said, gesturing toward the parked Corvette. "It's more exciting than it was scary."
She would have liked to go faster, she said, but because her diaphragm is partially paralyzed, she couldn't push out enough air to accelerate quickly.
"I want to practice so I can do this better!" she said.
Brennan said Schmidt's enthusiasm and drive help inspire others. Brennan said she can't wait to go to Schmidt's new facility.
"I want to try it all," she said. "You want to do whatever you can do to get better, to do more and live your life."
Schmidt hopes that his rehabilitation center reminds people with disabilities that there is life after injury or disease.
"We want to give them that hope and inspire them to do more," he said.
Since Arrow Electronics invited Schmidt to drive SAM, the former race car driver has pushed the car to its limits, reaching 182 mph, he said.
"But the true proof of the technology was being able to get my driver's license and drive on the streets," Schmidt said. "That's a lot more stressful than a track environment, where it's totally controlled."
Schmidt hopes the technology in SAM can be used in tractor-trailer rigs, forklifts and harvesters.
"To me, the next step really is to translate this technology to get people back to work," Schmidt said. "That to me is ultimately what gives people a reason to get up every morning."
He would especially like to see the technology — and his new rehabilitation and resource center — benefit disabled veterans.
"They sign up to protect their country and feed their families, and they come back with a disability and don't have a lot of direction," Schmidt said. "Hopefully we can provide that direction."
Contact Kimber Laux at klaux@reviewjournal.com. Follow @lauxkimber on Twitter.