DA releases full report on justified NLV police shooting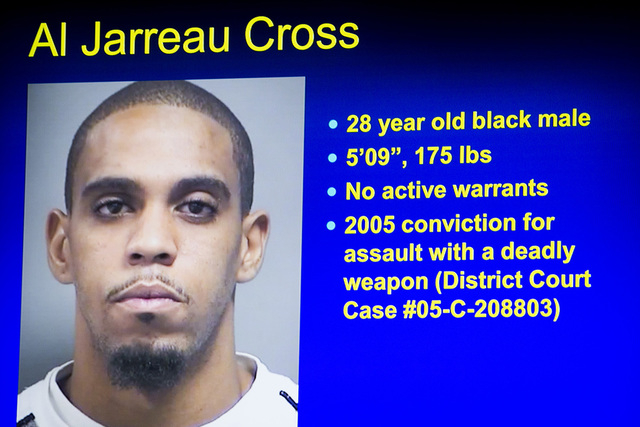 The Clark County District Attorney's office on Thursday released the full report on a North Las Vegas police shooting that left a man dead.
The document was made available three days after a public fact-finding review revealed why the officers would not be charged.
On Oct. 8, Al Jarreau Cross, 28, shot and wounded North Las Vegas Officer Shane Forsberg, 30, in a shootout after a traffic stop. Forsberg and partner David Wells, 33, returned fire.
Cross was killed.
An autopsy of Cross' body found both prescription and illegal drugs in his system, according to the report released Thursday. One of the drugs, Meprobamate, causes "derangement and/or impairment of alertness, judgment, sense of care and caution and nerve-muscle coordination."
The night of the shooting, Cross parked his car at a randomly chosen driveway in the 700 block of Miller Avenue, the report said, and ran off to a nearby vacant lot on Carey Avenue. Forsberg followed on foot while Wells drove their unmarked patrol car to the lot.
After slipping and falling in a ditch, police said, Cross stood up and fired at Forsberg. After realizing he had been shot, Forsberg fired back. Wells arrived shortly after, and also began firing at Cross.
The two officers fired nine shots at Cross, hitting him five times. Cross fired five shots. His gun had been reported stolen in a 2013 home invasion, police said.
Cross had been convicted of two counts of assault with use of a deadly weapon and sentenced to prison.
Contact Chris Kudialis at ckudialis@reviewjournal.com or 702-383-0283. Find him on Twitter: @kudialisrj