Dangerous morning for pedestrians: 3 killed, 1 injured in 4 crashes
Updated August 12, 2022 - 3:58 pm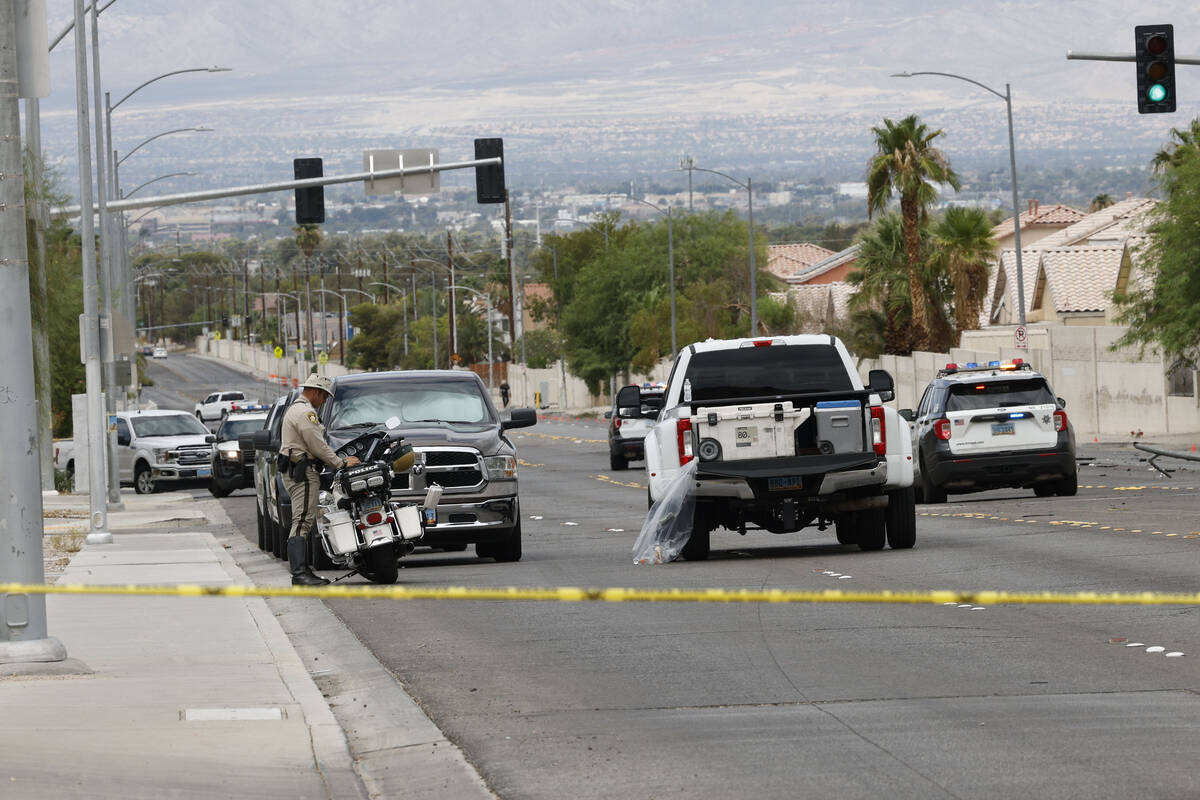 It was a dangerous Tuesday morning for pedestrians in the Las Vegas Valley with three killed and a fourth critically injured in four separate crashes.
One of them, at 8:24 a.m., unfolded on the edge of a school zone at Brookman Elementary School, 6225 E. Washington Ave. Las Vegas police said a vehicle struck a pedestrian near Mount Hood Street in the east valley, killing the pedestrian.
The Clark County coroner's office Friday identified the pedestrian as Ana Cardenas Martinez, 50. She died of blunt force injuries of the head, chest and extremities.
A car was observed at the scene smashed into a light pole near the school. Clark County School District police later confirmed the crash did not involve any students or juveniles.
Police closed down Washington up to the front entrance of the school.
In another crash at 4 a.m., police said an unidentified female pedestrian was killed as she crossed South Rainbow Boulevard and Palmyra Avenue. The woman, police said, was struck by a 2013 F-150 driven by a 67-year-old Las Vegas man. Impairment was not suspected in the crash, and police reopened roadways in the area just before 8:30 a.m.
At 4:30 a.m. at West Flamingo Road and Arville Street, a pedestrian was killed when struck by an older model white pickup truck. The driver then fled the scene. Roads were reopened around 8:45 a.m.
The coroner's office Thursday identified the pedestrian as Emmanuel Alonso-Manuel, 31, of Las Vegas.
In a fourth crash, a pedestrian was struck and critically injured just before 8:20 a.m. near the intersection of J Street and Washington Avenue. A motorist drove from the scene and was located a short time later by patrol units, police said. Officers took the driver into custody in the 300 block of Stanford Street. The motorist was suspected of driving under the influence, but further details haven't been released.
Local officials who have championed traffic safety efforts expressed remorse at the day's events.
UNLV Traffic Safety Coalition coordinator Erin Breen called it a "dark day" for Southern Nevada.
"The pedestrian problem in our city comes down to human beings doing dumb things, pedestrians and drivers," she said. "We all need to pay more attention."
It has been a terrible morning in @ClarkCountyNV. Tragic reports from @LVMPD of 3 pedestrians killed and one seriously injured are extremely concerning. Once again, slow down. Pay extra attention. It's dangerous out there. We must do better.

— Michael Naft (@MichaelNaft) August 9, 2022
Clark County Commissioner Michael Naft agreed.
"One fatality is too many, when you have a day like today… it causes the whole community to open their eyes a little bit wider," he said.
Naft said the county's Office of Traffic Safety, formed late last year, will analyze the crashes to determine what engineering improvements could be made to local roadways.
One recent effort by the county came last month. Commissioners voted to require that all new roads wider than 60 feet across be built with detached sidewalks, putting more space between pedestrians and vehicles.
It's important work, Naft said, as pedestrian fatalities have risen in recent years.
In 2021, 66 people died in Clark County, compared to a recent low of 43 in 2019. It was the second-highest amount of the past decade, following 71 deaths in 2017.
That year, a car struck and killed three teenage boys walking on a sidewalk along East Desert Inn Road. A fourth child was also injured in the September crash, which happened just after 9 p.m.
Deaths are poised to rise again this year in the county. There have been 39 as of the end of July, five more than this time last year.
Local safety officials have urged local governments to adopt the national Safe System approach, a method that tried to reduce serious and fatal traffic collisions by designing roads to anticipate human mistakes. One example, Breen said, would be creating crosswalks closer to bus stops.
State public safety officials have been working to educate the public and hosting various events over the past few years aimed at increasing safety for pedestrians and creating better awareness among drivers who commute around them.
In 2021, the city of Las Vegas announced a goal to become a Vision Zero city, a plan to develop strategies to eliminate all traffic fatalities and severe injuries by the year 2050. It launched the effort last week with a public survey.
Contact Glenn Puit at gpuit@reviewjournal.com. Follow @GlennatRJ on Twitter. Contact Michael Scott Davidson at sdavidson@reviewjournal.com or 702-477-3861. Follow @davidsonlvrj on Twitter. Staff writer Tony Garcia contributed to this report.