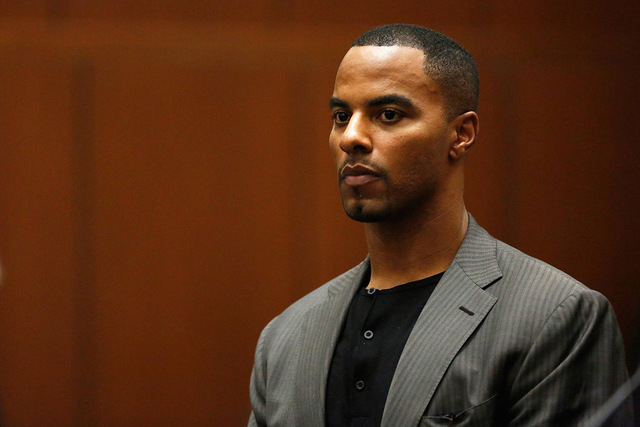 Former NFL safety Darren Sharper plead guilty in Las Vegas Tuesday to one count of attempted sexual assault in connection with an attack where three people were reportedly drugged, including two women, inside Sharper's penthouse suite at the Cosmopolitan.
The agreement with the Clark County District Attorney's Office comes a day after Sharper, who appeared in the NFL Pro Bowl, entered pleas to rape charges in Arizona and Los Angeles.
Sharper, 39, appeared through a video conference from a jail in Los Angeles, where he has been held since Jan. 17, 2014, a day after the Las Vegas attacks. He is expected to receive a sentence of 38 to 96 months in prison in the Las Vegas case.
Prosecutor Craig Hendricks said that "based on the facts and circumstances we think it's a fair resolution."
Sharper was immediately sentenced to nine years in prison in the Arizona case, and his Las Vegas defense lawyer asked that he face a concurrent sentence, meaning he would serve prison time in both cases simultaneously.
"We are pleased that after taking responsibility for his offense Mr. Sharper will not receive any more prison time in Nevada as his sentence will be concurrent with the sentences that other jurisdictions impose," Sharper's Las Vegas lawyer, David Chesnoff, said in a written statement.
Before setting a sentencing on the Las Vegas charge for June 25, District Judge Douglas Herndon asked Sharper how he felt.
"I could be better," said Sharper, wearing orange jail fatigues over a white long-sleeve shirt and seated in a Los Angeles courtroom next to two attorneys. "But I'm alright."
The Las Vegas charge stems from allegations that Sharper forced sex on two women in the early morning hours of Jan. 16, 2014, the day before Sharper was arrested in California, while the women were unconscious or otherwise unable to resist or consent.
The women, 23 and 26 at the time, arrived at Surrender night club at the Encore around midnight, when they were approached by a group of people with Sharper, who had private bottle service, according to a police report.
Sharper then invited the women to Light nightclub at Mandalay Bay, where they also met a man named Brian Davenport, and Sharper mixed them a drink and told them about a "party" at his penthouse suite at the Cosmopolitan.
One of the women said that she "started to feel funny before they had left the night club," the police report stated.
When the four arrived at the suite, Sharper brought them to the balcony and "suggested that they all do shots, which all agreed," according to the report.
One of the women woke up in Sharper's bed and noticed a cut on her face and her foot. She told him she was hungover, and Sharper offered her another drink as a cure.
"The next thing she remembers was Sharper kissing her, and then they had sex," the report stated. She "became very upset and began crying, stating that she did not try to stop him, but that she did not do it willingly."
The other woman woke up on a couch, convinced that she also had been raped.
Davenport, who said he also believed he was drugged, told police he blacked out after taking a shot on the balcony and didn't remember anything until the next day when he saw Sharper in the casino.
Davenport, 31 at the time, had lost his cell phone and asked Sharper about it.
"Sharper removed it from his front pocket and gave it to Davenport," the report stated. "Nothing else was said."
The women were tested at University Medical Center for sexual assault, and decided to go to police after learning about similar charges in other states against Sharper.
The women later tested positive for the sedative Zolpidem, which police said was found in a shot glass in the Phoenix apartment. Sharper had a prescription for the drug.
Sharper played in the NFL for 14 years, with the Minnesota Vikings, the Green Bay Packers and the New Orleans Saints. The five-time Pro Bowl player retired in 2010.
Contact reporter David Ferrara at dferrara@reviewjournal.com or 702-380-1039. Find him on Twitter: @randompoker.