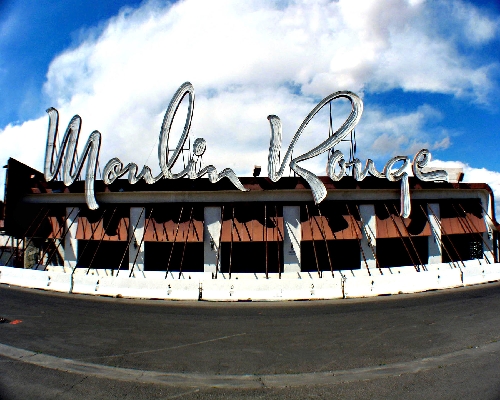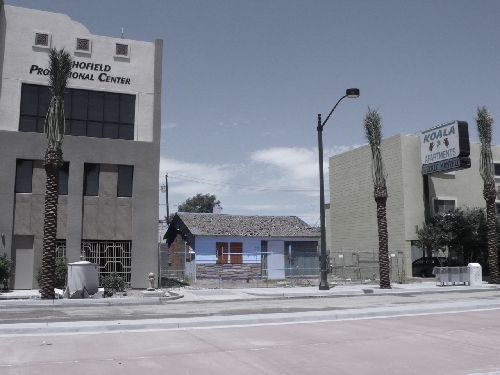 The Las Vegas skyline looks different than it did 10 years ago, and much has been made recently of the new buildings, the hotel additions, and the potential of adding businesses, residents and additional attractions to what had been a moribund and declining area.
But some thing had to go to make way for the changes. There's a "re" in "redevelopment" for a reason: Sites are being developed again, replacing what was there before.
Three artists have put together an exhibit — "Decade" — looking at the old and the vanished in and around downtown Las Vegas. It coincides with the end of Mayor Oscar Goodman's reign, a time when remaking and re-energizing downtown has been his top priority.
The year 2011 is also the centennial of Las Vegas' city charter, marking 100 years since the area around Fremont Street officially became a city. There are those who at least want to document the city's past before it's bulldozed.
"Everything disappears downtown," photographer Clay Heximer said. "A lot of it disappears overnight.
"There's obviously a lot of things going on, new places to go. But we've lost a lot of places, too."
Those include the Moulin Rouge, the valley's first racially integrated casino, which sat closed for many years and was ravaged twice by fire before the remains were pulled down last year. The Apache Motel and the Queen of Hearts casino were demolished to make way for a new Las Vegas city hall building.
Some of the losses feel personal to Heximer, such as the demolition of the Stardust and the Westward Ho, where he used to work.
"The Stardust was an incredible loss, and the fact that nothing's going on there now is even more of a loss," Heximer said. "When the Westward Ho came down, it was the last place where you could be kind of broke and still hang around for the weekend."
Joel Rosales, another photographer in the exhibit, takes a more neutral, documentarian view of Las Vegas' changes.
"What I've been covering is everything that's coming down, everything that's 'leaving' Las Vegas," he said. "I'm trying to build an archive of our city's unfolding."
His shots focus on old and worn structures, sometimes juxtaposed with newer buildings nearby that are sleeker but lack character. He also keeps track of buildings and demolitions at an admittedly poorly updated website, www.leavinglv.net.
"It's my history. It's such a unique history, crammed into such a small amount of time," Rosales said. "I think it's a shame to lose it."
At the same time, though, "every city goes through this. We're just so young, we're going through it now."
That makes for jarring contrasts.
The Golden Nugget, for example, has a brand-new tower addition, and a stone's throw down the street is where the new city hall is under construction — while just a block away worn-out hotel buildings sit boarded up.
The same is true of a group of condemned cottages wasting away in the shadow of the gleaming Newport Lofts building near Charleston Boulevard.
Or take Commercial Center on Sahara Avenue. It's close to the Strip, residential neighborhoods and heavily trafficked roads, but the mall limps along in disrepair with hodgepodge tenants.
"I'm still fascinated with Commercial Center," said Catherine Borg, the third artist in the exhibit. "I could tell that it was an early example of the shopping malls that are common on the West Coast."
She was also sure, given its location, that it was "really going to take off" when she first started photographing it in 2003. It hasn't happened there as it has in other places, but if the center does get attention, Borg said the key is to mimic the formula used in places such as the Fremont East district — set up parameters and incentives and let businesses figure out what works, as opposed to dictating a vision from the top.
"It's the delicate balance between creating an opportunity for development to happen," she said, "and letting it happen organically, too."
The exhibit continues until March 13 in the Fifth Street School, 401 S. Fourth St. Call 702-229-1012 for a viewing appointment or more information.
Contact reporter Alan Choate at achoate@review journal.com or 702-229-6435.