Defendants in World Cup betting case deny ties to crime syndicate
December 3, 2014 - 11:59 am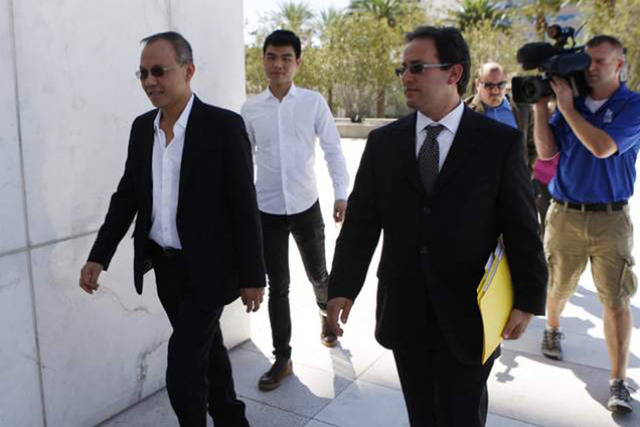 FBI agents recklessly submitted evidence in sworn search warrant affidavits falsely linking key members of an alleged World Cup betting scheme to a Chinese crime syndicate, defense lawyers have charged.
Attorneys Thomas Goldstein and David Chesnoff argued in the court papers late Tuesday that the "flimsy" evidence was designed to mislead a federal judge into authorizing the July raid on the international gambling operation at Caesars Palace.
The lawyers argued that the government had little evidence to support its claim that Malaysian businessmen Paul Phua and Richard Yong, the alleged leaders of the multimillion-dollar betting ring, were tied to the Hong Kong-based 14K Triad, one of the world's largest crime organizations.
Last month, the Las Vegas Review-Journal reported that FBI agents had obtained new evidence during the raid tying a reputed ranking member of another Chinese Triad to the betting ring that accepted wagers on the World Cup soccer tournament.
Documents seized by agents show a Macau casino junket company associated with Cheung Chi-Tai — whom authorities have identified as a leader of the Hong Kong-based Wo Hop To Triad — was among several companies the betting organization is believed to have used to settle up wagers with its wealthy customers.
During the Las Vegas raid, agents also retrieved photos from a computer of several international passports, including a Hong Kong passport belonging to Cheung, according to an FBI report filed in the case.
The evidence was part of hundreds of pages of exhibits attached to court papers filed by federal prosecutors defending the July 9 raid at three luxury Caesars Palace villas occupied by eight defendants. Days before the raid, agents enlisted the help of Caesars Palace and one of its Internet contractors to pose as technicians and get a glimpse inside the high-tech gambling operation.
The eight defendants, all from Malasia and Hong Kong, are facing federal illegal gambling charges.
Cheung and his ties to the junket company, Neptune, are well-known to law enforcement authorities. He has been mentioned in news articles on the crucial role of junket operators in the Macau casino industry, which is well-represented by Las Vegas gaming giants. Junket operators help casinos attract high rollers, promising them free hotel rooms, travel and other perks.
Defense lawyers have denied any ties between the World Cup betting group and Cheung.
The lawyers are trying to persuade a federal magistrate judge to recommend tossing out the mass of evidence agents seized during the raid because of constitutional violations. A hearing is set for Dec. 15.
Contact Jeff German at jgerman@reviewjournal.com or 702-380-8135. Follow @JGermanRJ on Twitter.
Related
Federal prosecutors: World Cup betting suspect may have bribed his way to freedom in Macau
Chinese mob linked to World Cup betting ring bust in Las Vegas
Lawyers: Agents spied on suspects in World Cup betting scheme
Caesars lawyers deny privacy violation in World Cup betting sting
Malaysian man pleads not guilty in World Cup betting case
Prosecutors seek to detain World Cup betting suspects
3 key defendants in World Cup case ordered released
Malaysian businessman charged in betting scheme released
8 indicted in World Cup betting scheme
International mob-connected ring linked to illegal World Cup betting at Caesars