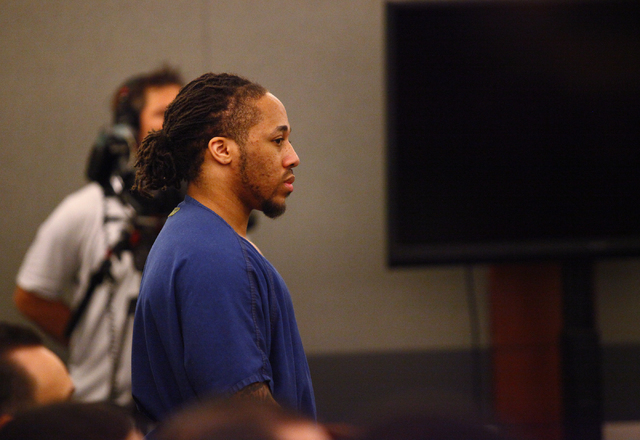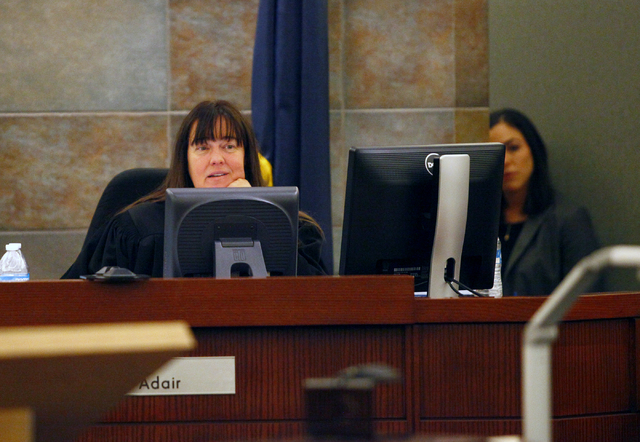 Defense attorneys for a man facing a murder trial next week want to prevent Clark County District Attorney Steve Wolfson's television show "Las Vegas Law" from filming in court.
Deputy Special Public Defenders Randy Pike and Robert Arroyo argued that the Nevada Supreme Court Rules on Electronic Coverage of Court Proceedings address news reporters exclusively and that the show's production company, MY Entertainment, is "concerned with creating a compelling story line to gain ratings" rather than informing the public of news.
The state's high court depicts news reporters as "any person who gathers, prepares, collects, photographs, records, writes, edits, reports, or publishes news or information that concerns local, national, or international events or other matters of public interest for dissemination to the public."
The high-profile murder and robbery case against Michael Solid, now 24, is slated for trial next week. He is accused in the slaying of a Las Vegas high school student who refused to give up his iPad on May 16, 2013.
Authorities said 15-year-old Marcos Vicente Arenas was pulled into the street and run over by a Ford Explorer speeding away after Solid and Jacob Dismont tried to steal the device a few blocks from Bonanza High School.
Dismont, now 21, pleaded guilty last week to second-degree murder and conspiracy to commit robbery and is awaiting sentencing scheduled for October.
Solid's defense lawyers said the television program depicts prosecutors as "'superheroes' fighting crime in one of the wildest cities on the planet," creating an unfair environment for opposing attorneys.
"It may be assumed that the defense counsel is left to play the villain in this story," Arroyo wrote in court papers filed this week. "Counsel did not go to acting school, and does not plan to voluntarily participate in whatever story line MY Entertainment TV and the District Attorney's office decide to spin from this case. Counsel will be distracted with thought of how he will be portrayed in this nationally televised docu-drama."
District Judge Valerie Adair, who said she was inclined consider the program a news organization, could decide as early as Friday on whether to allow the program to record at trial or to restrict some of their courtroom access.
Barry Smith, executive director of the Nevada Press Association, who helped draft an amended version of the Supreme Court rules, said he sees a "potential conflict" with the county's top prosecutor exercising control over the content and was reluctant to ally "Las Vegas Law" with other news media.
Wolfson has called the show a "docudrama" in which camera crews followed prosecutors and defense lawyers around the courthouse without using a script or directorial control.
"When they say 'docudrama,'" Smith said, "it's the drama part of it that bothers me." Smith added that he had not seen the prosecutor's program, but similarly defined shows "take great liberties with what the rest of us would consider unbiased, accurate news reporting."
While the first six episodes that aired earlier this year drew criticism from some defense attorneys, Wolfson's show was recently approved for a second season. Public Defender Phil Kohn has said that his office would not participate in season two because he thought prosecutors pushed cases to trial so camera crews could capture more footage.
Lisa Zastrow, a lawyer for the production company, argued that the show should be viewed as a news entity.
"There's no real editorializing," Zastrow said. "These cameras report what is in this courtroom. They are no less a news entity than '20/20,' 'Dateline' or '48 Hours.' … We are on the right side of this issue. Our cameras should be allowed, and to exclude them would raise a whole host of discriminatory issues."
Last year, when producers were filming for the first season, defense lawyer Tom Pitaro unsuccessfully argued before another judge that MY Entertainment should not be granted access because the show is not a news program.
Inviting a "docudrama" such as "Las Vegas Law" blurs the line between freedom of the press and freedom of speech, Pitaro said.
"A news organization reporting on something is qualitatively different than a reality show program," Pitaro said. "When we talk about freedom of the press we're talking about a discreet organization. The function of the press is to inform the public. I don't think a reality show is to inform the public, it's to entertain."
Pitaro also said prosecutors are required to be ethical and have a legal obligation to ensure justice, and he pointed to the state's Supreme Court rules of professional conduct.
In part, those rules state that prosecutors must "refrain from making extrajudicial comments that have a substantial likelihood of heightening public condemnation of the accused."
Wolfson could not be reached for comment, but he has said that "the integrity of the office and the integrity of the case is first and foremost."
Contact David Ferrara at dferrara@reviewjournal.com or 702-380-1039. Follow @randompoker on Twitter.
RELATED
'Las Vegas Law' renewed for second season
Steve Wolfson says critics wrong about 'Las Vegas Law'
Show on Las Vegas DA's office depicts 'exotic, exciting, excessive' courtroom drama