Did aliens land in Las Vegas? NASA says no
Updated June 19, 2023 - 6:47 pm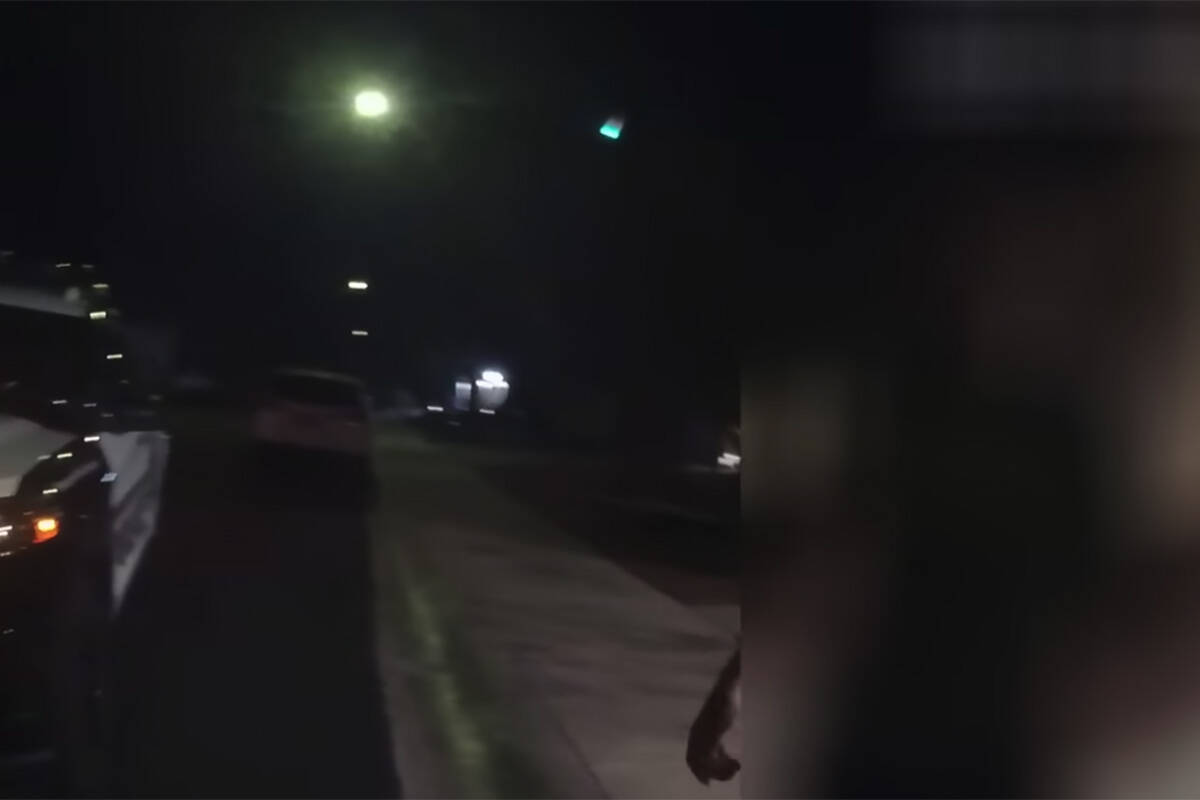 A bright beam of light recently spotted plummeting through the darkness of an early morning Centennial Hills sky was a meteor and not a UFO, as some Las Vegas residents have speculated, NASA officials confirmed.
The flash of light was captured on an officer's body-camera footage on May 1 that was posted online to the Metropolitan Police Department's YouTube channel.
Perhaps in part because of Las Vegas' proximity to Area 51, that video has since gone viral, with many speculating that it was a UFO. The 39-second clip had garnered more than 217,000 views as of Monday.
NASA's Planetary Defense Office said in an email, however, that the beam of light was a bright meteor, less than a meter in size, that fell through the sky. It "certainly" was not a UFO that crash-landed in someone's backyard, a spokesperson with NASA said.
Metro said in a statement last week that they responded to a call from an address about a "suspicious situation" and conducted an early investigation, ultimately closing the event as "unfounded."
Related: Nevada UFO sightings have been reported for decades
Body-camera footage posted online by Metro shows officers discussing searching for "little green men" and later arriving to a house and interviewing residents.
"These people say there's aliens in their backyard," one officer can be heard saying before arriving at the home.
"It was like a big creature," one resident said when questioned about what they saw.
The unusual flash of light apparently even had police bewildered, at least initially.
Officers searched the home that was blacked out in the video. And an officer can be heard saying that he had "chills" on his arms while searching the home.
The meteor was recorded on the American Meteor Society's Fireball logs, but it did not make the logs for NASA's Center for Near Earth Object Studies.
A NASA official said the discrepancy between the Meteor Society and NASA's center occurred because the center's website only captures reports for objects that are estimated to have exceeded 1 meter in size based on the observed total energy released: "In other words, natural objects which were large enough to be categorized as asteroids prior to entering Earth's atmosphere."
In the video, Metro officers were not yet aware of the reports from NASA, and they asked bystanders at the address about the incident and whether they had seen anything out of the ordinary.
NASA officials added that based on the speed of the meteor, it would have likely been very high in the atmosphere, "so nothing from the meteor landed in anyone's backyard in Vegas."
Contact Kiara Adams at kadams@reviewjournal.com or 702-380-0399. Follow @kiadams101 on twitter.