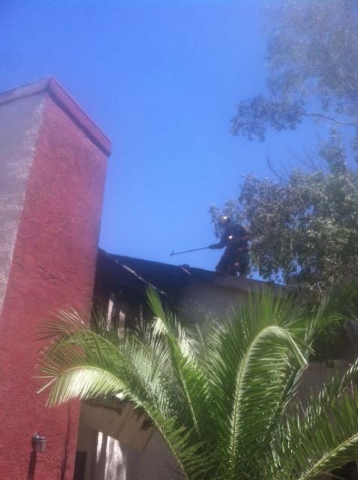 A cigarette butt flicked onto an apartment balcony caused a fire in an apartment complex near UNLV on Friday afternoon.
The Clark County Fire Department responded to a fire at the Tropicana Royale apartments, at 1900 E. Tropicana Avenue, near Spencer Street, just after noon.
A discarded cigarette on an apartment balcony caused a fire that spread from the balcony to inside the apartment and the roof. Firefighting crews were able to control the blaze before it damaged the adjoining apartments.
The fire caused approximately $70,000 in damage, the department said. No one was reported injured from this incident.
The department said in a release that a discarded cigarette can and often does cause fires. Cigarettes burn at a temperature more than sufficient to ignite combustibles such as paper, cloth, and wood. Smoking materials should never be thrown out of vehicles, and you should never smoke when you are in bed, drowsy, or falling asleep, the department said.
Contact Wesley Juhl at wjuhl@reviewjournal.com and 702-383-0381. Find him on Twitter: @WesJuhl.