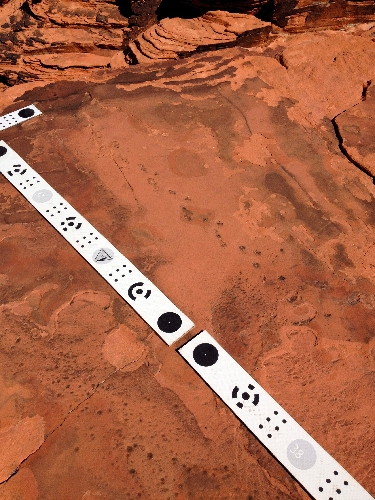 In a sea of dunes stretching to the horizon, a dinosaur the size of a Doberman strode through wet sand that squished between its talon-tipped toes.
Where the creature was headed and why has been lost forever down the well of geologic time, but its muddy footprints march on in a block of sandstone 25 miles from the Strip.
Officials at Red Rock Canyon National Conservation Area have confirmed the discovery of dinosaur footprints and other tracks laid down roughly 190 million years ago.
The footprints were found in early September by some regular visitors to Red Rock who also volunteer at the conservation area.
Researchers confirmed the find during a field trip to the site just before the start of an international paleontology conference held in Las Vegas early this month.
At least one of the three-toed prints is ringed with what looks like ripples caused when the animal's foot splashed down in the mud.
"They step down, the ripples go out, and it stays there for 180 or 190 million years. It's mind-boggling," said Tim Wakefield, filed manager for the U.S. Bureau of Land Management at Red Rock.
It is the first discovery of its kind within the 195,000-acre conservation area. Experts are calling it the first set of dinosaur tracks to be formally documented anywhere in Nevada.
A PREHISTORIC SECRET FOR NOW
Brent Breithaupt is a regional paleontologist for the BLM and part of the group of researchers that confirmed the discovery.
At first blush, he said, the tracks appear to come from a two-footed, meat-eating dinosaur that was probably no more than about 3 feet long from nose to tail.
But Breithaupt warned that it is "very premature" to say almost anything with certainty about the creature.
"We know we have tracks there. Right now, we're at the very beginning of our observation," he said. "Every track site has a story to tell. Trying to figure out what that story is — that's what's exciting about being a researcher."
The BLM, which operates Red Rock Canyon, isn't releasing the location of the fossilized footprints. The site will be kept under wraps until it has been documented and experts decide how best to protect it.
The footprints were found in a layer of Aztec sandstone, the same type of rock in which fossilized dinosaur tracks have been discovered in Utah and Arizona.
All officials will say is that the site is remote and difficult to reach. Wakefield described it as a hard, two-hour hike from one of the parking areas in what he called Red Rock's "core area," which basically includes all the land visible from the visitor center.
"We're not trying to be secretive. We just want people to be respectful of it like they already are with our cultural areas for the most part," he said. "If we don't do this right, we run the risk of losing something we can never get back."
The bureau plans to post some temporary displays about the discovery at the Red Rock visitor center within the next few weeks.
A more detailed exhibit, including reproductions of the fossilized footprints, could be up by early next year, when officials hope to hold an open house so visitors can talk directly to researchers about the find.
Wakefield said it probably will take at least a year for scientific work to be completed and a decision to be made about how — or whether — to direct visitors to the tracks themselves.
"We are so anxious to share this with the public," he said. "This is so exciting."
DOCUMENTING THE DISCOVERY
Breithaupt and company logged dozens of tracks in an area stretching roughly a quarter of mile.
In addition to dinosaur prints, they found what appears to be a line of tracks from a spider or scorpion about the same size as the ones that roam the area today.
The arthropod tracks are from the same time period as the other fossilized prints, Breithaupt said. "They were scurrying around with the dinosaurs."
After conducting a cursory survey of the site, the paleontologists snapped three-dimensional pictures of the tracks by using an extremely high-resolution camera that can capture details down to a tenth of a millimeter.
The images are good enough to produce 3-D reproductions of the tracks without having to take physical moldings that can damage the rock.
"It's the most noninvasive way to make a cast of a fossil," Breithaupt said.
Local paleontologist Josh Bonde hasn't seen the tracks yet, but he knows a little something about sifting through present day Southern Nevada for traces from the age of dinosaurs.
His work in Valley of Fire has helped to identify fossils of dinosaurs, fish, turtles and crocodiles from the Cretaceous period, roughly 100 million years ago.
He said finding tracks from the early Jurassic is "actually really cool" because sites from that time period are rare in this region.
"Those rocks are few and far between," Bonde said.
WHAT THEY COULD TEACH US
Eventually, detailed analysis of the footprints could reveal the size and type of dinosaur that made them and the condition of the soil in which they were left. They could offer clues to the animal's behavior.
"We'll be able to say something about the stride and the pace," Breithaupt said.
It is painstaking work that involves equal measures of observation and interpretation.
"We never find a dinosaur dead in its tracks," Breithaupt said. "It's sort of like paleontological forensics. These are the ultimate cold cases."
And this case is about as cold as they come. Since the tracks were left in the wet sand, the sun has risen and set over Southern Nevada roughly 70 billion times.
In the early Jurassic, the continents were still clumped together, and the land mass that would become North America was closer to the equator. Nevada was part of a massive desert back then that makes the present-day Mojave look lush by comparison.
To turn footprints in sand dunes into fossils in sandstone requires water and pressure and a great deal of luck. For those tracks to lie buried for tens of millions years and then be lifted and exposed by erosion at just the right time to be spotted by humans is about the least likely chance encounter imaginable.
"It's best not to think about it," Bonde said.
Breithaupt said the tracks probably have been exposed on the surface, waiting to be discovered, for thousands of years. But he is not surprised it took until now to find them, even in a place as busy as Red Rock.
Fossilized tracks often get overlooked in areas not known for evidence of dinosaurs. Once word gets out about the tracks in Red Rock, Breithaupt expects it to lead to more discoveries in Red Rock Canyon and elsewhere in Nevada.
"People will start thinking about dinosaurs being there. They will get a search image in their mind," he said. "This may be the tip of the iceberg in terms of what may be preserved there."
Contact reporter Henry Brean at hbrean@reviewjournal.com or 702-383-0350.
Following in dinosaurs' footsteps
The discovery of dinosaur tracks at Red Rock Canyon National Conservation Area could lead to similar finds elsewhere in the area.
Now that people know what to look for and generally where to find them, there is a chance more footprints will be found, experts said.
Tim Wakefield, field manager for the U.S. Bureau of Land Management at Red Rock, said anyone who spots what might be a footprint or other fossil is asked to report it by calling the park's main number, (702) 515-5350.
Visitors are also advised to avoid damaging any fossils they find by sitting or standing on them, taking castings or attempting to chisel them out of the surrounding rock.
Wakefield's advice: If you have to take something, take pictures.