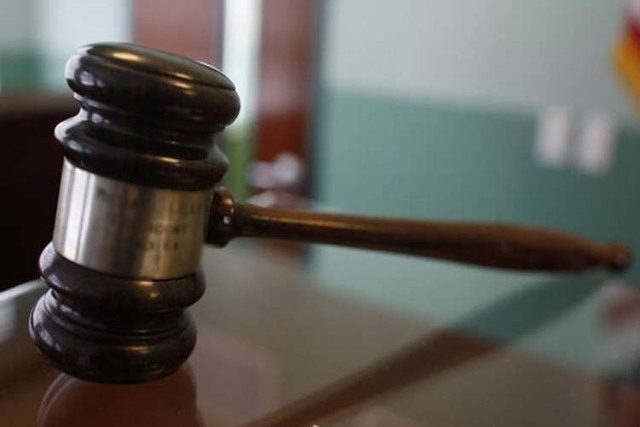 Las Vegas doctor Vinay Bararia was sentenced to 44 months in federal prison Tuesday stemming from his conviction for unlawfully selling prescription painkillers.
U.S. District Judge Jennifer Dorsey also placed Bararia on three years of supervised release after prison and ordered him to forfeit nearly $50,000 and a 2007 Jaguar.
A tearful Bararia, his voice breaking as he addressed Dorsey in chains and jail garb, apologized to the judge and his family for his conduct, saying, "I've lost everything."
Bararia, 43, was caught in a 2012 undercover sting by federal drug agents in a hospital parking lot. He pleaded guilty in December to one count of distributing a controlled substance.
Defense lawyers Kathleen Bliss and Thomas Mesereau Jr. sought a lighter sentence for Bararia, arguing he suffers from bipolar disorder and was not thinking clearing when the drug dealing took place.
But Assistant U.S. Attorney Susan Cushman said Bararia was "focused" and "rational" during his dealings with undercover agents and did not have a diminished mental capacity at the time.
"This is something he clearly planned to carry out," said Cushman, who had asked for a 70-month prison sentence.
Bararia, who has been in federal custody nearly two years, surrendered his medical license last year.
"Stopping the unlawful distribution of prescription painkillers has been a top priority for our office," Nevada U.S. Attorney Daniel Bogden said after the sentencing. "The days of persons being able to easily acquire these dangerous drugs from corrupt doctors and pharmacists are coming to an end."
The case against Bararia stemmed from a July 2011 drug deal in which he sold 500 hydrocodone pills to undercover federal agents in the parking lot of Centennial Hills Hospital. At the time, Bararia was the hospital's chief of internal medicine.
Bararia was charged in a seven-count indictment with unlawfully possessing and distributing hydrocodone and another prescription painkiller, oxycodone, from July 2011 to March 2012. As part of his agreement with prosecutors, the six other charges were dismissed Tuesday.
Bliss and Mesereau unsuccessfully challenged the government's conduct during the under­cover investigation, which included wiretaps.
They sought to get the charges dismissed, accusing agents among other things of secretly listening to personal conversations with Bararia's wife and patients.
The defense team also accused agents of being racially insensitive by naming the case "Operation Slumdog Billionaire."
The name was a takeoff of the 2009 film "Slumdog Millionaire," which portrays a man living in a Mumbai slum trying to win a game show. Bararia was born in India.
A federal magistrate judge criticized the poor choice of words but refused to recommend tossing out the case.
Contact Jeff German at jgerman@reviewjournal.com or 702-380-8135. Find him on Twitter: @JGermanRJ.