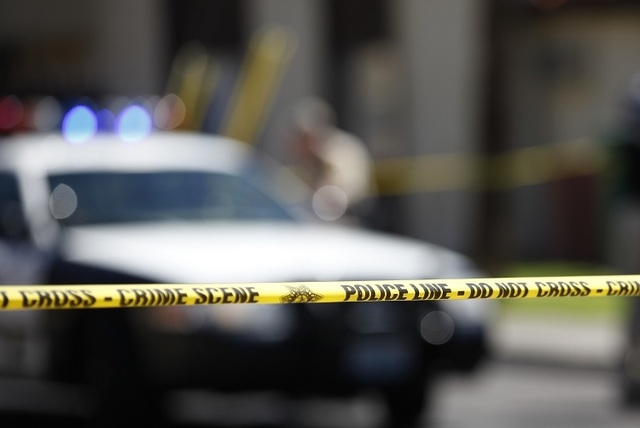 Las Vegas police shot a dog they say attacked one of their K-9s in the northeast valley Friday while they looked for someone in a stolen vehicle investigation. The shot dog later died.
Police were called about 7:30 a.m. to the 6400 block of Spanish Garden Court, near the intersection of Stewart Avenue and Hollywood Boulevard, where officers stopped a vehicle they said looked suspicious, Metro spokesman Officer Jesse Roybal said.
The car pulled over and two people got out and ran away, Metro said in a release Friday evening.
When police ran the abandoned vehicle's license plate through a database, Roybal said, it appeared to be stolen.
A female passenger was taken into custody and police called in K-9 to look for the second person who fled.
Police were searching in the 100 block of Lailani Street, near Charleston Boulevard at Clayton Street, when two dogs from a nearby home approached the K-9 officer and his male dog. One of the dogs, which police described as a pit bull, attacked the police dog.
Two officers struck the pit bull with their batons, the release said, but the pit bull continued to attack. An officer shot the pit bull, which ran back to its home with the other non-police dog.
Metro followed the dogs back to the house and found their owner. One of the officers drove the owner and the wounded pit bull to a nearby veterinary office where the dog died.
The police dog was also taken to a vet where he was treated for his wounds.
The female passenger who was taken into custody has not been charged, police wrote in the release. Police are still looking for the second person involved in the stolen vehicle investigation.
Writer Kimber Laux contributed. Contact reporter Cassandra Taloma at ctaloma@reviewjournal.com or 702-383-0381. Find her on Twitter: @CassandraTaloma.