Donald Clark was key figure in Las Vegas civil rights
October 10, 2017 - 5:47 pm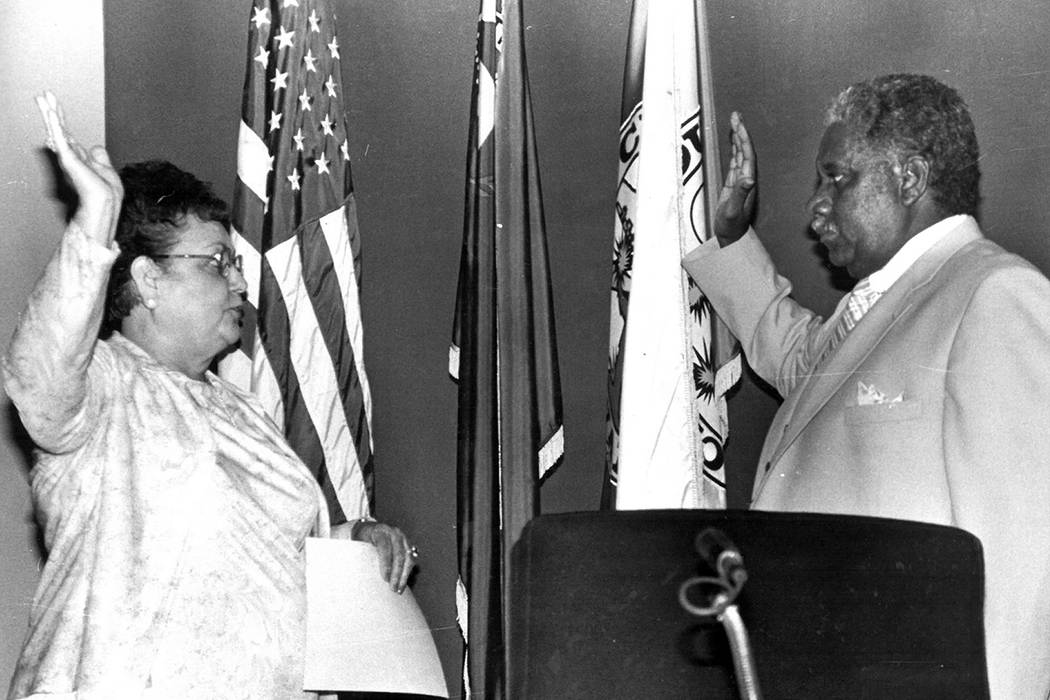 When he was growing up in segregated New Orleans, the Rev. Donald Clark's mother always kept a close eye on him in public.
If she didn't, the black boy was likely to drink from a water fountain that the government had mandated that only whites could use.
"He didn't know why he couldn't drink from that fountain," said Lois Washington, the only of Clark's five siblings who is still alive. "To us it was a way of life, but to Donald he said 'no.' He stuck out like a sore thumb among the six of us."
A quiet boy who enjoyed reading, Clark would grow up to be pivotal in the civil rights movement in Las Vegas. During his life he helped lead Clark County, the NAACP and local religious congregations.
Clark, 84, died Saturday. His family did not disclose the cause but said he had been hospitalized for a week before being placed in hospice care on Friday.
One of six children, Clark was born in New Orleans in July 1933. His father worked for the U.S. Customs Service and his mother cleaned laundry for a local hospital.
"He was always trying to teach my sister and I how to be good," Washington said. "Whatever sermon he heard at church on Sunday, we heard it on Monday."
Integrity and education
Though he avoided the limelight, Clark leaves behind a storied legacy. Alongside fellow activists Dr. James McMillan and Dr. Charles West, Clark successfully lobbied former Gov. Grant Sawyer to start the integration of black workers into the Strip's hotel-casinos in the 1960s.
"He had a deep conviction for just doing the right thing. My father had such a high level of integrity, and he understood that economics were a road to progression," daughter Yolanda Clark Brandon said. "He saw the inequity, and he wanted to do something about it. He realized he had the wherewithal to do it, so he did it."
Clark took his first job as a delivery boy for a local pharmacist at age 12. He gave some of the money to his parents, used some of it to pay for his own tailor-made clothes, and, from time to time, bought comic books for his younger sisters.
At age 16, Clark joined the Air Force. The job brought him to Las Vegas in 1952, where he worked as a cook at Nellis Air Force Base. He and his wife eventually settled down in west Las Vegas to raise their four children.
At home, Clark stressed the importance of education and work ethic. For his four children, college was not optional.
"I told him once I wanted to be a nurse, and he said 'Why not a doctor?' He always wanted us to excel," his youngest daughter, Betty Clark Crane said. "My parents didn't have expensive cars. They didn't have expensive taste. They put their money in our education."
Answering the call
After he left the Air Force, Clark joined the ranks of Anderson Dairy as a milkman in the late '50s. It was a strategic move by Clark, already an equality and integration activist, to meet and better understand the needs of his community, Brandon said.
"Before you can provide leadership and a path for people to do something different, you have to understand who the people are and develop a level of trust," she said.
Clark was elected president of the local NAACP chapter in 1961. Six years later, he was pioneering the Economic Opportunity Board in west Las Vegas when he was appointed chairman of Operation Independence, a program providing child care, legal aid and job placement.
When Clark County Commissioner Woodrow Wilson resigned after being convicted in an FBI bribery sting in 1984, Gov. Richard Bryan appointed Clark to fill the remainder of his term. Clark did not seek re-election.
"He was a civil servant. He felt if they called, he would answer," Brandon said.
No slowing down
Even in the twilight of his life, Clark did not let age slow him down.
Brandon said her father lived by himself, still drove and cooked his own meals. Though he retired 18 years ago, he kept his mind sharp by studying philosophy, history and the sciences through mail-order college coursework.
Las Vegas City Councilman Ricki Barlow, who has represented west Las Vegas since 2007, said Clark's knowledge and advice were indispensable in his first few years in office.
"He was a very quiet man, but when he spoke everyone listened because it not only mattered, it was based off of historical fact and data," Barlow said. "He most definitely was a pillar in this community, and he will be sorely missed."
Clark is survived by his 81-year-old sister, Lois Washington, and his four children: Brandon, Donna Clark, 63; Cornell Clark, 62; and Betty Clark Crane, 52. His wife Louise died in 2006.
A visitation is scheduled for 3 to 7 p.m. Friday at Bunkers Mortuary, 925 Las Vegas Blvd. North. Clark's funeral is at 10 a.m. Saturday at Second Baptist Church, 500 Madison Ave.
Contact Michael Scott Davidson at sdavidson@reviewjournal.com or 702-477-3861. Follow @davidsonlvrj on Twitter.