Downtown Las Vegas fire damages 2 homes, kills dog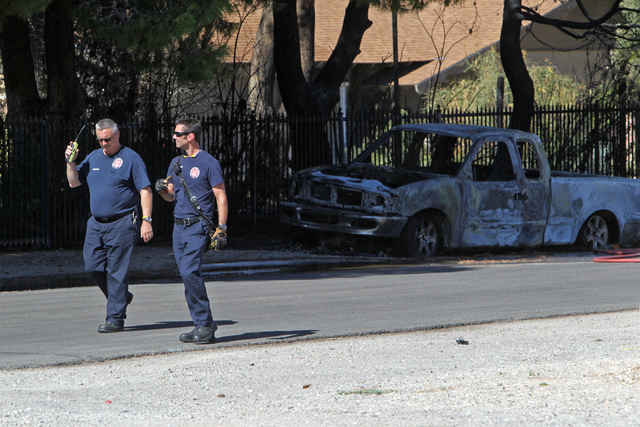 Two downtown Las Vegas homes were heavily damaged in a fast-spreading fire early Saturday morning. All occupants in both homes were evacuated, but a pet dog perished.
Firefighters were called to 126 Cervantes St., near North Eastern Avenue and Stewart Avenue, shortly before 2 a.m. after receiving calls that a home was on fire. When they arrived, the fire was blazing at two residences.
Firefighters took about 30 minutes to control the blaze, according to the city Fire Department.
The fire began to grow into the backyards of houses behind them, but an occupant with a garden hose was able to keep it from spreading.
Fire investigators believe the fire started in the backyard at 126 Cervantes, but the exact cause remained under investigation.
Damage was estimated at $100,000.
The American Red Cross is assisting at least eight people. There were no reported injuries.
Contact Alexander Corey at acorey@reviewjournal.com or 702-383-0270. Find him on Twitter: @acoreynews.