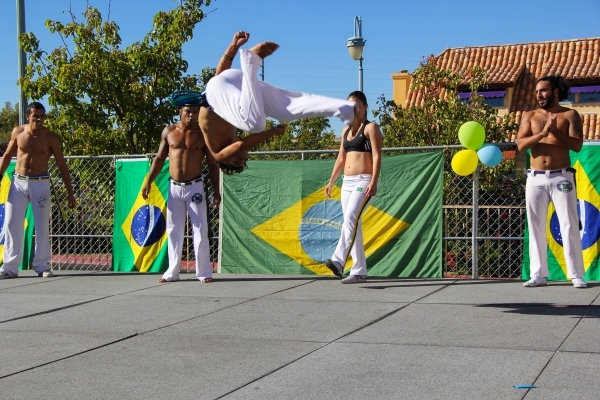 Hard Rock to mark 25 years: Hard Rock Cafe Las Vegas at Hard Rock Hotel, 3771 Las Vegas Blvd. South, Suite 120, is set to commemorate 25 years in Las Vegas with a 10-day celebration from Oct. 2-11. Celebrations will include free live music shows, throwback menu items, food and drink specials, interactive events and more. For a full schedule, visit hardrock.com/cafes/las-vegas-at-hard-rock-hotel.
Ferraro's, Pemberton to showcase wines: Sample Italian food from Ferraro's Italian Restaurant & Wine Bar while sipping selected and limited-availability spirits, wine and craft beer from Pemberton from 4 to 6 p.m. Oct. 4 at 4480 Paradise Road. Guests can enjoy an array of alcoholic and non-alcoholic beverages presented by Pemberton, accompanied by a selection of Italian fare by Ferraro's executive chef Mimmo Ferraro. Space is limited, and tickets are $100 per person. Call 702-364-5300.
The Perch to celebrate anniversary: Downtown Container Park restaurant The Perch, 707 Fremont St., is set to celebrate its first anniversary with a prix fixe menu and wine special from 10 a.m. to close Oct. 7. Priced at $26, the three-course menu includes a chopped salad, chimichurri chicken sandwich and chocolate hazelnut torte. Patrons can also indulge in a selection of red, white and sparkling wines priced at $5 per glass or $20 per bottle. Visit theperchlv.com.
Food truck battle planned Thursdays: Local food trucks are set to roll into the Silver Sevens parking lot from 4 to 7 p.m. Thursdays in October for a food truck battle, offering a variety of savory and sweet street eats. Admission is free, and A-Play Club Card members can vote for their favorite food truck for the chance to win $500 in FreePlay. Nonmembers will be able to sign up for a free card at the event. Participating food trucks include: Sauced, Cousins Maine Lobster, Bacon Boys, Oso Ono, and A Gourmet Soiree. Visit silversevenscasino.com.
Vote in sandwich competition: Kathie Gill's Grilled Yam n'Cheese sandwich has allowed the chef to become a top 15 finalist out of 1,000 other entrants in Oroweat bread's America's Better Sandwich contest. Now, the Las Vegas community can help Gill win a $25,000 grand prize by voting at americasbettersandwich.com. For every vote cast through Oct. 18, Oroweat will donate a loaf of bread to Feeding America. The winner is to be announced on National Sandwich Day, Nov. 3.
Whole Pie-To Go Sale underway: Marie Callender's locations are offering the annual Whole Pie-To Go Sale through October. More than 30 varieties of pies are $7.99, plus tin. Visit mariecallendars.com.
Smashburger offers free trip, cash: Smashburger recently launched a social media campaign, #SinCitySurvivalTips, and is giving away a free trip to Las Vegas. This promotion also benefits locals, as the cash value of the trip will be awarded to a local if he wins in lieu of the trip. Smashburger invites fans who think they have what it takes to survive Sin City to submit their most sensible, wild and outrageous survival tips on Instagram or Twitter using the hashtag #SinCitySurvivalTips by 9 p.m. Oct. 20. Rules and regulations are available at sincitysurvivaltips.com.
Restaurant closures announced at The Orleans: Effective Sept. 21, Canal Street and Coasta Cantina, restaurants at The Orleans, 4500 W. Tropicana Ave., closed. The restaurants will be replaced by two new dining concepts, premiering at The Orleans in coming months. During the closures, a temporary venue called The Orleans Steak and Seafood was set to open the week of Oct. 1 and remain open through the end of the year. Located across the casino floor from the French Market Buffet, the casual, relaxed dining experience will offer American steakhouse cuisine with modern flair. The Orleans Steak and Seafood's hours are from 5 to 10 p.m. Sunday through Thursday and 5 to 11 p.m. Friday and Saturday. The venue will offer a Social Hour with food and drink specials from 3 to 5 p.m. daily and Reverse Social Hour from 11 p.m. to 1 a.m. Fridays and Saturdays.
New restaurant opens: Vila Algarve Restaurant, 6120 W. Tropicana Ave., Suite 11-12, recently opened, offering a dance floor and Portuguese dishes. Hours are from 11 a.m. to 10:30 p.m. daily. Visit vilaalgarvevegas.com.
Big Ern's BBQ to open second location: Big Ern's BBQ is set to open its second location in early October at the Fiesta Rancho, 2400 N. Rancho Drive. The new restaurant is set to be located off the casino floor, with country barn and picnic table decor mirroring that of Big Ern's BBQ's first location at Downtown Container Park. To kick off the opening of the new location, Fiesta Rancho is set to give away bottles of Big Ern's barbecue sauce Oct. 6 to invited guests and guests who earn 300 base points. Visit bigernsbbq.com.
Flavors of the Heart raises funds: The American Heart and American Stroke Associations' fifth annual Flavors of the Heart culinary event recently raised more than $20,000 to support Las Vegas' Teens Cook with Heart Next Generation program. More than 30 chefs and suppliers donated their time, products and expertise to create heart-healthy recipes for the event.
Lazy dog offering seasonal menu: Lazy Dog Restaurant & Bar in Downtown Summerlin, 1725 Festival Plaza Drive, No. A2, is offering a fall menu featuring new seasonal dishes, desserts, cocktails and more. New menu items include: lamb stroganoff, sweet corn chowder, house-braised lamb shank, pretzel-crusted pork schnitzel, and pumpkin cheesecake for dessert. Visit lazydogrestaurants.com.
Nacho Daddy announces new menu: Mexican-American eatery Nacho Daddy has revamped its menu to include seasonal items and added a variety of special events. New menu items include barbacoa pork tenderloin and "Drunkard" Nacho. New events include Kids Eat Free Mondays and Wednesday Trivia at 7 p.m. at the Henderson and Summerlin locations. Visit nachodaddy.com.
Festivino at The Venetian set for Oct. 9: The Venetian plans its fifth annual Festivino from 7 to 10 p.m. Oct. 9 at 3355 Las Vegas Blvd. South. Guests can learn about the celebrated wines from master sommeliers and enjoy culinary specialties from master chefs of France, including Steve Benjamin, Jacques Chretien, Olivier Desaintmartin, Jean-Louis Dumonet, Jerome Ferrer, Claude Le-Tohic, Patrick Ponsaty, Nico Romo, David Werly, and Olivier Dubreuil, executive chef of The Venetian and the Palazzo. Former Journey keyboardist and songwriter Jonathan Cain is set to perform. Guests must be 21 or older. Tickets are $95, plus taxes and fees. Visit venetian.com.
Edible Education Dinner announced: Create A Change Now, a local nonprofit teaching at-risk students to plant, grow and cook fresh, healthy meals in order to prevent childhood obesity, is set to host its inaugural Edible Education Dinner at Panevino Grille, 246 Via Antonio Ave., Oct. 10. The dinner theme is "Feeding the Brain," featuring a four-course meal with beneficial fats that help nourish and aid in brain functioning. A representative with the Cleveland Clinic Lou Ruvo Center for Brain Health Las Vegas is set to speak about how nutrition plays a crucial component to optimal brain health. Ticket prices and additional details will be available closer to the date of event. Visit createachangenow.org or call 702-300-7399.
Wine walk coming to Town Square: The 2015 Wine Walk season has returned to Town Square Las Vegas, 6605 Las Vegas Blvd. South, with the next event planned from 7 to 10 p.m. Oct. 10. A variety of wines will be offered for sampling throughout Town Square Park. The walk is organized by New Vista Community, a local charity committed to providing equal opportunities and support to intellectually challenged people of all ages so that they may experience life to the fullest. Attendees must be 21 or older, and the cost is $25 per person in advance. Visit winewalklv.com.
Be Kind Like Josh Day is Oct. 17: Crazy Pita Rotisserie & Grill and the Josh Stevens Foundation, created in memory of Josh Stevens, a Henderson boy who died at the age of 12, are set to host a Be Kind Like Josh Day Oct. 17 in which all Crazy Pita locations will donate the proceeds from the Kefta Pita (marinated seasoned ground beef), Josh's favorite pita, to the foundation. The Crazy Pita restaurant at the District at Green Valley Ranch is set to celebrate by throwing Josh Stevens a birthday party. The foundation plans a booth with the latest "Be Kind… like Josh" shirts, pants, hats, school supplies, Ben & Jerry's ice cream and other items to raise funds for the organization and support the anti-bulling and kindness programs in Clark County School District schools. Visit crazypita.com. For more on the foundation, visit joshstevensfoundation.org.
Downtown Brew Festival coming Oct. 24: Motley Brews' Downtown Brew Festival is set to return with craft beer, celebrity chefs and live music from 5 to 9 p.m. Oct. 24 at the Clark County Government Center Amphitheater, 500 S. Grand Central Parkway. Beer lovers will have the opportunity to sample more than 200 local, regional and international brews from more than 60 breweries lining the grassy surroundings of the amphitheater. Tickets start at $30. Live bands and performers are planned in addition to gastropub fare. Visit downtownbrewfestival.com.
Paint-Drink-Dine events extended: Crazy Pita Rotisserie & Grill at Town Square Las Vegas, 6587 Las Vegas Blvd. South, No. 190, and Paint and Party Las Vegas plan to extend Paint-Drink-Dine events through Nov. 10. Guests paint their own artwork to take home and learn from local artists while enjoying half off beer and wine during the events, planned from 6 to 8 p.m. Tuesdays twice a month at Crazy Pita at Town Square. The cost is $30 per person ($20 for children 16 or younger to paint). The cost includes supplies and one appetizer per table. Call 702-778-3310.
FOOTBALL SEASON SPECIALS
Boyd Gaming properties: Monday Night Madness free football viewing parties are planned for 4 p.m. Mondays during the season at Brendan's Irish Pub in The Orleans, 4500 W. Tropicana Ave. Drink specials include$15 buckets of beer and $3 Buds, along with $1.50 Vienna Beef hot dogs and giveaways. Visit orleanscasino.com or call 702-365-7111.
Free parties also are planned for 4 p.m. Mondays in the Gold Coast Showroom, 4000 W. Flamingo Road, with food and drink specials and giveaways. Visit goldcoastcasino.com or call 702-367-7111.
The Suncoast, 9090 Alta Drive, plans to host Monday football parties in the Suncoast Showroom with 97.1 The Point's Steph MacKenzie. Food and drink specials and giveways are planned. On Thursdays, The Game plans to offer half-time and game-end giveaways. Visit suncoastcasino.com or call 702-636-7111.
Sam's Town Live at Sam's Town, 5111 Boulder Highway, plans viewing parties hosted by KOMP 92.3 Mondays and Thursdays with draft beers and prizes. Admission is free for B Connected members, and doors are set to open one hour prior to kickoff. Visit samstownlv.com or call 702-456-7777.
South Point: The South Point Showroom, 9777 Las Vegas Blvd. South, plans to host weekly Monday Night Pigskin Viewing Parties throughout football season. Prizes and drink specials including bottomless Budweiser and Bud Light drafts for $15, five-beer buckets of Budweiser and Bud Light for $12 and drafts of Budweiser and Bud Light for $2 are planned, along with food specials including $1 popcorn and hot dogs, $3 pizza and $4 Italian subs. Doors are set to open at 4:30 p.m., except for the Sept. 14 party, when doors are set to open at 3:30 p.m.
Throughout the professional season, all South Point hotel and casino bars plan to offer drink specials, including Budweiser and Bud Light drafts for $2 and five-beer buckets for $12. Visit southpointcasino.com or call 702-796-7111.
Made L.V.: Made L.V. at Tivoli Village, 1031 S. Rampart Blvd., plans to host a Monday Night Jersey giveaway, with all guests who purchase food or drink eligible to enter the raffle for a participating team jersey. On Saturdays, drink specials are planned for UNLV football games, and on Sundays, guests can grab a game-time (prop-bet) bingo card to win prizes including T-shirts, jerseys and drinks and food. Visit made-lv.com or call 702-722-2000.
Mercadito: Mercadito at Red Rock Resort, 11011 W. Charleston Blvd., plans to host Monday Night Football Madness from 3 to 10 p.m. Mondays with $5 margaritas, Micheladas or Misty Sleeves during happy hour menu throughout the game. Visit mercaditorestaurants.com or call 702-979-3609.
Elixir, Remedy's and Distill locations: All locations for Remedy's Tavern, Distill and Elixir plan to host fantasy football parties with free draft kits including a premium reserved area for four hours, free Wi-Fi and specialty menus for parties of 10 or more. During the season, Miller Lite specials including buckets for $10, 16-ounce drafts for $2 and towers for $12 are planned. Visit remedystavern.com, elixirlounge.net or distillbar.com.
Lagasse's Stadium: Lagasse's Stadium in The Grand Canal Shoppes at The Venetian, 3325 Las Vegas Blvd. South, plans to offer special team-inspired menus during Monday and Thursday night televised football games. Call 702-607-2665.
Station Casinos: Station Casinos is set to feature $2 Bud and Bud Lights for the season while NFL games are being played (Thursday, Sunday and Monday) at the Sports Book at all Station Casinos and Fiestas. In addition, a variety of additional drink specials are planned ranging from $3 to $5 depending on the liquor/cocktail. Guests can also enjoy $1 dogs at all Station and Fiestas, excluding Red Rock Resort and Green Valley Ranch Resort.
Umami Burger: Umami Burger, Beer Garden & Sports Book at SLS Las Vegas, 2535 Las Vegas Blvd. South, plans to host game-day specials Thursday through Monday for college and professional football games, including $8 Bud Light pitchers and $2 glasses, bottomless Rolling Rock draught beer for $35, select shots for $5 and a free $5 parlay bet from William Hill Sports Book with any burger purchase during Monday and Thursday night football games. Visit slsvegas.com/umamiburger.
FUNDRAISERS
PDQ: PDQ and Vegas PBS are partnering to host monthly fundraising nights to help veterans and bolster services for the deaf and blind. PDQ's two Las Vegas Valley locations — 3737 W. Craig Road and 3010 W. Sahara Ave. — each plan to host one fundraising night per month, with one benefiting the Vegas PBS Workforce Training and Economic Development program for veterans, which helps them connect to educational services, military-friendly employment opportunities and other programs, and the other benefiting the Vegas PBS Described and Captioned Media Center, which provides resources for the blind and visually impaired and the deaf and hard of hearing and their families. During these nights, PDQ plans to donate a percentage of sales generated by the charity's supporters back to the organization. The Family Fundraising Nights to benefit veterans are planned from 4 to 9 p.m. the first Friday of the month through December at the North Las Vegas location. Family nights to benefit the Described and Captioned Media Center are planned from 4 to 9 p.m. the last Friday of every month through December at the Sahara Avenue location. Visit eatpdq.com.
Sands Cares: As part of the company's Sands Cares corporate citizenship initiative, The Venetian and the Palazzo are introducing ONEHOPE Wine as a house wine selection in The Venetian, the Palazzo and the Sands Expo Convention Center, pledging a donation to Three Square food bank for every bottle sold. Guests have a choice of two award-winning varietals to support Three Square. Visit sands.com/our-commitment.html.