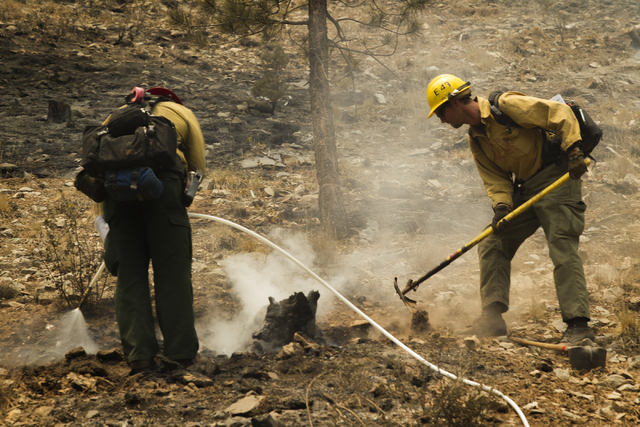 SPONSORSHIP HELPS FUND NDOT'S FREEWAY PATROL THROUGH 2017
A new State Farm sponsorship of the Nevada Department of Transportation's Freeway Service Patrol is scheduled to help fund the service through 2017, state officials announced.
As part of the sponsorship, Freeway Service Patrol vehicles are set to be updated with enhanced, highly reflective safety markings to make them more visible. The State Farm logo will also be added to the patrol's trucks and operator uniforms.
NDOT has provided the Freeway Service Patrol in Las Vegas and Reno for more than 15 years to enhance freeway safety and help clear incident scenes within an average time of 10 minutes. The patrol also assists motorists to remove stalled vehicles, provides basic first aid, extinguishes minor vehicle fires and more.
Operators patrol fixed freeway routes during peak travel hours. Each operator is a certified automotive technician with certifications for emergency vehicle operation, fire protection, CPR, handling hazardous materials, traffic flagging and offering first aid.
Freeway Service Patrol schedules and other additional information are available by visiting nevadadot.com and selecting "traveler information."
SCAMMERS SEEK TO COLLECT PAYMENTS, ENTER HOMES OF WATER DISTRICT CUSTOMERS
The Las Vegas Valley Water District recently issued a warning about suspicious activities involving people who claim to be district employees and ask to enter customers' homes to inspect for leaks or collect payments.
District employees drive vehicles clearly marked with the district's blue and yellow logo, wear a photo ID badge with the Las Vegas Valley Water District logo in plain view and sometimes wear bright green shirts. Employees also will not ask to enter a home to collect a water sample or check for leaks, and they never request or collect payment at people's homes.
Residents who are concerned about someone who has approached them or called their home regarding their water service can call 702-870-4194 from 7 a.m.-6 p.m. weekdays. After-hours calls can be made to the district's emergency number, 702-258-3150.
GRANTS AVAILABLE FOR PROJECTS REDUCING WILDFIRE RISKS
The Nevada Division of Forestry is seeking applications for the state fire assistance grant program.
An estimated $500,000 is set to be available for projects aimed at mitigating the risk and damage that wildfires can cause in wildland-urban areas.
Residents, homeowners associations, local governments, state agencies and nonprofits are eligible to apply. Projects must be implemented on state and/or private land in Nevada, and projects on federal land are ineligible.
Applications can be obtained and submitted at tinyurl.com/nvwildfiregrant. Submissions must be received no later than 5 p.m. April 30.
For more information, call Ryan S. Shane at 775-684-2511.
CLASS TO TEACH DOGS TO AVOID RATTLESNAKES
The company Get Rattled plans an Avoidance Training for Dogs class from 9 a.m. to 4 p.m. April 4 at Bass Pro Shops, 8200 Dean Martin Drive.
The event is set to include live rattlesnakes. The cost is $75 per dog or $50 for dogs previously trained by the company.
To register, visit basspro.com/lasvegas or call 702-730-5200. For more information on Get Rattled, visit getrattled.org, call 775-234-8844 or email getrattlednv@gmail.com.
GRANT TO HELP RAPE CRISIS CENTER CREATE NEW PROGRAMS
The Rape Crisis Center recently announced a $265,000, two-year grant from the Engelstad Family Foundation to fund initiatives focusing on the prevention and treatment of child sexual abuse.
The Rape Crisis Center plans to use the money to: develop an abuse prevention curriculum for preschool and early elementary-aged children; offer resources for concerned parents and children; and provide an advocate to work directly with victims who are students in the Clark County School District.
For more information, visit rcclv.org.
BETTER BUSINESS BUREAU PLANS FREE SHREDDING AND RECYCLING EVENT
A free shredding and recycling event is scheduled from 9 a.m.-1 p.m. April 18 at the Better Business Bureau, 6040 S. Jones Blvd.
Materials to be accepted include cardboard, plastic, aluminum, wood and metal. Old cellphones also are slated to be accepted for recycling.
Participants can bring nonperishable food items or money to be donated to Three Square.
For more information, visit bbb.org/southern-nevada.
FREE SHREDDING EVENT PLANNED
Residents can have their documents shredded free during a Ward 2 Shredding Party set from 10 a.m. to noon April 11 at Ansan Sister City Park, 7801 Ducharme Ave. For more information, call 702-229-1100.
The limit is five boxes of documents per person.
INTERNATIONAL TOURISM SAFETY CONFERENCE PLANNED
The 22nd International Tourism Safety Conference is scheduled for April 26-29 at the Las Vegas Convention Center, 3150 Paradise Road.
The event is for safety and security officials in the travel and tourism industries and focuses on providing new information, trends, equipment, strategies and best practices for keeping visitors safe.
Guest speakers from Clark County and around the globe are set to offer presentations addressing the state of tourism security, global terrorism, human trafficking, workplace violence, pandemic health issues, nightclub security, community policing and more. A Tourism Oriented Policing and Protective Services certification course also is slated to be offered.
The conference's hosts are the International Tourism Safety Association, the Las Vegas Convention and Visitors Authority, the Metropolitan Police Department and the Las Vegas Security Chiefs Association.
For more information or to register for the event, visit touristsafety.org.
BOOTH TO OFFER INFORMATION ON DEALING WITH DISASTERS
The city of Henderson Office of Emergency Management plans to man an information booth dealing with disaster preparedness from 9:30 a.m. to 4 p.m. April 16 at the Galleria at Sunset mall, 1300 W. Sunset Road.
The booth is set to include information on preparing an emergency supply kit, developing a disaster-response plan and staying informed.
For more details, visit tinyurl.com/hendersonemergency or call 702-267-2272.