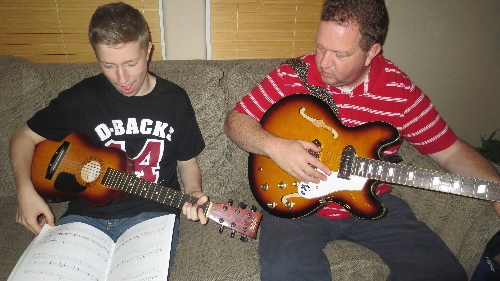 A Southern Highlands resident has started a nonprofit organization to put iPads and other tools in the hands of valley students in need.
Dave Berkowitz, 43, said he dreams of becoming a national arts and technology foundation for the autism community. Technology such as iPads can help some students with autism better communicate with their teachers, peers and families.
The nonprofit, unofficially called Arts 4 Autism, also would supply students with musical instruments, art supplies, concert tickets and scholarships. It is unofficial because Berkowitz has not applied for the organization's tax-exempt 501(c)(3) status, yet. Berkowitz has been unemployed since October and said he cannot afford the application fee and an attorney to help with the process. He said he knows that people will hesitate to donate until the organization gains its tax-exempt status, but he is hoping someone in the community can help with that process.
For now, he heads up Autism Advocacy and Technology News Zone, the official nonprofit name, which he started in April 2011. He said he plans to change its name as soon as he can afford to.
Berkowitz has three children with varying levels of autism spectrum disorders, an 11-year-old girl and twin 16-year-old boys. He said he understands what they are going through.
Berkowitz was born and raised in Las Vegas and graduated from the University of Nevada, Las Vegas. While working at Circuit City after college, his coworkers called him "rain man." Berkowitz said he did not know why at the time.
Like his children and Dustin Hoffman's character in the 1988 Academy Award-winning movie, Berkowitz is autistic. He struggles to keep eye contact during a conversation and seemingly could talk endlessly if allowed.
"I'm kind of clueless socially," he said.
He also described himself as "hyper-functioning," a "brainiac" and a "computer nerd," similar to the characters on the TV show "The Big Bang Theory."
"My wife said I would have fit in perfectly with those guys," Berkowitz said.
There is a need in Clark County for this kind of an organization, said Jennifer Strobel, executive director of Families for Effective Autism Treatment, or FEAT. She has met and talked with Berkowitz and said there are hundreds of students who could benefit if the idea gets off the ground.
"I know a lot of our kids are very artistic," Strobel said. "The instruments would really fill a niche.
"Our kids are pretty techy. Anything that's a computer, our kids really like it. A lot of kids have limited language, and they use programs on an iPad. That's how our kids communicate their wants and needs."
Berkowitz played the clarinet, oboe and alto saxophone in high school and said students will benefit if given the same opportunity.
"They say music is good for calming and getting people focused," he said. "I'm passionate about music and the arts."
Berkowitz also said that while his nonprofit would focus on students with autism, he would also help those with other disabilities.
For more information or to donate, visit technewszone.com, or email arts4autism@live.com.
Contact View education reporter Jeff Mosier at jmosier@viewnews.com or 702-224-5524.