Arts district businesses aim to attract more foot traffic
December 30, 2013 - 1:15 pm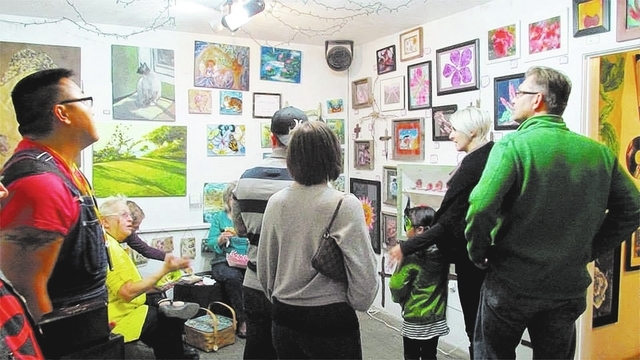 (This is the fifth article in a monthly series highlighting segments of the 18b Arts District and surrounding arts locations.)
On First Friday, Casino Center Boulevard south of Charleston Boulevard is closed and transformed, usually by tents full of art.
It intersects Colorado Avenue, which is also usually closed between Main and Third streets. While the event fills the streets with crowds, there are several businesses on the other side of the sidewalks trying to attract people to the 18b Arts District during the remainder of the month.
"Everything I build has to have some sort of connection to the arts," said Brett Wesley Sperry, owner and architect of Brett Wesley Gallery, 1112 S. Casino Center Blvd. "The gallery was my first architectural design, and I really wanted the building to embrace the street and to become an organic part of the 18b Arts District."
Sperry achieved this in part with a large structural glass wall facing north, toward Charleston Boulevard and The Arts Factory.
"I designed a canopy that soared off of the building, and I put those lovely columns out front," he said.
When Sperry built his gallery in 2009, it was a first for the 18b Arts District, building from the ground up instead of renovating and repurposing an existing structure. This allowed him to create a modern two-story gallery, with high walls and art-specific lighting augmenting the natural light of the day.
Next door to Sperry's gallery, Jen Harney is working on the finishing touches for Reclaimed Art SupplieZ, a new kind of business for the district.
"My husband and I got the idea on a visit to Oregon when we visited a place called MECCA(The Materials Exchange Center for Community Arts)," she said. "We loved what we saw there and thought we could bring the concept to our community."
Harney hopes to open the store in mid-January and sell recycled and repurposed material that can be used for art projects.
The rest of Casino Center Boulevard is also a study in potential. There are several older businesses that predate the 18b Arts District designation, including law offices, a locksmith and several small apartment buildings. One of those apartment buildings is undergoing conversion to a bar. A former gallery down the street may soon be another restaurant for the district.
Until then, art and antique lovers have to traverse two blocks to Colorado Avenue, where there are several shops on what was once called Antique Row.
The anchor and the most visible landmark on that end of First Friday is the Funkhouse, a building that was in some ways the birthplace of First Friday. Owner Cindy Funkhouser was one of several local business owners and community leaders who got together a decade ago. They were inspired by similar events they visited in other towns and decided to make a go of it here.
In the early days of the event, before street closures and food trucks, a trail of footprints led from The Arts Factory to the Funkhouse, 1228 S. Casino Center Blvd. Local muralists painted the south side of the building with surreal images that are still there. Funkhouser cleared space on a back wall of her antique shop to show work by local artists, becoming one of the first and longest running galleries in the 18b Arts District.
Across the street is a converted home built in 1922 that has housed the collective gallery City of the World, for seven years. The front room of the gallery at 1229 S. Casino Center Blvd. hosts a different artist or group each month while the other rooms feature several artists per room and sometimes per wall.
"I've had a vision for arts in the community for a long time. This gallery was just the start of it," said Roz Knight, founder of the nonprofit. "Many of our gallery members are teachers, and we have a very full schedule of classes we offer here. The gallery is open seven days a week, and there's always something going on here."
The nonprofit recently expanded its scope, adding the Artz-to-Go program, which brings buses to neighborhoods to teach art classes.
"I want to support the arts and art education in the community," Knight said. "It's something we've been losing in our schools, and we're trying to give parents and students an option for art education. It isn't just about the visual arts. I hope to expand to dance and music programs."
The south side of Colorado Avenue includes several converted cottages that have housed a number of businesses over the years. Knight's son Phillip Limon has operated Cornerstone Art Gallery, 201 E. Colorado Ave., for four years. The gallery features work by mostly local tattoo artists and often features skateboard and aerosol art demonstrations on First Friday.
"We've seen a few things across the street since we've been here," Knight said. "There's a pretty interesting bunch of places over there now. There's a raw remedies place, and they're going to be adding Afro-Jamaican art soon, vintage clothing, antique Western wear, and one of our board members is part of a group that plans to put a restaurant in there soon."
Contact Paradise/Downtown View reporter F. Andrew Taylor at ataylor@viewnews.com or 702-380-4532.