Bill Fayne and friends to salute Sondheim in Suncoast show
October 3, 2011 - 11:18 pm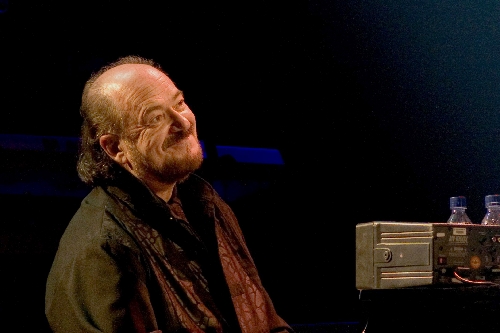 It takes more than the suspicion of cancer to keep Bill Fayne from show business.
He has pulled together a tribute to Stephen Sondheim, now in his 80s, whose songs graced Broadway.
Bill Fayne and Friends: A Sondheim Celebration is planned for 7:30 p.m. Saturday and Sunday at the Suncoast Showroom, 9090 Alta Drive.
Sondheim's body of work comprises numerous shows, including "West Side Story," "Gypsy" and "A Funny Thing Happened on The Way to The Forum."
For tickets, which start at $17.50, call 636-7075 or visit suncoastcasino.com, or save on convenience fees by purchasing in person at Coast Casinos.
Fayne enjoys his own amount of recognition within the music community. His long career has seen him working with everyone from Mickey Rooney to Suzanne Somers, scoring theme songs for popular TV shows and appearing on Bob Hope's specials, "The Dick Clark Show," "The Joan Rivers Show" and "The Tonight Show."
Fayne was Clint Holmes' musical director for three decades. The composer/performer also was one of the Las Vegas Tenors and had his own show — "Voices 3" — this year at the Suncoast.
Last March, Fayne took on a new challenge, the prospect of esophageal cancer. He got a second opinion and had biopsies done.
"They never said 'cancer,' " he said. "They called it 'suspicious material.' "
He had three choices — do nothing but worry and see his doctor regularly, undergo an operation with a 20 percent mortality rate or have one with a 5 percent mortality rate. He opted for the latter surgery.
"The scariest part was wondering whether or not I'd be able to sing again," he said.
The operation, done in Los Angeles, went well but resulted in an infection that led to a medically induced coma.
Clint Holmes' wife, Kelly Clinton, and his sister, Gayle Steele, went to Los Angeles and visited Fayne's bedside.
"(They) told me they were tickling my feet, singing to me," he said. "Of course, I had no recollection of that."
Just as appreciated, his friends in the musical community had put on a show at the Suncoast. The money it raised helped him pay the bills.
He emerged from the 40-day coma 50 pounds lighter and with a voice that he said "feels stronger than ever."
His desire to perform was stronger than ever, too. He proposed numerous shows to Terry Jenkins, entertainment director for Boyd Gaming.
"We were looking at 'Bill Fayne and Friends' for a long time, then I got this volley of different treatments … I'm hoping we can develop this into a regular series," Jenkins said.
Recovery meant Fayne had plenty of time to think of the future.
"Clint wrote a song, 'If Not Now, When?,' and that resonates with me all the time," Fayne said.
His experiences in his high school's theater club came back to him, and he decided to take his talents in a new direction.
The "Voices 3" show in March began that change in direction, adding musical theater numbers. But Fayne said he wants to take things further and include acting.
"When you're ill, you kind of get a new viewpoint of what you want to do with your life," said Ed Mathews, the show's producer.
So, after A Sondheim Celebration and another possible Suncoast show featuring the music of Rodgers and Hart, keep an eye out for Fayne on stage, in costume, returning to his first love: musical theater.
Contact Summerlin/Summerlin South View reporter Jan Hogan at jhogan@viewnews.com or 387-2949.
'Bill Fayne and Friends: A Soundheim Celebration'
"Bill Fayne and Friends: A Sondheim Celebration" is planned for 7:30 p.m. Saturday and Sunday at the Suncoast Showroom, 9090 Alta Drive.
Tickets start at $17.50. For tickets, call 636-7075 or visit suncoastcasino.com.