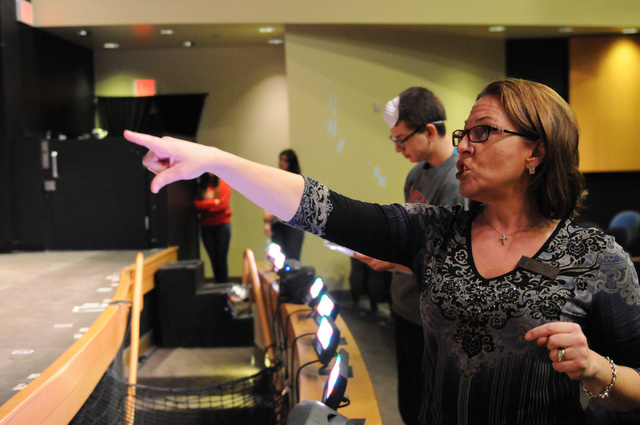 Prepare to snap your fingers to the music and scream like an Elvis fan. The musical "Bye Bye Birdie" is coming to Bishop Gorman High School.
Performances are slated for 7 p.m. Feb. 28, March 1, 7 and 8, with 2 p.m. matinees set for March 2 and 9 at the school, 5959 S. Hualapai Way.
" 'Bye Bye Birdie' is a classic," said Elena Ferrante-Martin, chair of the performing arts department and the play's director. "Last year, we did a show called 'Into the Woods,' a Stephen Sondheim (work), extremely complicated, extremely deep, and we went there. We unpeeled that onion to the core."
After that show, Ferrante-Martin decided a more light-hearted musical was warranted and said she chose "Bye Bye Birdie" as "something light and fun for both our students and our patrons. How can you not have fun with a piece based around Elvis Presley going into the Army and the sensation around that? It's a piece of history."
"Bye Bye Birdie" is a stage musical with a book by Michael Stewart, lyrics by Lee Adams and music by Charles Strouse. It won a Tony Award in 1961 for Best Musical, as well as in three other categories.
The story was inspired by Presley after he got his draft notice from the Army. It's set in 1958. To promote it, Bishop Gorman had big round buttons made, reminiscent of the 1950s.
The plot: As a farewell to his fans, Conrad Birdie is set to sing Albert Peterson's "One Last Kiss" to one lucky girl on "The Ed Sullivan Show." Songwriter Albert Peterson and his secretary/girlfriend Rosie try to keep the mischievous, hip-gyrating Conrad in line while hoping the song will bring them fame and fortune. Songs include "Put on a Happy Face," "Honestly Sincere" and "A Lot of Livin' to Do."
Ferrante-Martin said the underlying theme is "about family. It's about community. It's about what's really important. And that's Bishop Gorman. … It's all about external pressure on our adolescents and how they blindly and wildly follow that, and their parents are like 'What?' Even though they were like that, but they forget. So it all always comes full circle. It's a lovely, sweet ending … it's a refreshing choice."
Ferrante-Martin said she had no shortage of students auditioning for parts, with more than 100 trying out. To offer more opportunities, she double-cast the main roles. Javlin Baloca and Dylan Westrin were selected to play Albert Peterson. Adriana Formisano and Delaney Malm were cast as Rosie Alvarez. Ryan Gregory and Max Tolan share billing as Conrad Birdie.
Tolan, 17, said he aggressively went after the part, practicing for weeks and brushing up on his guitar skills before his audition.
"When I first saw this thing, I knew it was the part I wanted," he said. "The character has the best story arc. He redeems himself and is by far the most fun to play. I mean, who wouldn't want to play Elvis Presley?"
Tolan said his voice should not be expected to sound just like Presley's.
"Let's be honest," he said. "That man had something special. … He was the pinnacle of singing. There's no way to compete with this guy."
Westrin, 18, who shares Presley's birthday, said he liked the music, "which is, in a lot of ways, like acting. When you're singing, you're always doing a part. There's always a point behind it or an emotion behind it that you're trying to convey."
Malm, 17, said she saw similarities to today's pop stars.
"You can really relate to it because of, like, Justin Bieber and things like that, so you kind of put that (energy) into it," she said, adding that she sees her character as "really put together and the stabilizing force at the music corporation."
What was the toughest part of making the characters real? Westrin said his challenge was "the age factor, because he's a 40-, 50-year-old man, and I'm just coming out of high school, and the life experience he's had, it's extremely difficult for me to (equate to) my own life experiences."
Malm echoed that sentiment and said she modeled her part after her mother and Ferrante-Martin, citing them as strong women.
Rehearsals began in September, and by early February, the show was well on its way to coming together.
The play will have the benefit of innovative special effects, made possible with the school's Vortek system — a whisper-quiet way of maneuvering scenery drops and lighting changes used in professional theaters — combined with video projection.
Tickets are $18 for evening performances and $15 for matinee performances. For tickets, visit bishopgorman.org.
Contact Summerlin/Summerlin South View reporter Jan Hogan at jhogan@viewnews.com or 702-387-2949.
"Bye Bye Birdie"
Bishop Gorman High School, 5959 S. Hualapai Way, plans to perform "Bye Bye Birdie" at 7 p.m. Feb. 28, March 1, 7 and 8, with 2 p.m. matinees set for March 2 and 9.
Tickets are $18 for evening performances and $15 for matinee performances. For tickets, visit bishopgorman.org.