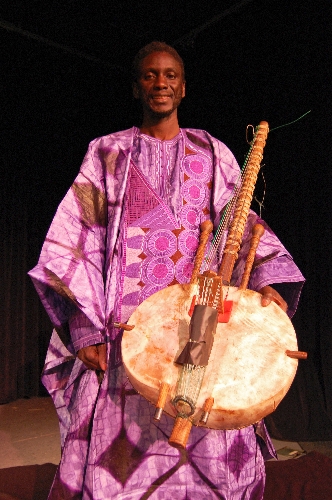 It would be unusual enough to hear live African music at a show in the Las Vegas Valley, but when Bountalo, a name that means "black scorpion," takes to the Winchester Cultural Center stage Sunday, it will be bringing a contortionist.
"My daughter comes out after we do a few songs," said Toumany Kouyate, who founded and organizes the group. "She does her contortions set to a CD of my music."
The concert is part of the World Vibration Series, a series of concerts that allows concertgoers to experience music from around the world.
"They've been very successful concerts," said Patrick Gaffey, cultural supervisor for Clark County. "Some of the groups, like Bountalo, come back every year, allowing more and more people to see and hear them."
The group includes four to six people, including Kouyate. It plays traditional African music and many original compositions by Kouyate.
"We've been together a couple of years now," Kouyate said. "We switch (the lineup) up every now and then."
Kouyate came to the United States from his native Senegal in 1998 to perform music in the Cirque du Soleil show "O," a job he continues to this day.
"I'm hoping some of my fellow performers will come out to see us," Kouyate said. "The show is off that night, so I won't have to run over."
Kouyate has played music since age 5 when he played with his father. He comes from a long line of African musicians.
"He is considered a master of the kora, the African harp," Gaffey said. "It's got a great sound."
The kora has 21 strings and looks a bit like a cross between a harp and a mandolin.
"I hope people will enjoy the music itself," Kouyate said. "But I also hope they enjoy seeing instruments they have not seen before."
Bountalo is set to perform from 2 to 5 p.m. Sunday at the Winchester Cultural Center, 3130 S. McLeod Drive. Admission is $10 in advance and $12 at the door. For more information, call 455-7340.
Contact Sunrise and Whitney View reporter F. Andrew Taylor at ataylor@viewnews.com or 380-4532.